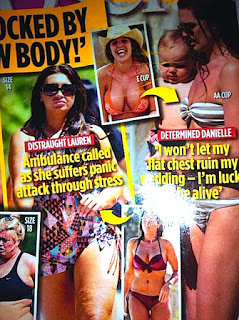 Plunging into the insidious depths of Closer magazine – which is so meta nowadays that it boasts another mini Closer magazine inside of it, under the thoroughly confusing headline: FREE with this week's Closer!: CLOSER! – is always inadvisable on a Thursday night, but even more so now.
Instead of reducing its featured celebrity women to something unfair and inconsequential like their intellectual properties or the contributions they make to their respective industries, Closer has decided to add a small label to each woman's photo on the front cover with their sizes on it. DELIGHTED GEMMA (size 16) feels 'so sexy' after losing weight. DISTRAUGHT LAUREN (size 14) 'suffers panic attack' through the stress of putting on weight. DETERMINED DANIELLE, who is quite clearly an enviable size 8 so has instead been labelled with 'AA cup boobs', apparently 'won't let a flat chest' ruin her wedding.
As much as they sound like entertaining characters in a fairytale, Distraught Lauren, Delighted Gemma, and Determined Danielle are not going to magic away the fact that Closer has zoomed in to their perceived inadequacies and used them for publicity. Closer casts a stern eye on Distraught Lauren for transforming into a size 14 from a size 10, but disapproves of Determined Danielle's AA boobies, down from a more acceptable E. However, they do later concede that it was 'probably worth it' for Determined Danielle (so-called because she's 'determined' to get new implants, apparently. Now isn't it more like a real fairytale?) to go down a few cup sizes in order to survive some inconvenient experience where she nearly died.
Those slackers at Closer - what are they like, eh? Shouldn't we be encouraging the pursuit of perky-titted beauty at all costs?