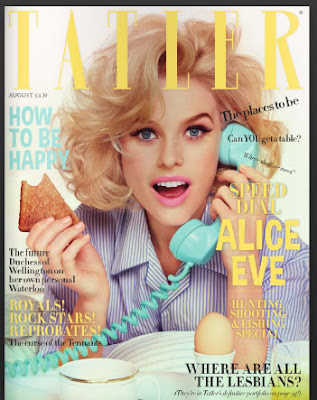 This is the month that Conde Nast UK had a lesbian month. There were two separate features in two separate  magazines explicitly about lesbians, which definitely, TOTALLY constitutes a theme. And then Tatler made their monthly party a party for lesbians. It's basically Pride for posh people. 
To those of us who *are* lesbians, know lesbians or simply recognise their essential humanity and continued existence – it may come as no biggie that that women like to have sex with each other and yet continue to pursue normal habits like getting dressed and drinking coffee.
But, it's totally a hot new thing at Tatler and Vogue.  
And it really is a new thing at Tatler and Vogue. It's a new thing to have explicit here-is-a-lesbian content on the sacrosanct pages of these establishment magazines. They have to sell advertising space to Gucci, after all. 
Not that there has been particularly bad treatment of lesbians at Vogue, or, to my knowledge, Tatler. You will not find Mail-style rants about how female-administered orgasms rock the foundation of the traditional nuclear family or cringe-making pseudo-crime stories about a girl dressing up as a boy to grope girls. There's no AA Gill style bitching about Clare Balding. It's not like the readership of Vogue would ever be caught yelling out "dykes!" or "finger her!" from the street corners – well at least I assume those guys at Old Street last year weren't subscribers. But what they do do at Vogue is glacially ignore things they don't like. Things that include trainers,  fatties and lesbians. Not very Vogue, you know.
Sometimes it goes beyond omission to the extent of violent extraction  - Vogue was accused of deliberately editing out the gay in an interview with cover star Freja Beha Ericsson in 2010 – a flagrantly out lesbian motorbiking supermodel – a story which managed to go 1200 words completely avoiding her sexuality and  love-life.
The news hook for 'LOL (That's Late Onset Lesbianism)' in Vogue this month seems to be Susie Orbach -Lady Di's old shrink and author of 'Fat is a Feminist Issue' – copping off with novelist Jeanette Winterson.  The story of Mary Portas getting off with that journo from Grazia is immediately brought out to back it up. And all that is followed by a parade of all the famous celesbians saying things like "sexuality is fluid" and "I'm not going to discuss my domestic arrangements."
It's written by Rachel Johson (Boris's sister). I've got to admit that this is a warm, emotionally intelligent article, although it has more of a focus on giving oral sex to another woman than is perhaps representative of the lesbian experience.  I know because I was interviewed for that bit. Not that I'm ultra- experienced, I'm just a blogger and people always assume bloggers will talk to you about anything.
The oral sex brought me back to a topic often discussed on The Vagenda – it was suggested that going on a woman was waaay more out there than giving a guy a blow-job –  an unholy, unimaginable process  that was in a totally different league of OMG. Which ties into an age old idea of vaginas being like weird and in need of hygiene products etc etc. For a magazine that deals much more with trend and hemlines than love-life or relationships, this was a pretty fruity article.
But it was all a bit more 'oo-what-do-you-do-in-bed?' than it was 'let's redress gender and sexuality issues.'
I guess what it shows most sharply of all is the generational shift.  The blurb reads: 'Women think: " let me have a bash at this before I die." Rachel Johnson investigates a dilemma for our times'.
Of course, this generation has been giving a lot of things a bash since they knocked back their first vodka coke, but I guess Vogue is making up ground here, in its own way. 
Tatler is the campest thing on the shelves short of "Camping". Apparently this Lesbo issue was personally championed by newish editor Kate Reardon who wants to shake things up a bit.
Their feature on lesbians is called: 'Where are all the Lesbians? (They're in Tatler's definitive portfolio on page 94)'.
Featuring seven (lesbian) women – including Sue Perkins, eco politico Tamsin Omond, actress Sophie Ward – it shies away from soliciting scorching insight into the position of sexual minorities from its interviewees in favour of comments like "she loves food!" or  "she adores the colour yellow because, she says ' it makes me happy!'"  – thanks model Eden Clark.
"Fettes-educated" Maia Kawai-Calderhead is described as being "horrendously addicted to coffee while at school" – that's about as deep as it goes.
LOLS. And I don't mean late-onset lesbianism.
It's all about making lesbians seem like the sort of people you might happily talk to if you met them wearing nice dresses at a cocktail reception in West London. Object probably achieved.
VICE has clambered on the lesbian bandwagon this week too: publishing the highly characteristic VICE Guide to Being a Lesbian that dwells on the fashionable though bleak twilight world of clubs, loveless fingering and ketamine.
Cool undoubtedly. But kind of depressing.
Welcome to the other great lesbian stereotype of early twenty-first century Britain.
Is being in fashion good?
It's harder to change your sexual preferences than your handbag, and being trendy is to be haunted by the fear that within weeks you'll be out of trend in your rabbit fur, too-large brocade jacket, or whatever else goes out of fashion by S/S 2013.
Of course we want to think that being lifted on the tide of fashion takes gay people forward. And maybe it does.
Anna Wintour, the editor of American Vogue, spoke out in favour of gay marriage last year. This is what the human rights council of New York said about her:
"Ms. Wintour is a no-nonsense perfectionist who embraces basic fairness with her trademark elegance and humanity. […]  She knows the difference between a passing fad and an enduring brand. Equality is part of the New York brand."
Looks being gay is an enduring brand. I guess this what you get from fashion magazines. And probably the best outcome we could hope for.