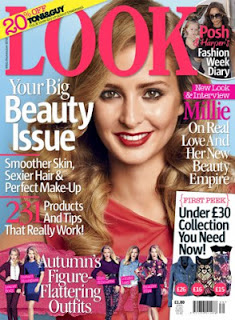 This week was a great one for trivialising issues, and no one did it better than Look magazine. Nestled in there amongst their 'Big Beauty Issue' (the cover promises you 'smoother skin', 'sexier hair', AND 'perfect make-up' if you'd only fork out the necessary £1.80 – surely an investment in yourself after all) are a couple of so-called 'news' stories that might catch your eye if you can tear yourself away from the 'must-have' fashion that 'you need NOW' (some choice recommendations: a leather T-shirt, a 'super-slimming' orange printed trouser suit, a grey topknot.)

Of course, all of the 'news' stories should really be renamed 'extrapolation from random events between celebrities', but whatevz, babe. There's Rihanna's 'fury' over Chris' tattoo ('Rihanna's close friend' tells us all about it), R-Patz and his cheating ex, and then 'the "Miss You" email' between the Rachel and Ross of the modern world, Mollie from The Saturdays and Prince Harry. What, you didn't know about that?

Kind of like a carefully constructed piece of black humour, the first paragraph of this article moves from Taliban to Celebworld in three sentences. 'The world had a frightening reminder of the dangers Prince Harry faces every day in his job as captain in the British army. After he flew to Afghanistan, Taliban spokesperson Zabihullah Mujahid phoned news site Reuters to say: "We are using all our strength to get rid of [Prince Harry], either by killing or kidnapping… Friends say that while the prince shrugged off the brutal words, his close friend, Mollie King from The Saturdays, was deeply disturbed, emailing him to say: "I miss you."'

Having set up that Mollie misses Harry because the Taliban might want to kill him, Look may have realised that this was heavy reading straight before 'finally – the peacock feathered business suit that goes perfectly with neon leather!' (OK, I made that one up.) So they offer up a bit of light relief beside that tired old 'killing people' thing that always has to crop up when you talk about the army and war zones and all that non-sequined boring stuff (although incidentally, an army surplus coat IS recommended as the perfect accessory a few pages earlier.) 'The Reasons Why We're Missing Harry, Too!' is headed up with 'His Hot Bod' instead, muscling in on the old Taliban line with one expertly sharpened elbow. Now, amongst everything else that's chronically wrong with this, have you ever used the phrase 'hot bod' to your friends? I'm pretty sure this is conclusive proof that my Great Aunt writes for Look.

"Heidi 'Fesses Up" is a Look feature only pages later (Great Aunt Enid at it again!) and a quick Google search reveals that 'hot bod' is almost exclusively the lexicon of women's magazines, which is like totally rad. Just one to bear in mind. Meanwhile, Look continues along its ironically militaristic efforts to demand 'hot bods' of the modern man with its central feature, 'Our Men Are Beauty Addicts.' This is mostly a bunch of glowing reviews of men who get manicures, spend too long in the bathroom, and, er, enjoy a little bit of plastic surgery now and then. Who doesn't? It ends up on the bone-chilling paragraph: 'I'd actually had Botox a few times before meeting Andrew, so I was already a fan. I think it's great that he wants to take care of himself and his looks, and luckily he doesn't get carried away [depending upon how much injecting subcutaneous muscle toxins counts as 'getting carried away.] Some men I know have had so much work done, they look like Ken dolls! Thankfully, Andrew's still very masculine. A few little injections aren't going to change that.'

Slightly terrifyingly, each couple that are interviewed mysteriously end on a similar line, emphasising the man's masculinity in the face of excessive 'grooming.' Look magazine has spoken: your man must have a manicure. And then when he trots out on some Man Mission like, y'know, fighting bad guys in Bad Guy Land or whatever, you're totally gonna miss his hot bod. And 'fess up, laydeez – you at the back with the peacock feathers, pay attention – isn't that what you REALLY wanted from a boyf, after all?