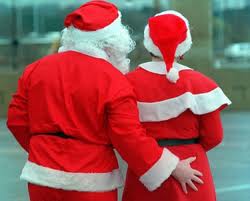 Ah, Christmas sex tips – aren't they just in a special little category all of their own? Interspersed with the old stuff they've been peddling all year round (except now with added gingerbread and/or Santa hats) is a huge variety of festive puns, whether you're referring euphemistically to his 'stocking', bringing back the 69 because 'it's the season of giving and receiving', marketing some 'toys' for Santa's ball-sack, or advertising a polyamorous lesbian three-way as 'ho ho ho'. One particularly ambitious magazine last week did a '25 Days of Yuletide Sex' board game, which included tips inspired by popular fiction throughout the year to really spice up the exit of 2012 (and, if you're to believe the Mayans, the entire world.) The Fifty Shades of Grey tip was 'Whack him friskily with a hairbrush and, if he likes it, carry on.' Is this how you would like to potentially spend the apocalypse? Assault and ask later? Then stay away from the editorial board of Look, who might be more at home planning Halloween than something that's supposed to be about candy canes and cuddles under the Christmas tree.
Once I saw the 25 days of Yuletide Sex, I became as hooked as a set of 'naughty elf' suspenders on Christmas bedroom tips. So now that I've got a veritable sleigh-full, I thought I'd bring the world a little Christmas cheer and share them with you, so long as you're on the naughty list. Yes, the puns will be coming as hard and fast as your boyfriend in a quickie behind the wardrobe on Boxing Day while your parents aren't looking. If that's enough to make you spew yellow advocaat vomit all over your reindeer onesie, then you're in the wrong place, cutie – go back to the Vicar of Dibley reruns and pretend you never saw any of the horror to come, before Christmas is officially ruined forever.
So, let's begin with 'edible panties'. Yeah, that's a thing, and they're often of the 'candy necklace' variety, which means an elastic string thong covered in spit and your sexual partner choking on small parts before you have to run for the Canesten Ultra as your Christmas bush lights up with thrush. These are being pushed as the latest thing to stick in 'your man's' stocking in lieu of the more traditional box of chocolates, but no one seems to be entirely convinced. This article from SheKnows.com have it on good authority that the sweetie knickers will work a charm; a couple of tips later, they also suggest that you (verbatim quote): 'Find the biggest and longest ribbon at your local gift shop and mummify yourself with it (in a sexy way, of course).' Like, mummify? Really? Imagine your boyfriend walking in to your ribboned-up body, stiff as alabaster, while you call out sweet nothings in tones heavily muffled by the material. He walks in and finds your room filled with candles, a strong smell of formaldehyde, and your internal organs displayed around the bedroom in a jar. In a sexy way, of course. Merry Christmas!
The next top tip that SheKnows suggests is to 'reward Santa for his hard work with milk, cookies and some Mrs Claus bedroom action'. There's something really stomach-turning about the fact that they zeroed in on the milk and cookies here, rather than the whiskey. One might hope that if you really did come in to the bedroom with a tray of warm milk and cookies to feed your unsuspecting shag buddy, that might not be entirely conducive to a raging festive boner. And if it turns out that it is, then you might need a completely different conversation come 2013.
Away from what the ladies advise, AskMen have gone all 'meta' on us and written their own Christmas sex tips 'for entertainment purposes only.' In this, I have to take my hat off to them for the first couple – the idea of getting your girlfriend on board with teabagging if you use leftover red and green frosting from the Christmas cookies (with some red icing on the end of his knob for a 'candy cane effect') is pretty hilarious, but the final few end up pretty dark (imitate Santa going down the chimney by 'giving her an anal pile driver' in a position where it's 'not unusual for the drivee to pass out'. Right then. Someone needs a new boyfriend under the tree, immediately.)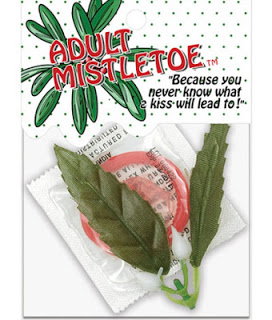 Meanwhile, Cosmopolitan has been struggling for originality this year, with one Christmas sex tip including the suggestion to 'talk dirty to him…via the fridge'. Ace idea, gals! 'Woman in the kitchen' jokes aside, the actual tip is to leave words like 'friction', 'thrust' and 'climax' with fridge magnets in the middle of your kitchen – 'let your imagination go wild'. But the next time your niece comes round and asks what 'fisting' is in the middle of some beans on toast, don't say we didn't warn you. Their tips also include buying a game of Twister and changing the coloured stickers to things like 'lick' and 'vagina'. Good luck explaining that to the niece who just asked about fisting, you sick fuck – but at least it guarantees that your sister will never, ever ask you to babysit again.
FHM seems to have similarly been gasping for ideas, considering that their roleplay suggestions for this year include 'she's the nurse, you're the patient; or, you're the OB-GYN, she's the patient. The list goes on!' I suppose it does, although it seems a little limited to specific medical scenarios, but whatever. The rest of the tips are pretty much par for the course (watch porn together, have a bath, suggest a threesome, shave your balls, blah blah blah) except one is stuck in there that rather optimistically proclaims: 'Suck her toes while being at it. She'll come faster and unexpectedly. Then ask for it, too.' The idea that the power of the foot-lick is such that she would even come unexpectedly when you contort yourself enough during sex to get a mouthful of the little piggy who went to market is pretty awesome. And to be fair, maybe it's true. Anyone willing to try?
Finally, The Frisky has compiled a list of the most WTF-themed Christmas sex toys where Ann Summers et al have jumped a little too enthusiastically on to the festive bandwagon, including a candy cane paddle, a vibrator with a Santa face and the tagline 'Mrs Claus is coming tonight', the 'twelve lubes of Christmas', and a mistletoe condom. They've steered clear so far of a holly wreath cock ring, but we can all definitely live in hope. And if that's not enough to get you licking the mince pie flavoured massage oil out of your loved one's back hair, then we don't know what is. Happy holidays, everyone!