The news that everyone's favourite member of the Windsor family was pregnant hit the media last week like a powerful wave of projectile vomit. Kate, Duchess of Cambridge, so beloved of tabloids and celeb-spotting publications, was admitted to hospital suffering from hyperemesis gravidarum, a debilitating condition which helpful journalists referred to colloquially as 'acute morning sickness', prompting an array of unsympathetic comments on newspaper websites from men calling her a wimpy wuss with a silver spoon in her mouth (though admittedly not one currently containing food.) This unforeseen hospitalisation at an early stage of the pregnancy meant that the Royals had to hitch up their finely embroidered circle skirts and make a shotgun announcement before the paparazzos camping – literally camping – outside the hospital could make it for them. Predictably, everyone immediately went mental. The Daily Mail newsroom apparently erupted in cheers, having themselves broken ginger biscuit-gate only the week before. Of course, such were the time and resources dedicated to monitoring the woyal womb-in-waiting that the tabloid would have always hit the jackpot, regardless of the timing of the announcement.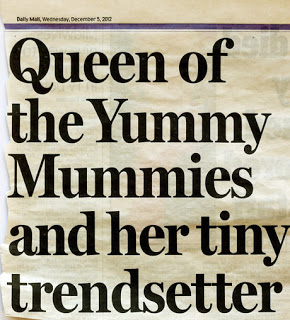 Kate was always going to be the owner of a womb-in-waiting, and as both of us here at the Vagenda have mothers who whose ask 'are you sure you're not pregnant?' when we have an EAR INFECTION, we really can sympathise. It must have been like having a MILLION MUMS with a pregnancy obsession, instead of just one. Of course, the cult of celebrity has always stuck to Kate and William like crusty globules of baby regurgitation, so the aforementioned Mail's FOURTEEN PAGES of coverage didn't cause too much surprise. Meanwhile, fashion PRs were busy sending out chic maternity wear style guides and baby Windsor made the front page of pretty much every women's magazine. Some went with the fairly straightforward 'It's official: KATE'S PREGNANT'; others purported to have snapped 'KATE'S FIRST BUMP PHOTOS'; still more decided, as the news became widely reported, that they had to go with a more enticing angle, hence Life & Style magazine's 'Kate's biggest fear: PREGNANT AND ALONE'. Tasteful, eh? Grazia, meanwhile, missed the whole thing due to its Tuesday release, and unfortunately ended up more K-Stew than K-Middy, as every other publication from speculating as to what the possibility of twins might mean for the succession, before reaching the pretty obvious conclusion that whomever emerges first from the vagina regina is to be our future monarch. Such was the level of public interest in the royal baby that even international sonogram chasers had spasms of glee, prompting the quickly infamous hoax call by two Australian radio presenters and the subsequent suspected suicide of Jacintha Saldana. Graduating seamlessly from endless editorial on Kate's hair to her heir, it seemed like most journalists and broadcasters couldn't keep their noses out of Ms Middleton's uterus, to the point where they were prepared to trick a woman simply trying to do her job into relaying confidential medical information, with tragic consequences. What next? Hacks masquerading as consultants? It is plainly only a matter of time before a Sun journalist impersonates a speculum in an attempt to prove that James Hewitt is the father.
It seems like we've barely stopped chanting, 'Keep your rosaries out my ovaries' at another abortion clinic standoff when some other section of society suddenly goes all 'womb fetish' on us. Will it be a boy or a girl? Will she have an elective Caesarean or will she punch William in the face as she pushes it out au naturel? Will she have to choose the baby's name from a pre-approved list of dead monarchs, all of which have been reused too many times now except for the weird ones like Ethelred and Sweyn? Will she lose the baby weight superfast and sell her post-pregnancy dieting secrets to The Daily Mirror? Will the third in line to the throne inherit the award-winning posterior of his or her Auntie Pippa, and all the glory that comes with it?
Apart from possibly the question pertaining to Ethelred – which did briefly intrigue us – these are not things that we personally feel we need to know. When the BBC is reporting 'Breaking news: Duchess of Cambridge leaves hospital', as they did, we really do need to start examining the newsworthiness of it all. Of course, this is how this is how all developments in the Royal Family are covered (remember Prince Philip's bladder infection?) prompting the inevitable question as to whether 'of interest to the public' can necessarily be translated as 'in the public interest.' Thus, as tabloids indulged in baby blanket coverage, lady columnists sharpened their pens to bitch about how ridiculous and rubbish the whole thing is, and how women who care about this stuff must be mad or stupid or both (which, let's face it, is about as feminist as the gazillion articles that treat the Duchess like a brood mare), while the rest of us sat back and realised that it would be this, for nine months. All the time.
Then we you articles such as Allison Pearson's in the Telegraph, which takes the angle that 'we're all just really anxious about the Duchess and her baby right now' and that the media should back off, conveniently forgetting that she is the media. Fair enough, comment on the coverage and analyse what it says about society, but don't try to envisage a stranger's mental state as she lies in hospital hooked up to a drip. 'No normal woman wants her pregnancy discussed before the 12 week scan', asserts Pearson, who clearly hasn't been on Facebook recently, or possibly ever. To be fair, her 'womb with a view' pun was pretty good, but it's the 'no normal woman' as a phrase that is telling, because it reveals what 'waity-Katie' and the rest of the nation have to look forward to for the duration of the gestation period, namely, a bunch of twats telling her that she's doing it wrong – the written equivalent of having thousands of people touching your belly without permission and telling you to stay away from Marmite.
At least some social good has been done because of media scrutiny of the possibility of a Royal foetus. A change in law that had preserved a sexist policy of royal ascension came about as soon as the 'girl or boy' questions began to be asked. As national newspapers showed pictures of Prince William standing outside the private hospital where his wife was a patient, blinking in the flashing light of hundreds of pointed cameras and saying that he was 'very grateful for all the good wishes' that they have received, this kneejerk media reaction must throw into very sharp relief the reality that their child will live once it is born, especially if it's an ill-prepared Ethel rather than an unready Ethelread. Whether you think this inch long collection of cells is a princess or a parasite, the media circus surrounding its mother (and before that, its grandmother) implies that, although the laws of succession have changed, some will surely still be hoping for a boy, if only to spare us from another 'toddler fashion icon' who can't even crap in the potty yet.
Wombwatch Week One Awards:
Most Pointless

WATCH: KATE MIDDLETON AND PRINCE WILLIAM PRACTICE THEIR PARENTING SKILLS
(video montage of the couple holding babies on Marie Claire online.)
Runner Up: SURE KATE MIDDLETON IS PREGNANT, BUT IS PRINCE HARRY READY TO BE AN UNCLE? (TMZ)
Creepiest

IS THIS WHAT THE ROYAL BABY COULD LOOK LIKE? US FORENSIC ARTIST GENERATES IMAGES SHOWING HOW KATE AND WILLIAM'S CHILD COULD LOOK AND IT'S 'ADORABLE'
(Creepy composite image made from Kate and Wills baby pictures courtesy of Daily Mail Online)
Runner up: STATISTICS POINT TO A WILLOWY PRINCESS (According The Daily Telegraph, Wills and Kate will have a baby girl, who will also, THANK GOD, be TALL AND SKINNY!)
Shallowest
KATE MIDDLETON IS PREGNANT, SO WHAT MATERNITY CLOTHES WILL SHE BE WEARING? (Huffington Post)
Runner Up: WHEN WE SAW THAT HAIRDO, EVERY WOMAN KNEW (The Mail)
Most Unnecessarily Mean to Diana

WILL KATE MIDDLETON'S MATERNITY STYLE GO FRUMPY LIKE PRINCESS DIANA OR FABULOUS DURING PREGNANCY? (Entertainment Wise)
Shallowest and Most Unnecessarily Mean to Diana

PREGNANT KATE IS NOW FACING BIGGEST FASHION CHALLENGE OF HER LIFE, SAYS LIZ JONES, ONE DI AND FERGIE GOT HIDEOUSLY WRONG
Expressiest

BRITISH ROYALS TO NAME BABY DIANA (The Sunday Express)
Punniest

NAPPY & GLORIOUS: BABY IS DESTINED TO BE MONARCH EVEN IF IT'S A GIRL
(Hear that folks, EVEN IF! From The Sun)
Runner up: KATE EXPECTATIONS (The Sun)
Most Factually Inaccurate Despite Headline

KATE MIDDLETON IS PREGNANT!
(Weekly World News. The article states several uncorroborated facts. Apparently 'the announcement was made by Kate with her friend Victoria Beckham at her side'. The Royal couple have allegedly been having sex A LOT: 'Prince William and Princess Kate recently spent over fifteen hours in the Royal Suite at Buckingham Palace," said Royal butler, Thomas Hillstrom. "They spent quite a lot of time 'enjoying' each other's company.' (vom) It also claims that the Royal Gynaecologist (what a job!) is called Dr. Fritz Barnwell, although a quick google reveals that the first place his name appears anywhere is IN the Weekly World News, and they 'quote' Prince Charles as saying: "What's the point of having a baby, when the world is about to burn up. We must all stop using fossil fuels, we must kill all the cows, and we must plant as many trees as possible."
The Worst

IS KATE MIDDLETON TOO THIN TO BE PREGNANT?
(Time Magazine suggests that K-Middy is suffering from PREOREXIA)
Runner Up: WHERE AND WHEN DID KATE AND WILL HAVE ROYAL SEX TO CONCEIVE THE ROYAL BABY? (Gawker)