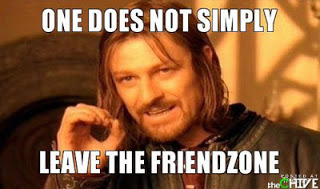 Ladies and gentlemen, I'm here to talk to you today about an exceptionally rare species recently making appearances across the internet. He cares about your hopes and dreams. He buys you cute presents and sends sweet texts. He's there for you when you need him. He's different from all those other jerks, baby. I am, of course, talking about the Nice Guy.
This year, the Nice Guy has taken to the net en masse to bemoan womankind's appalling taste in men, giving rise to one of my least favourite ideas of all time: the friendzone. What is the friendzone? Does it really exist? Why does everyone hate it when it sounds so nice? Can it be used as a verb? After years of back-breaking research (read: anecdotal evidence and fifteen minutes on Facebook), I've come out with a comprehensive understanding of the friendzone and how it works. And out of the goodness of my heart, I'm willing to share it with you below.
Friendzoning is the process by which a man befriends a girl, is extremely kind to her, offers her emotional support, and the bitch doesn't even have the decency to sleep with him. I mean, the cheek of it, right? But never fear, the Nice Guys have rallied together to support one and other through this difficult time, reassuring each other that if we can't see what a catch they are, then those chicas are obviously shallow douchebag-loving megatrolls, unworthy of any more of their time. Entire websites have now been dedicated to hating that special female in their lives through verbal assassination, which seems a bit rich if you're going to simultaneously refer to yourself as 'the ideal boyfriend'. Meanwhile, pseudo-scientific bullshit articles like this one in Ask Men magazine explain away the friendzone by saying that sex is a natural state of affairs with anyone you have a passing friendly feeling for, but women 'find it easier' to keep most men as friends because for them, 'sex comes bundled up with an onslaught of dizzying and complicated emotions.' The same article even includes the assertion that men see the world in a 'natural' way but 'women can't process this logic', so they set up a false dichotomy (friends/lovers) instead. Silly women and their silly ploys. Why can't they just man up and have sex with all their friends already? If only their brains could just cope with logic.
The friendzone is a pretty bad idea on a whole lot of levels, but let's start with the most obvious. Nice Guys, are you listening? This concerns you. Okay, here goes. If you're talking about women like this, then you're not really a very nice guy. As a lady, I reserve the right to choose who I have sex with – and if you're expecting automatic access to the ladyparts because you've chilled out over a chai latte with me, then there's not a whole lot separating you from that guy called Chad who slaps your ass as he buys you a shot at the bar. Man, at least the ass-slapper is up-front with his tactics and easier to avoid: you can see the greasy tips of his waxed up hair before he gets close enough for a proper grope, and run a mile. Nice Guys? If they're in it for vajayjay, then even by Chad's standards they're kind of creepy. 
I grew up with a whole lot of male friends, some of whom have helped me through the most difficult times of my life. I have male friends who I exchange gifts with, go to dinner with, talk about each other's problems with – hell, we even text each other goodnight, the whole shebang. In fact, I think of the guys in the same way that I do any of my female friends. They are amazing and sweet to me, and they make my life a whole lot better just by virtue of being in it. And you know what? Not once have I ever felt like I have to repay these guys by getting my kit off for them. I assume that my friendship has always been enough. If I were to find out that actually, they were just in it with the hope of getting laid, I would be absolutely crushed. So all you guys who gain a woman's trust and friendship, only to decry her as the Wicked Witch of the West when she doesn't want to get married to you, stop it. Immediately. The girl is not the bad guy in this situation. You are acting like swine, and I know you're better than that.
Let me make this real clear. If a man acts like he wants to be my friend, I have enough respect for the male species that I'm going to assume there's no ulterior motive. If he's secretly in love with me, I expect him to have the balls to tell me. And you know, even if he does, I STILL might not sleep with him. Free will, huh? It's a pain in the ass. If, after this has happened, he feels too awkward to continue spending time with me, that's fine, we shall part ways fondly. Having now read an Internet Man or five hundred say of another Internet Man's female friend that 'the total bitch is clearly just a stupid, shallow little girl too immature for a real man' is horribly discouraging about the human race and a seriously unattractive attitude. And no, I haven't called anyone my friend because I see them as inferior to a potential lover. I just fucking want a friend – and I think he does, too.
This brings me nicely to my second major issue with the friendzone: its total offensive nature in equal parts to men and to women. It sends the message that everything men do is just a secret cunning ploy to get laid – and that if you can't have sex with a woman, she isn't worth spending time with. It's taking the two most oversimplified sexist attitudes from each side of the divide, tying them up in a pretty package and then complaining when we recognise it for the dog turd it actually is. 
Thinking that a woman is unworthy of your time just by virtue of not wanting to date you is not cool. Ladies are great – for instance, I can make balloon animals. See? Great. Women are allowed to leave the house unchaperoned and everything these days, without even having the obligation to be romantically interested in a dude if he gives her the time of day. I am so much more than a pair of breasts and life support for a vagina, and I'm not even a very impressive example of womankind.
There are women out there with far, far cooler talents than me, who you could have an absolute blast with, without either of you having to be naked, and she's not being an illogical prudish fuckwit if she keeps her panties on the entire time you hang out. Most men worth their dick cheese know this. So the friendzone as a concept has to die a death, because it's destroying my faith in all of us.  Let's start having a little more faith in each other, or – as the Nice Guys would say – it's your loss, baby.