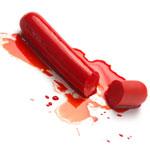 Thanks to the chica in advertising who sent this cheeky little media enquiry over to us this afternoon. Our favourite part was when they described the resulting feature as 'tasteful'. And also when they said it would be part of a 'pull out'.

A very astute Twitter reader just pointed out that she had an 'accident' during sex who is now 13 years old. 


From:
 ResponseSource [mailto:rsreply@dwpub.com]
Sent: 13 February 2013 12:40
To:
Subject: [RS-StaffJourno] The Sun, Christina Earle, for 15/02/2013 11:00 (Personal case study)
Media Outlet: The Sun (Personal case study)
Staff journalist:
Media Type: National newspaper / Current affairs
Deadline for leads: 15 February 2013 at 11:00
Query

I'm looking for statistics about people have who have accidents during sex. Please send these my way, along with any possible case studies who are happy to share the accidents they've had for a tasteful piece in Me, the Thursday health pull out. Will be able to arrange payment for participants featured
Thanks
Media Outlet Description

Daily tabloid-style newspaper from News International – the main UK subsidiary of the News Corporation Limited. Sister to The Times newspapers.