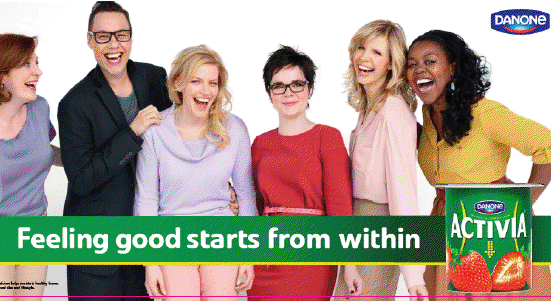 Now they're policing our insides as well as our outsides. 
Women of Britain! Ever wanted to combine getting your freak on with maintaining a healthy digestive tract? Yes? Then you need…WOMAN YOGHURTS! (Also correctly spelt yogurt, or yoghourt if you're feeling especially arsey).
In the last few years there's been an explosion in the women's yoghurt market. Like a slow but unstoppable wave of fat-free curd, the advertising world has been determined to prove that we can't possibly live without yoghurt, and if we dare try our digestive systems will shrivel up and die, leaving us constipated (code word: 'bloated') for the rest of our miserable dairy-free lives.
Sex and bowel movements may not seem like great bedfellows (unless that's what you're into) but in the yoghurty world they go together like curds and whey. Take, for example, this
Activia Intensely Creamy ad
in which Martine McCutcheon has her perfect moment with a pot of peaches 'n' cream (
lol
). Not only is Martine doing the sexy eyes, she's also reminding us that such luxurious indulgence can be ours at only 3% fat, and with Activia's wonderful Tummy Loving Care tagline to boot.
Martine's ads however (though only a few years old) were from a more innocent time, as lately things have been getting more and more insane. It seems yoghurt brands these days are desperate to prove that their products are sexier than actual sex, and Mϋller Amore has taken the crown with its latest effort (again featuring peaches 'n' cream). Complete with pulse-racing soundtrack and satin chic, it shows a woman practically having an orgasm after coming into close contact with some cultured udder juice. AN ORGASM. This has never happened to me after eating a dairy product. The closest I've got is a slightly claggy feeling at the back of my throat which made me think I might be lactose intolerant. Before orgasm lady there was also
Nicole Scherzinger
pushing Mϋller Deluxe Corner and putting extra special emphasis on the word 'balls', and the classic and almost parodic
Perle de Lait
attempt which sees a frizzy haired woman turn into a 'perfectly flawless' beauty after a spoonful of so-called 'indulgence'.
Women aren't the only victims of this virulent gender marketing though, oh no. In response to womanly yoghurts a U.S company have launched the hilarious and equally sexist
POWERFUL YOGURT
. With a website that looks like it's advertising a gay sauna, Powerful Yogurt claims it'll help you find your 'inner abs' while also helping you lose weight, and, those magical words, maintain digestive health.
Of course linking sex with yoghurt is nothing new. The Greeks had their ambrosia and the 90's had
Joanna Lumley
(woof!). What is relatively new though is the non-stop bludgeoning emphasis put on dieting and the inherent weakness of women's insides. Perpetuating the myth that all women everywhere are permanently on a diet (and if they're not, they bloody well should be) practically all yoghurt brands, including grown-up ones like Rachel's have phrases like fat free or 0% fat plastered all over them. There's even one Irish company that's decided to go the whole hog and just name it's yoghurt Diet. Since the probiotic invasion led by Yakult in 1997, there have been all sorts of health claims made for yoghurt (the majority of which are scientifically unfounded) but the claim that our insides need to be constantly topped up with 'friendly bacteria' or else all hell will break loose, has proved the most durable.
Almost solely aimed at women, with talk of post-christmas bloating, new years resolution diets and that well-worn fat free trope (what about all that sugar people!?!) it's enough to make any advert-addled woman think that her insides will clog up for good if she doesn't get her daily dose of cultured bacteria (I imagine they all look like dirty Stephen Fry's). But you know what? The majority of us do not have any digestive issues. Yes, statistically women are more likely to develop digestive problems later in life because of hormone fluctuations and the fact that we've got more ovarian junk in our trunks, but if you're eating a balanced diet and getting enough fibre your insides will be completely fine. They do not need to be cleansed, cleaned out, or topped up. If you want to eat yoghurts, eat them because they taste nice, or come in funny packaging (
Fiendish Feet!
), or because you love smothering your partner in peaches 'n' cream and pretending it's the 90's again; you've got more chance of getting an orgasm out of that than a pot of Mϋller Amore.
- ND