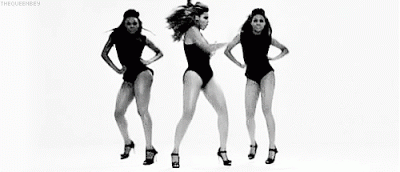 I've got a playlist on my iTunes called 'feminist' and it inspired me to write a post about the best feminist songs out there. Some are catchy pop tunes, a few are impassioned rants, and there are a few heartbreaking ones too. All of them will inspire you and make you want to smash that fucking patriarchy more than ever. 
Christina Aguilera feat. Lil Kim – Can't Hold Us Down
One of the best feminist anthems comes Xtina, who had been ridiculed for her skimpy clothes and appearance so much she fought back.
'So what am I not supposed to have an opinion? Should I be quiet just because I'm a woman? Call me a bitch 'cause I speak what's on my mind, guess it's easier for you to swallow if I sat and smiled.' You tell 'em, girl!
'Lil Kim joins in with a rant about slut shaming in her guest rap: 'If you look back in history it's a common double standard of society: the guy gets all the glory the more he can score, while the girl can do the same and yet you call her a whore.' Yes, THIS.
It's an anthem, a call to arms: 'This is for my girls all around the world who've come across a man who don't respect your worth. Thinking all women should be seen, not heard. What do we do girls? Shout out loud!'
It gets me riled up and makes me want to start a revolution.
Tori Amos – Me and a Gun
This acapella song was written about Tori's rape which happened when she gave a fan a lift home when she was performing in her old band. She was inspired to write it after she watched the rape scene in "Thelma and Louise" (she was in fact raped at knife-point, not gun-point as in the song and movie).
She addresses victim-blaming, asking 'yes I wore a slinky red thing, does that mean I should spread for you, your friends, your father, Mr Ed?' It's an incredibly hard song to listen to, but all the more powerful for that. It floored me the first time I heard it. Tori used to perform it live at every show, but rarely does anymore. I was lucky enough to watch her perform it in London a few years back and it was incredibly intense, moving me to tears.
Tori went on to co-found RAINN (the Rape, Abuse and Incest National Network) which had a campaign called "Unlock the Silence" inspired by her music – because her music had helped break the silence surrounding abuse.
Pink – Stupid Girls
Pink has a go at all the Paris Hilton-ites who just want to be famous for the sake of it, arguing that we need better role models for the girls of today. 'What happened to the dream of a girl President? She's dancing in the video next to 50 Cent.' Indeed, indeed.
Madonna – Human Nature
Madonna received a massive backlash after her "Sex" book, and this was her response – basically, 'I don't give a fuck.' Not that she ever does. 
'Oops, I didn't know I couldn't talk about sex!' Madge drawls sarcastically. 'Oops I didn't know I couldn't speak my mind!' She will not be silenced or shamed.
'Would you like be better if I was a man?' she asks at one point. Sadly, the answer for many was probably yes. 
Ani DiFranco – Not A Pretty Girl
Even though Ani's a gorgeous lady, the feminist icon's song is more about not aspiring to be beautiful, and wanting more from life than that. 'And I am sorry, I am not a maiden fair, and I am not a kitten stuck up a tree somewhere', she sings.
Not only is Ani 'not a pretty girl', she also tells us, 'I don't really want to be a pretty girl; no, I want to be more than a pretty girl.' Amen to that, sister.
Destiny's Child – Independent Woman (Part One)
A celebration of female empowerment from Beyonce as she tells us she will never rely on a man for financial support. 'I buy my own diamonds and I buy my own rings', Ms. Knowles tells us. 'The shoes on my feet? I've bought it.' "Cause I depend on me.' Sing it, Bey!
Hole – Asking For It
Courtney Love addresses victim blaming in this song, as she taunts the perpetrator: 'Was she asking for it? Was she asking nice? If she was asking for it, did she ask you twice?'
Garbage – Sex is Not the Enemy
Shirley Manson has a go at the people who slut shame and act like women shouldn't enjoy sex in this song. 'I don't feel guilty no matter what they're telling me, I won't feel dirty and buy into their misery. I won't be shamed', she sings.
'A revolution is the solution.' Hells yeah!
Beastie Boys – Sure Shot
Although there aren't that many feminist songs by male artists, I wanted to include one because there are some great ones out there. Although the Beastie Boys had a few sexist songs in the past they realised the error of their ways, rapping:
'I want to say a little something that's long overdue, the disrespect to women has got to be through. To all the mothers and the sisters and the wives and friends, I want to offer my love and respect to the end.'
Let's have some more of the above from men, and less of Robin Thicke.
Sleater Kinney – #1 Must Have

This song from my favourite Riot Grrrl band begins with a tale of a feminist grown tired and apathetic:
"And I think that I sometimes might have wished for something more than to be a size six / But now my inspiration rests in-between my beauty magazines and my
credit card bills"

In this, "the number one must have is that we are safe."

It's a call to arms with the final lines:
"No more! And for the ladies out there, I wish we could write more than the next marketing bid. Culture is what we make it, yes it is / Now is the time to invent."
Only we can make a change – so we must, they urge.
Le Tigre – Hot Topic

Kathleen Hanna, formerly of Riot Grrrl wonders Bikini Kill, didn't stop the feminist anthems with her new band. In this awesomely catchy song she sings about strong, inspiring women including Gertrude Stein, Aretha Franklin, Joan Jett., Yoko Ono and Billie Jean King amongst many others. It's an inspiring song that packs a punch.
Now it's over to you guys (and if anyone wanted to make us a spotify playlist, then that would be awesome – Ed). What would be on your list?