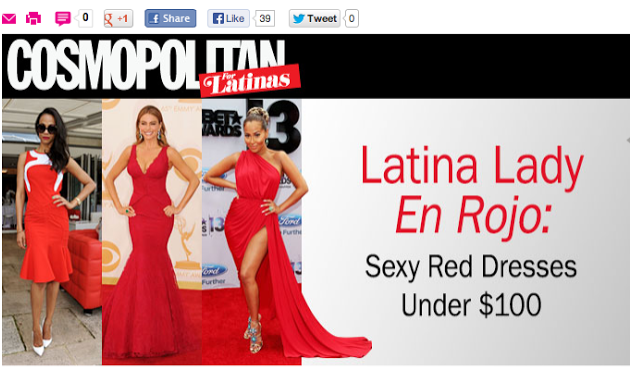 The quality of my daily internet procrastination time has just been shat on by the discovery of
Cosmo Latina
, which reaches new pits of unintentional hilarity, extreme patronisation and eye-watering levels of facepalm, even by Cosmo's scraping-out-the-portaloo-cistern standards. Give it a read and you'll be wallowing up to your chocho* in racismo and machismo quicker than you can shriek
Devious Maids
in a Mejicano accent. As one of our Twitter followers put it after coming across an article entitled 'Find out what makes the hombres tick!': WTF? Are the people at Old El Paso making magazines now? 
Before we start, a note on language: Cosmo Latina (I will call it C-La for short) is written mainly in English but is peppered, at random, with Spanish words. I like to call this strange-speak Cospañol. I will use Cospañol throughout this article so that you too can experience its full horror without having to go near C-La yourself. 
First stop: I salsaed over to the beauty section, or "bronze belleza", as C-La likes to call it. The first feature, "Four Ways Your Phone is Ruining Your Skin," is accompanied with a photograph of a woman gleefully toothbrushing her own face with what looks like bubblebath. Presumably (although it's not explained anywhere in the text, so perhaps it's just another odd variation on the weird and baffling world of Cosmo sex tips), this is a suggested method for ridding your face of the adverse effects of using a phone, which, according to C-La, include "early wrinkles", "crows feet", "dark spots", "acne" in the "phone zone" of your face (that's the danger area from "your temple to your chin," apparently) and – new portmanteau of the year… wait for it – "Text Neck." Are you actually fucking joking me, C-La? Text Neck???
"Admit it, whether you're walking, sitting, or laying down you're usually staring down at your phone. According to cosmetic dermatologist
Dr. Paul Jarrod Frank
, constantly looking down causes the collagen in your neck to break down, leaving that turkey-looking neck."
No Cosmo Latina (I'm calling you by your full name because you've been very naughty), funnily enough I don't need to admit that the majority of my life is spent "staring down at my phone" because my default position is slouching my shoulders and either smiling or frowning, depending on whether or not I'm having a Latina-style feisty day. When I lay down, it tends to be with the intention of inducing sleep, and if I'm staring down whilst walking, that's usually to avoid stepping in a turd. As for "that turkey-looking neck," could your drop the knowing "that" please? In fact could you drop the whole paranoia-enducing, shaming reference to women's bodies looking like turkeys? And maybe tell your "Cosmetic Dermatologist" (aka professional face-butcher who likes to wield his little body-hate knife around the necks of victims of The Patriarchy) to crawl back into the misogynist arsehole from whence he came? Cheers.
Let's turn to the highlights of the gossip column, ingeniously entitled "Qué está pasando?" or, for the non-Cospañol speakers, "What is Happening?" First up: congratulations are in order for Victoria's Secret model Adriana Lima, who managed to, in C-La's soothsaying words, "save herself," until marriage. ¡Ole Adriana! ¡A tequila for you! Says C-La, "We really respect that a hot woman like that can ward off all the sucio men out there to wait for Mr. Right." I don't know what to do first: wipe off the vomit that I've just projected over all the slut-shaming that's inhabiting my screen as I read this article, or ask, would C-La consider it less of an achievement for a non-"hot" woman to maintain her "purity"? There are so many issues with this quote that I'm going to stop analysing it and instead perform the headdesk move of desperation.
In other news, in stories so boring that I actually cried a bit, Paulina Rubio "makes fun of Simon Cowell's Moobs," and Shakira wins a price for sexiest curves, but doesn't attend "probs because she was spending time with her beauty baby Milan." Her beauty baby. Moobs. And, just so you know, C-Latina women are "fun and feisty" females, rather than their "fun and fearless" regular (implicitly non-latina) Cosmo counterparts, cos latinas are more quick-tempered and irrational than white Cosmo readers, obv.
Adios to the gossip section.
Despite the repeated assertion throughout the magazine that all Latina women are curvy (actual quotes: "you don't want to be skinny", "in Colombia everybody's very voluptuous, and you're supposed to be"), the section dubiously dubbed "Fashion" seems to be devoted to ways to cover up your curvas, including top ten dresses for disguising your implicitly unsightly "panchito"*, and ways to get around the – quote – "tough" feat of looking nice if you "have junk in the trunk" (that's "a large bottom" in normal speak). Are you comfortable in your body? Do you like the way it looks in clothes? Well you shouldn't. Move over, gordita*.
The next fashion feature is on
dressing for the office
. This can't go too wrong, right? Wrong. The article begins with the tale of a banker who was sacked for being "too sexy" after having been forbidden by her employers (Citibank) from wearing turtlenecks, pencil skirts, heels, or fitted suits, as her colleagues, reportedly, could not concentrate on their work. I expected the article to continue in an outraged fashion calling out sexism and discrimination in the workplace, providing useful advice on how to deal with such issues and information on legal rights (OK, I didn't. But if the context had been anything other than a Cosmo magazine, I would have) but sadly, C-La decides to side with Citibank on this one, and decides to offer some tips for other women "with curves" who work in offices and don't want to be sacked because their colleagues are pervertidos:
"you want to blend in"
"If you have to, go up a size" with the sympathetic caveat "we know how daunting it can be to have to go up a size–especially if you're already feeling some sort of way about the size you typically wear"
"When it comes to pants, a wider leg can be more flattering particularly for those of us with lovely lady lumps. Save anything remotely tight for after 5 drinks or on the weekend."
"in the case of hemlines, always err on having the hem as close to the knee (or longer) as possible."
"Under no circumstances should there be any cleavage in a conservative work environment."
C-La, this victim-blaming path you are going down is a dark, dangerous and turd-ridden one. Tears are falling on my un-moisturised hands as I write. I'm crying because this article was written IN 2013. IN A WOMEN'S MAGAZINE. FOR WOMEN. NOT FOR SELF-JUSTIFYING OFFICE PERVERTS. And C-La, for the record, I have what you would probably call curvy boobs and bum, and actually the "some sort of way" I feel about my body is that I like it. That's despite all your hard work to make me hate it. Soz.
Over to the "Love and Sex" section. (Corgasmo! See what I did there?!) As hard as it was to resist headlines such as "The Best Position for his Sign", "Should You Break Up if your Suegra* is a Bitch?" and "The Absolute Best Ugly Cries in History" (complete with a devastated Britney Spears looking "ugly" whilst sobbing her heart out), it was the
How to Seduce Men
feature that drew me in. Having a Latino partner myself, I thought I could do with a few tips on how to keep him interested:
"Style in stilettos: High heels always rate number one on men's fave accessory—and this is a look we Latinas can pull off while running to the grocery store. Forgo comfy flats and trainers, as every Latina worth her salt should have one pair of killer take-this tacones ready to go. These fun multi-colored snakeskin pair from Carlos Santana are super fun and boner producing ($78.99,
carlosshoes.com
)."
Funny that: I never knew that (Carlos Santana-designed?) stilettos were the keystone of Latina identity (wait, what's that faint rumbling? Ah, sorry – just Frida Kahlo turning in her grave). Anyway, when I'm getting ready to go to the supermarket I often stop to ponder what the best footwear option would be. But, like a true Cosmo girl, my choice always comes down to that one crucial factor: no, not comfort, not that. When going to the supermarket, I always ensure that my shoes are "boner producing." Cos what every real (latina) lady wants is a man getting una ereción whilst perving on her in the meat aisle.
"Whisper papi in his ear: The next time your man is lost in his computer, sidle up behind him and softly ask, "You seem stressed, can I help you with anything, papi?" Ears are super erogenous zones, so his motor will be running. Plus, hearing such a familiar term delivered in a naughty way is total turn on."
Despite my better judgement, I decided to road test this one. Turns out that light references to incest whilst playing internet chess is not a turn on for my hombre (if it is for you and your partner, then great, I just wish Cosmo would include a tip based on ask your partner what s/he likes amongst their monthly smorgasbord of sexy advice, and that they wouldn't depict their advice as guaranteed to work. Not everyone likes the same thing, and by implying that they do, Cosmo also implies that you are a sexual failure if their "fullproof" tips don't work for you).
"Show some skin: Gorgeous Cubana Eva Mendes, who's dating Hollywood's hottest actor, Ryan Gosling, shows off her tanned glowing cuerpo every chance she gets, saying, "I'm not at all ashamed or frightened about showing my body." Choose a strapless dress, one-shouldered number, sexy shorts, or rock a mini to drive him wild."
I've been trying to digest this one. I keep on trying, but it won't go down. It just keeps coming back up soaked in the bile of hypocrisy. Perhaps if we hadn't been exposed to women's mags, with their monthly doses of body dismorphia-enducing weight-loss tips, air-brushed, white-washed models, cosmetic surgery adverts, and tips on how to look better, dress better, be less fat, be more man-pleasing and be less everything-that-we-are-naturally, many women would be less ashamed of their bodies.
After returning from the kitchen where I stood next to the open fridge door for 5 minutes until the burning anger in my head had calmed down, I attempted to lighten things up by reading the
sex horoscope
. Mine says:
"Nothing like a little danger to heighten your senses, which is why you'll want to hit up seedier pursuits to find your orgasm now. Yes, toys, swinger parties and porn will be all ways to explore your sexuality, as it'll be the great unknown that you'll want to come for.
Single: Straight-up and pure lust is addicting now. Let it be a habit you want more of.
Hooked-up: If your man gets too pushy, push back even harder. Tension is your aphrodisiac now."
That last bit. I can't… I just can't… It's too much. All I'll say is that men pushing their partners to do things that they don't want to (including things they perceive as dangerous, swinger parties or "seedier pursuits," whatever that's supposed to mean) = good reason to end your relationship/massive consent fail/possible sexual assault/reason to play your aphrodisiac card and withhold sex"
"At the park: The park is common place—it's as sexy as doing it in the wild but eliminates the risk of getting bitten in the a** by something weird. Just make sure the timing is right. Go into the gazebo or a shady area by a tree that's blocked off from street view. The last thing you want is a little kid to catch you mid-act."
Getting bitten in the ass by something weird… you've underestimated my partner C-La. I'm baffled by the almost philosophical-sounding observation that "the park is a common place," (is that a Yoda quote?) and what is meant by "the wild"? If they mean the countryside, then their readers should
beware angry farmers in lambing season
. The thought of sex in my local park "in a shady area by a tree" just makes me sad and brings to mind teenagers and supermarket own-brand cider. Surely this is not spicy, sassy and caliente enough for sexy latinas? On the other hand, I'm pleased C-La reminded its audience that sex in front of child strangers is not advisable.
"in a utility closet: people almost never go in those old utility closets. We believe they were strictly put there for people to um, bone. Just be careful for all the dust mites that are probably floating around in there. You'll want to make this one a quickie."
Actually C-La, I think utility closets were strictly put there for cleaners (you know, those people who do one of the most socially useful jobs but get paid a poverty wage, who you might have seen cleaning up your mess when you stayed late at the office that time?) to store their cleaning stuff. Just sayin'.
Sorry, but I've had to skip the rest of the content, which, besides from the sexism and racismo (check out the they must be joking …oh god… they're not joking are they, could-they-be-more-racially-stereotyped
recipes
sponsored by Unilever, the wonderful makers of Fair and Lovely skin lightening cream: two types of enchiladas, two varieties of salsa, Mexicano casserole and … get ready for it… TEQUILA salmon) has the charisma-black-hole effect most often associated with the character of Sergeant Brody's wife in Homeland. Besides, I need to go and wax my bikini line brasileñoed before my macho gets home.
C-La seems no different to standard Cosmo: it's the same old heterosexist rag convincing women of all their flaws and providing them with the (pricey) "solutions," but with added use of racist clichés of the sexy, sensual, curvy Latina, who is a slave to her "fierce", uncontrollable temper. Why does Cosmo feel it has the right to assign these traits to an entire group of women? Why does Cosmo assume that Latina is a homogenous group? Why did Hearst (the owners of Cosmo) decide to create this spin-off targeting a specific ethnic group? Did they feel bad that their standard mag is generally white-washed? If so, would it have been preferable to have tried to address the racism and white-centrism within the initial magazine instead of creating a patronising offshoot? Who knows. At the end of the day, this new magazine is just another attempt by Hearst to
sell shit to what they see as an emerging and lucrative market
.
- JA
* vagina
* belly
* fatty
*mother-in-law