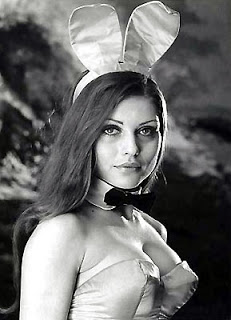 This week on the Vagenda, we bring you even more Playboy bunny bullshit!
After a vagenda writer took objection to the fact that her local gymbox had teamed up with Playboy to run a class called 'Bunny Bootcamp', yet had the audacity to claim that '

Playboy embraces the women of today in a very respectful way, and nurtures their goals and talents' (LOL), we've been noticing a lot more bunny bullshit around. Not to mention the fact that the manager of our writer's local gymbox emailed her calling her a 'dick'. Dead profesh. 
It really seems like Playboy are on some kind of PR drive at the moment, because LO AND BEHOLD:
Here's the Daily Telegraph, a publication so off-puttingly feminist that it needs it's own 'man' section, writing about the BMI (that's bunny measurement index) on what is basically a regurgitated press release. It also contains this laughable statement: '
Our Bunnies are known for their beautiful personalities, and looking very cute in their costumes' (for 'personalities' substitute 'fluffy bum tails' and for 'cute' substitute 'boneable' and we're closer to the truth. 
Now, before we get on to the other piece of bunny bullshit news this week, a quick note about choice (listen up, Jodie Marsh, because this applies to your comments about Lads' Mags earlier this week). It is absolutely possible to regard the Playboy corporation as a sexist dick of an organisation whose main ethos involves the objectification of women, while at the same time believing in women's ability to make their own choices (I won't get into how 'free' that choice actually can deemed to be within a patriarchal society, because tbh that's a fucking minefield). It's called criticising the structure, and not the participants. What empowers individual women personally is their business. I could feel empowered by many things, such as my ability to eat Foie Gras whenever I want, or mock small children for their outfit choices, but that doesn't mean it empowers everyone. The same goes with Playboy. Being a bunny might empower you personally. But does the existence of the Playboy brand empower women generally? Sorry, but I don't think it does. And trying to dress it up in some faux-liberating 'I just want you for your personality babe' rhetoric is a big pile of wank, basically. 
Hating Playboy but not hating the women involved in Playboy isn't actually as complicated as it sounds. It's holding two conflicting notions in one's head at the same time. It's what makes us cleverer than algea. 
That aside, the news that British Vogue editor and fashion powerhouse Alexandra Shulman is holding her fashion week party at the Playboy club (see here) is a whole load of Bunny Bullshit and I'm really disappointed, not only because I thought British Vogue had better taste, but because I don't think their endorsement of the brand is something that many of Vogue's readers will necessarily identify with. Oh yeah, and it's an outdated and sexist institution and a magazine that is supposed to be pro-woman should be ashamed to endorse it. And I'm saying that as someone who really fucking loves Vogue, used to intern at Vogue, and, despite their dubious shifting of the blame airbrushing-wise, still admired them as one of the few print publications left that valued decent women's writing. 
Poor Gloria Steinem, poor, poor Gloria Steinem.