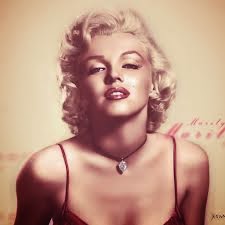 As weak-chinned individuals ourselves, we and our jawlines were horrified to receive the press release below this week. Not only is this plastic surgery adspeak  vom-bomb the most horrific abuse of Marilyn Monroe since the Kennedys murdered her (what?), but neither of us has five grand to spare in order to emulate some kid off Teen Mom. Life. Over.
I've actually had to read the sentence "Joining Marilyn Monroe with the quest for a defined chin". Men get quests to destroy the ring that rules them all, Voldemort, and/or a really cool dragon. Women get quests for a defined chin. And YES, I know it says that 40% of chinplants (see what I did there?) come from the masculine side of the park. But then why is the entire press release completely female-focused?
Gentlemen Prefer Blondes…And a Strong Chin
50% increase in enquiries for chin implants since 2010
40% of enquiries are from men and 60% from women

The average age of those enquiring is 25

£4,500 is the average cost of a chin implant
With women the world over aspiring to capture the glamour of movie starlets, new statistics from the UK's leading provider of cosmetic surgery reveals a 50% increase in enquiries for chin implants, a procedure revealed this week to have been undertaken by Hollywood sex symbol, Marilyn Monroe.
Transform Cosmetic Surgery reports enquiries for chin implants have doubled since 2010, with 60% of queries coming from women wishing to alter the silhouette of their faces.
Depicted as the epitome of glamour, Marilyn Monroe not only set the standard of movie star beauty during the 1950s, she set a precedent in the popularity of cosmetic surgery, having had a cartilage implant in her chin, although, until this week, the surgery had always remained speculation.
Chin augmentation has been dubbed the new boob job, Stateside with the American Society of Plastic Surgery reporting that chin implants were the fastest-growing cosmetic surgery procedure in recent years, apparently accounting for 71% of all cosmetic surgery procedures in the USA[i].
Joining Marilyn Monroe with the quest for a defined chin are American reality TV stars, Vickie Gunvaison (Real Housewives) and Heidi Montag, along with Farrah Abraham (Teen Mom).

Marilyn was in her mid twenties when she underwent surgery, which mirrors the average age of those currently requesting chin implants – 25 years old.
Transform's Shami Thomas comments: "Ms Monroe was certainly ahead of her time. During the 1950s cosmetic surgery was still very much a taboo, unlike today when thousands of cosmetic procedures are performed annually.
"Since 2010 we have witnessed a significant increase in patients interested in chin augmentation surgery, specifically those with a weak or receding chin that's making them feel self-conscious. A chin implant adds definition and balances facial features, producing instant and significant changes in the profile of patients. Overwhelmingly, patients are thrilled with the results and comment how they wished they had done it sooner. It really does make a massive difference to the overall look of a patient and we've seen some tremendous results here at EVIL PLASTIC SURGERY PLACE NAME REMOVED."