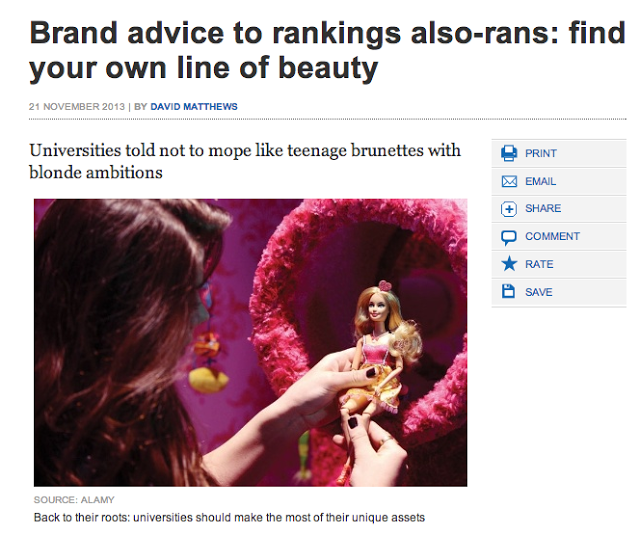 In this morning's first segment of 'what the fuck? It's 2013′ news, we came across this lovely article courtesy of the Times Higher Education team, in which failing universities are compared with mediocre-looking teenage girls in denial about their prospects. Just in case that wasn't dispiriting enough to all those young women out there tempted by the horizon-expanding world of higher education, it's illustrated with a picture of a Barbie doll. Words fail me, so over to 'branding consultant' and stone age cave-dweller Rebecca Price, who says that crap universities are trying too hard to compete with their rivals when competition is pointless:
"It's a bit like…the teenage girl who's got black hair and brown eyes who longs to be blonde-haired and blue-eyed, and spends all her time wearing a wardrobe that doesn't suit her body shape," says Rebecca. 
"Universities…like that teenage girl need to get to the point where they realise: 'Look love, you may not be blonde-haired and blue-eyed, but you're lovely, and this is how you'll make the best of it'."
To pretend otherwise, she continues, would be 'vacuous spin.'
Hear that, all you teenage girls out there in clothes that don't look good on you, you're a vacuous bunch of no-hopers foolhardily reaching for the stars when really you'd be lucky if you reached the altitude of an EasyJet flight to Alicante. Stop bloody trying, already, it just makes you look pathetic because, look love, you'll never be blonde, yeah? And that top looks shit on you, btw. 
It goes without saying that the need for this kind of chat in a reputable newspaper who prides itself on its coverage of higher education is exactly zero. Apparently Rebecca Price's agency, which specialises in higher education, only started work in June. We'd suggest that they stop now give up the (probably ugly) ghost.