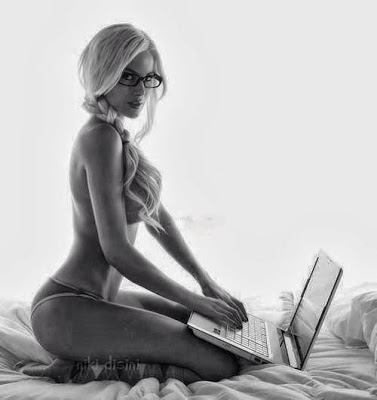 'My interests include men who can't get a date with women their own age, nights in on the sofa and not wearing clothes'
I am recently very single, having broken up with the person who I thought was the love of my life over summer. I went from gliding around like a girl in a bio-yoghurt advert, perma-happy, to re-reading Valentine's cards and dehydrating myself to sleep. The moral of the story is always be nice to people you care about, because not having them around is quite miserable. But more of that another time. 
I had always subscribed to the 'woman without a man is like a fish without a bicycle' school of thought – but it turns out that I quite liked my bicycle and really missed having it around. So, having spent a fortnight looking like a member of a Bridget Jones cum Ben and Jerry focus group, I settled on an online dating site. 
Yup, here a clever algorithm was going to do a better job of finding the next Mr Hutson than me, bypassing all the worst parts of being single and 'looking for a date' – i.e. suddenly RSVPing to every invite I received in a bid to 'get myself out there', weird Tuesday-night blind dates with friends of friends or joining a book club and trying to appear alluring and capable with just a two sentence mumbled analysis of 'Tampa'. It was also an opportunity to just be judged and valued on the things that I think really matter – what I wanted was to set off a spark based on my interests, my (limited) professional achievements and excellent 'direct message' wit (as i'm basically at my best on email). 
How wrong I was. There was nothing egalitarian or revolutionary about the online dating landscape; it came with all the same double standards, hypocrisy and artifice-deep demands of women as the offline world does, and instead all it really seemed to offer was just more ways (winks, nudges, views, favourites) to be on the receiving end of it. 
Case in point – I'm 26 and, the average age of men responding to my profile was 35. And this was quite a selection box of men – we're talking people who I wouldnt want to sit next to on the night bus worming their way into my inbox. It was quite remarkable how many men WLTM women fifteen years younger than them, yet had no interest in finding a partner of their own age (according to their profiles at least). Far from stumbling across someone new who I wouldn't meet in real life, it seemed everyone just reverted to type, with male members sending the messages, and female members (myself included) as the passive recipients of their advances. When I initiated contact with someone who seemed like they a) weren't an axe murderer b) member of the BNP or had a whole host of very fringe interests, the responses were lukewarm at best or a stony wall of silence at worst. Of course it could just be that i'm the least appealing person ever to grace the net, which isnt unlikely, but when i tested my hypothesis that the majority of men didn't like 'assertive'' (my god, what a word) women with a few colleagues who are also 'online', they agreed. Whereas I would check patiently to see who was interested, the boys would fire out dozens of emails a day – the 'spray and pray' approach to potential dates, and remarked that women who messaged them appeared desperate…yeesh. 
The whole exercise just felt like self-flagellation i didnt need, so i turned the whole episode into a social experiment (a diet coke version of McKinsey, if you will). I replaced my three photos with some less 'conservative' pictures – and lo, the number of 'winks' I got in a day went from 7 to 19. Not only did my popularity increase, but the nature of how the men interacted with me changed – from banal one liners to increasingly forward and sexual language – men complimenting my 'tasty pics' as an opening gambit. As i appeared more available, the tone of the conversation shifted – and it felt leery and seedy. I realised that the paradox of choice that online dating provides us – literally millions of members – means that we resort to the most base instincts to select a potential partner – i.e.looks and youth. 
My favourite finding was that the more vanilla I made my profile – i.e. removing specific references to my interests or job, and instead becoming the profile equivalent of Polly Filler littered with generic non-statements like 'Im as happy going out for drinks as I am having a night in on the sofa' or, 'im really laid back and looking to meet someone similar' (which are all lies by the way), the more my popularity surged. It seemed anything too outlandish like being into politics, or reading, or the weather was too much for this crowd, and even though my profile made for about as interesting reading as the back of a cereal box, it didn't seem to matter. 
After six weeks online, I closed my account. Despite the dozens of 'matches' the site found for me each day – I felt too disheartened by the whole process to engage. I felt let down by the premise that going online was somehow more honest and less complicated – and instead had been confronted by all the inequalities of the real world. I know for many online dating has led them into the arms of their life partner, all shot in soft focus with a slushy music soundtrack – and I certainly dont doubt that with the right amount of effort in, the numbers game can pay off. But to see it as anything other than as a route to simply expose yourself to people within your chosen postcard is misleading – online dating might provide more choice but it hasn't fundamentally altered to the power dynamics of courtship – and despite how intelligent those algorithms are, it seems that the bland, beautiful and young will always rank highest.