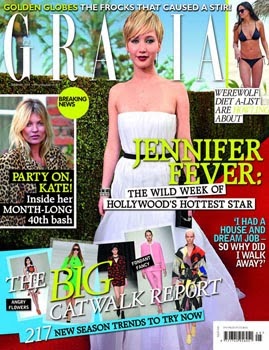 'WEREWOLF DIET A-LIST ARE HOWLING ABOUT'. Does this sentence make any sense to you beyond random, unconnected words? Me neither, but this is one of the many screwy headlines on Grazia this week that intrigued me enough to buy it. I mean like, 'werewolf diet'? Is that a kooky version of 5:2 where you fast all the time and then eat the flesh of innocent babes every full moon? Please, please tell me that's what it is.
Underneath that, there's 'THE BIG CATWALK REPORT: ANGRY FLOWERS'. Sold.
First page? The Fashion Charts. 'Heads up, Beyonce fans – now you can have your own bespoke name necklace, just like her daughter Blue Ivy. From £85.' OK, there are two problems I have with this piece of so-called advice. Firstly, it's the insinuation that I should be modelling my fashion sense on a toddler. I don't care if it's a toddler who had a Destiny's Child reunion and full rent of a zoo in Miami for her second birthday – she hasn't mastered the fine art of wiping her own arse yet, and therefore she WILL NOT be my style icon.
Secondly, it's the idea that if I wanted to have one of those god-awful necklaces with my name on, that I wouldn't just be able to get it for a fiver at Claire's Accessories (and then go to the school disco and have the boy of my dreams tell me that I have a 'gross green neck' because the gold colouring rubbed off and then have to spend the rest of the time hiding in the toilets of the youth club as my best friend pushes sour snakes under the cubicle to me so I can intersperse eating them with broken-hearted sobs and listening to the rest of the year chant, 'Shrek! Shrek! Shrek!', thus cementing a lifetime of comfort eating habits. Or whatever.)
'Wear these classic white dungarees with a Breton top and Converse sneakers'. I won't even bother telling you the story about the time I tried out white dungarees, but you can imagine.
Next, we get treated to Grazia's breakdown of the weekly 'news'. First up: 'Michelle Obama turned 50 and contemplated Botox'. This goes on to say that 'when quizzed about whether she'd go under the knife' (when?! Why?!) the First Lady tactfully took a 'never say never' line. Obvs it ends on a bitchy note about how Grazia loves her just the way she is, but it's not like anyone ever said that and actually meant it.
In further breaking news, it's 'THE DRESSES THAT DIVIDED OPINION'. At the Golden Globes, obvs. One of the burning questions on the magazine's collective mind is 'Did Sandra Bullock let us down?' Appazza, 'critics were quick to slam Sandy's satin moment.' Up until reading this, I presumed the only time anyone would use the phrase 'satin moment' was as a really shit euphemism for masturbation, in an article in Red where they suggest you 'prepare your body for self-love' with a bubble bath and a couple of vanilla-scented candles. But I'm probably just bitter because I'm having a perpetual polyester moment and I'm never 'channelling Disney's Little Mermaid' (another direct Grazia quote, about the dress Jennifer Lawrence wore. Lord give me strength.)
Next up, your requisite 'woman on the verge' tale, and this time it's about the Francois Hollande love triangle. Because we all heard about this on the internet years ago, they've spiced it up with the truly Grazia-worthy headline 'HER SENSE OF BETRAYAL GETS WORSE EVERY DAY'. To illustrate the way in which Hollande's previous partner will have her entire life spat on then shredded then crumpled up and set on fire once he starts a new life with The Other Woman, they've brought in a personal perspective from someone who genuinely claims to suffer from 'post-infidelity stress disorder'. Because who even cares about real medical diagnoses anymore?
Now, one of the most ill-advised fashion statements Grazia has ever come up with: 'Sandals in January? OH YES!' I'm going to give you the credit this magazine hasn't and assume that you're smart enough to realise why you shouldn't actually follow such advice.
Further down is an article about Nigella Lawson's recent trial that opens with this nauseating description: 'With her hair perfectly coiffed, her famous figure encased in a wiggle dress, all eyes were on Nigella Lawson last week.' Unfortunately this sentence made me vomit so copiously that I can't see the rest of the page, so I can't supply you with criticism for the rest of the article. As a side note, am I the only person who thinks that being 'encased' in a dress sounds like the poor woman is a sarcophagus?
Hold your horses: time for a feature. 'Help, I'm a funderachiever!' is the puntastic headline on this one, where one woman laments that her defining quality is that she has 'absolutely no sense of humour'. At least that explains the headline.
Next up, Grazia attempts to make me accept 'luxe sportswear' as a viable addition to my wardrobe. In one of its recommendations (for 'easy living' wear, that well-known concept), it actually states that 'the look may be easy but it's deceptively luxe, its fine fabrics undercut by flat – even ugly – shoes.' I'm getting the feeling that even the Grazia journalists themselves are throwing in the towel now. There literally are no more innuendos for what they're trying to say when they tout another neon-feather-boa-with-facepaint-and-tartan-leggings concoction (seriously, there are two times in this piece where they feature facepaint, and one is a green chin with a black dog nose. No, seriously) and now, screw it, they've settled on 'ugly'. Which I have a grudging amount of respect for. Btw, you're also supposed to be wearing 'luxe accessories'. Just buy something that's fucking LUXE, all right?
There's another feature called 'Give your MIND a gym membership'. Oh, how I laughed. Basically, it's about how you should meditate and the Aveda/Cowshed/Neal's Yard products you can buy to 'help you' along the way. As well as some 'lifting creme' by Chanel and an Elizabeth Arden dark circle corrector (like, the type you get under your eyes rather than some sort of occult problem) which seem kind of incongruous when you consider it's supposed to be an article about freeing yourself from the stress of consumerism and insecurity.
At the end of the magazine, my Grazia horoscope warns me that 'it will be all too easy for you to be seen as a troublemaker' in 2014. I'm just going to let that speak for itself.