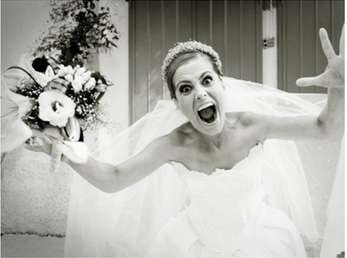 When I first got engaged, one of the top things on my to-do list was go to wedding fayres. In fact, I was a bit miffed because it was the end of May, which any budding 'Bridezilla' worth her icing knows is already very late in the wedding season. Most of the high profile fayres had come and gone, leaving little more than a puff of glitter and a wisp of lace in their wake. I was determined to make up for lost time.
I had visions of what the Fayres would be; what they would mean. We would get so much inspiration there. We would float between beautiful, perfectly crafted stalls, quaffing champagne, umming over creamy, velvety invites and ahhing over little tasters of loveliness designed to ignite our senses. It was all going to be so perfect. The Wedding Fayres would be the journey to start all journeys. They would make me a Proper Bride.
Well, that's not quite what they're like in real life. Not for the first time, my imaginings far exceeded the realms of reality. What they actually involved was a stampede of heavily made-up, steely-eyed women, manning their stalls with military enthusiasm. Behind every morsel of free cake and glass of champers – ok cava – ok, ok lambrini – one of these women would be waiting, ready to pounce as soon as we were suckered in to stand within a couple of feet of her tressle table. Escaping unscathed from the hard sells without leaving any traceable details is an impossible mission. By my second event, I was a dab hand at missing a digit on my phone number and misspelling my own name in my email address.
But it wasn't this that eventually caused me to throw in the towel. I can't tar all suppliers with the same brush; there were exceptions. I've been lucky to have dealings with wedding suppliers who have been genuinely passionate about their work and who have really wanted to do their best for us. The sort of fairy godparents whose sole aim was to transform us from dazed and disorientated fayre-goers into happy customers with a swish of their wedding wands.
The last straw of disillusionment was actually the barrage of sexism we faced, fayre in, fayre out. Now, as a person of female gender with blonde hair and 32GGs, it takes quite something to say that planning a wedding is possibly the most unashamedly, overtly sexist experience I have ever endured in my 25 years on this planet. More than the bin men whistling as I saunter (read: frantically half-walk, half-run) to my car at 8.20am (read: 8.35am) every Tuesday morning, more than my family hooting 'he's such a BOY' every time my nephew does anything remotely interesting, more than sitting in a room full of male MDs at every single client meeting.
In fact, once I saw it, I couldn't stop seeing it. It extended beyond the fayres, it was everywhere. Every website, every magazine, every blog post. The whole industry was riddled with raised eyebrows and sideways glances.
But let's focus on the fayres. On almost all occasions, suppliers talk to me and only me. There are always two of us at their table. My partner is not a shy and retiring wallflower type. He wears bright colours (most of which don't match), has the loudest laugh of anyone I have ever met and is over-friendly to the point of social awkwardness, in addition to being a 6'3 rugby player. He's not easy to miss, in other words.
And yet, suppliers have said shamelessly to me: "We'd rather not have the groom come along – men don't understand these things and it takes so long to explain everything to them….this is a great way to get hubby involved in the wedding prep – but not too much!….All he has to do is turn up, amiright??!"
Well, no, they're not right. And they've actually made my brash, beautiful groom feel a little awkward and embarrassed, because he actually wants to be involved in the planning of our upcoming nuptials – and is actually pretty damn amazing at organising it. I have received pictures of table centrepiece ideas from the midst of rugby bar crawls, my bridal magazines are well thumbed long before I get chance to read them, and he has cross referenced pretty much every supplier within a ten mile radius, complete with price checks and reviews. That is dedication, my friends. Organising a wedding is no easy task.
Why should he – and all other grooms – feel like this isn't their role? Why should they feel as though they have to turn a blind eye to the whole event meticulously planned and prepared around them, involving all of their nearest and dearest?
On occasion, I have seen that fleeting feeling of shame and awkwardness in his face and recognised it, as many (if not all) women do on a daily/weekly/monthly basis, and it has proved too much. I can't keep quiet. The response is always total surprise. They seem to have never been challenged over it. Some have been making comments like the above for years, even decades, to hundreds of couples.
We are talking about an industry dominated, perhaps even run, by women, mostly women with husbands, some even with real human ones who have personalities and feelings and shit and live alongside them in their house every day. We should know better than this. Perpetuating stereotypes helps no one and shying away from confrontation only proves to encourage it. This is what I tell myself anyway, when I can bite my lip no longer.
So all the Brides to be, stand up for your Grooms. And for the Grooms to be, brandish your bright pink wedding mags with pride. Because it's 2014, and despite what some people may say, it's perfectly OK to care about who you're marrying – and how you're marrying them.
- LT