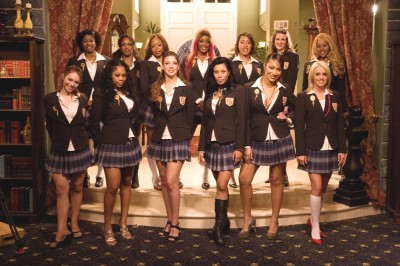 I realised I was bi in a dramatic "oh-shit-I-also-like-girls" kind of way when I was about sixteen. I was just starting my A-levels at the kind of religious, all-girls' school where everyone's parents voted Tory, it was acceptable to describe a haircut as "dyke-y", and watching the (fairly explicit) film adaption of Jeanette Winterson's lesbi-epic, Oranges Are Not The Only Fruit, prompted several girls in my English class to cover their eyes and squeal.
The sex education had consisted of a couple of awkward lessons from our bluestocking headmistress when we were fourteen – the kind where they wheel out the ancient VCR player and you watch a 1980s tape of a man ejaculating in slow motion – and a lecture in our final year on STDs, complete with gory slides and the constant reminder that "the only way to completely avoid this is abstinence!" There was not a single mention of LGBT issues, safe sex for lesbians or even consent.
Aside from the sex education deficiencies, the school seemed to take a head-in-the-sand approach to being gay. Our local MP, who famously told the BBC that parents don't want gay kids, was invited to every school event and the choirs had to change the gender pronouns in songs so they only referred to men. The religious aspect of my school was also often difficult; we received regular visits from evangelical Christians who handed out Bibles with anti-homosexuality quotes helpfully listed under "sexual immorality" in the index.
All perceptions of LGBT people were therefore taken from the media: gay men were cool accessories, lesbians were all angry and shorthaired, and bisexual girls were either indecisive, trying to be edgy, or desperate for male attention. The ethos of the school also made it difficult for the girls to have any sphere of reference – the traditional school/university/stable middle-class job route that was sold to us left no room for digression. In an environment where everyone's hairbands had to be the same colour, being "normal" and "regulation" seemed to be the only option.
I didn't come out until the very end of my time at school. My final two years were very difficult and I went through periods of depression prompted by having to suppress my sexuality. Sadly, one of the reasons I felt I couldn't come out was because I got the impression that, aside from a few fantastic teachers, there wouldn't be any support from the school, should everything go tits-up. Even in my last few months of school, when I cried almost every day, rarely handed in work and was seeing a counsellor, the only concern for the administration seemed to be whether or not I had holes in my tights and whether I would get the necessary grades so they could pack me off to Oxford and not have to deal with me anymore.
When I finally did come out to my closest friends, their reaction was overwhelmingly supportive and everything has carried on as normal. I haven't had many openly negative reactions from other girls with whom I went to school, although there's a sort of awkward online silence if I ever post a picture of me with a girlfriend on Facebook. Only once, when I shared a petition encouraging Coca-Cola to boycott Russia due to gay rights abuses did I experience outright homophobia (with one girl comparing being gay to a "mental illness".)
The single-sex aspect of my education created a particularly challenging environment in which to be LGBT. Many of my classmates had exceptionally unhealthy relationships with boys and skewed perceptions of gender roles as a result of not being used to a co-ed environment. When a good proportion of the year feels that their purpose is to make boys like them, the idea that a girl may completely remove herself from that aim prompts suspicion and paranoia.
Single-sex schools often market themselves on the grounds that their pupils can be more comfortable and confident without the distraction of the opposite gender. Yet so often they are allowed to blatantly disregard important areas of their pupils' development and ignore anything that they are not comfortable talking about. I now live in Berlin, an LGBT Mecca, and have the support of many close friends and family members both here and back in the UK. But if you look on student forums, it's easy to find young people in the same situation as I experienced, unable to see any way out, hoping that "it will get better at university".
Girls in single-sex schools already have high rates of depression and eating disorders, which are often addressed effectively, but no attention seems to be paid to the fact that LGBT teenagers are three times more likely to commit suicide than heterosexual teenagers. For me, and for thousands of other teenagers, being gay was something that was simply not acknowledged, leaving us feeling depressed, hopeless and alone. That needs to change.
-HP