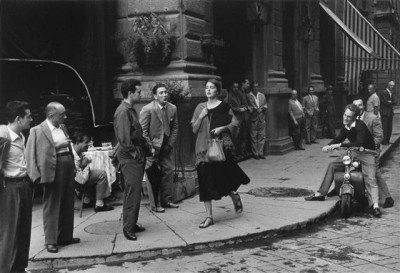 I'm very aware that this is a road well trod for all women out there. If we're gonna show off our bodies, aren't we asking for attention? Can we really blame them if men are attracted by a pair of legs in a flippy summer dress? Poor little dumb sods and their willy-led brains. And shouldn't we make like Paris Lees, and take it as a compliment?
Well I, for one, am fucking sick of this discussion. It's patronising to men. It's limiting the behaviour of women. And it's utterly ridiculous non-logic.
I apologise if you can feel the wrath exuding from these words. I am being An Angry Feminist today. The wrath is fuelled by an incident that occurred way back last summer, but the article is because of an accumulation of this sort of infuriating encounter occurring to my and my friends, over the years, countless times, ad nauseum. Not only is this sort of encounter horrible in and of itself, but the resultant parroting of 'you should be flattered'/'well what do you expect in a dress like that?' does my fucking head in.
So, that day last summer. I was walking to The Ladies Ponds in Hampstead, sweaty from my run and in a Speedo swimming costume, denim shorts and clompy boots (not that I should have to explain my outfit, Your Honour). A man in a large white van shouts out…
"Oooh sexy."
I barely notice and carry on striding.
"Sexy girl! Nice!"
Bit annoying.
"YES! Nice sexy girl! Hoo hoooo!"
OK, that's it. I saw red. RED. IN fact I think I saw black with white spots. Once is a bit annoying. Twice is REALLY annoying. Three times is undeniably harassment.
I feel ambivalent about my behaviour about the rest of the encounter. It went like this:
"ARE YOU FUCKING TALKING TO ME???"
"The fuck?"
"HOW DARE YOU FUCKING TALK TO ME LIKE THAT. HOW DARE YOU TALK TO WOMEN LIKE THAT?"
"Fuck you, bitch."
"DON'T CALL ME A BITCH. YOU SHOULD LEARN TO RESPECT WOMEN."
"Suck my dick."
"I'D NEVER GO NEAR YOUR TINY LITTLE GREASY HAIRY DICK YOU REVOLTING PIG!"
"FUCK YOU BITCH! CUNT!"
"SHUT UP AND DRIVE!!!!!"
I wasn't wearing my glasses in this scenario but at this point I believe he made that incredibly infantile gesture where you punch your elbow and the fist of your other hand goes up. I never actually learnt what this was and my brothers would never tell me.
"…smelly….sweaty….cunt…." (that was him again. I hate it when I don't get the last word).
Then I walked towards two onlookers who checked if I was OK and agreed with me that he was a douchebag and that if I hadn't have said anything, I'd have got angry all day, imagining ever more creative insults.
But really, did I do the right thing? Nearly crying and shaking with rage, perhaps I actually didn't feel any better than if I'd walked away and ignored it. Sometimes, shouting back catches catcallers by surprise and shuts them up, but he just seemed to find the whole thing funny, from the safety of his van and with all his mates watching (who, funnily enough, didn't join in). It was going OK when I was telling him to have more respect for women, but was there even any point in engaging? Was engaging with it all actually indulging him? Not only that, but I lowered myself to his level in childish insults.
This is a series of questions because I genuinely don't know what is right, what is wrong and what you Vagenda readers think. Obviously you should make sure you're safe before engaging in a scathing diatribe, but do these men need calling up on their behaviour? Is engaging indulging them? Are they beyond redemption? Were they just looking at my boobs jiggling around while I gesticulated and screamed anyway?
What also pisses me off is the fact that he'd probably tell all his friends things along the lines of "She was in next to nothing. She was asking for it. I'm a man after all!" And they'd all agree.
Well. This is an area in which I am not ambivalent. I have extremely strong views on this sort of "don't you deserve it a bit?" argument, which is constantly thrown at me, by men and women, old and young, and which I strongly believe to be one enormous crock of sexist shite.
"She was wearing next to nothing. I'm a man after all!"
"You're not wearing a bullet-proof vest. Why?"
"Errr…."
"Well, someone might have a gun. You might get shot today."
"But I won't, I live in Windsor, it's very middle class round here."
"You might. Surely you should wear one, just in case? No?"
Why should I police my own behaviour and dress according to what might not elicit harassment from a tiny percentage of arseholes who ruin it for everyone?
"Aren't you sort of asking for it in that outfit?"
For starters, it was hot. Personally, I live in denim shorts because I can jump around and stand on escalators without worrying about my dress blowing up around my ears, not because they're sexy and alluring. Not that it matters – rape and harassment, by their very nature, can't be "asked for". Because if they were it would mean there was fucking consent involved. HOW MANY TIMES DO WE NEED TO SAY THIS?
"You should enjoy it. Women are sexual too and like to be looked at'
Do I mind admiring glances? No! I doubt any girl does. It's nice to be admired, and I like looking and admiring other people, too. But there is a dramatic difference between an admiring glance and a leer. There's a difference between a friendly hello and pestering. There's a difference between flirting and sexual harassment. And there's a difference between consensual sex and "she was asking for it." These codes of human decency aren't written down in a rulebook. But I don't think the boundaries are terribly baffling or confusing – because THE VAST MAJORITY OF MEN AND WOMEN GET IT RIGHT!!!!
"It's just flirting/banter/eye-fucking"
I wasn't asking for attention in this outfit, and, though I accepted that I might get the odd glance, I certainly didn't want to be pestered and harassed and called a bitch with a sweaty cunt. That's not flirting.
Which leads me to my third and final point – THE WHOLE ARGUMENT SURROUNDING CATCALLING IS PATRONISING TO MEN. Of course they can control themselves, and of course they can know whether they're making a girl feel fancied or afraid. It's just the tiny minority, like the Willy Van Man of my earlier encounter, who ruin it. In other words, those who catcall to intimidate and pester, to leer and threaten us.
Because catcalling is not about fancying and flirting and summer time love vibes, whether you're in Ibiza or on Hampstead Heath. Those summer love vibes when you look lingeringly at someone you pass on the escalator, when groups of boys show off to groups of girls in the park, and when you accidentally touch hands with that handsome stranger, as you reach for the last tub of hummus for your picnic. Everyone's a bit naked, because it's hot, and because, in England, we have around 6 days of sunshine a year to tan our pasty, rickets-ridden bodies. So no, by wearing heat-appropriate clothes, allowing a few extra centimetres of skin to show, we aren't inviting, or asking for, or deserving of unwanted leering, which can make us feel upset, afraid, and belittled.
And as for responding to catcalls, I think we should respond. Maybe not in such a puerile fashion as the stream of immature filth that emerged from my mouth earlier on. But, to me, not saying anything feels like a quiet acceptance and encouragement. A simple "you should learn to respect women," or "Would you say that to your mother?" perhaps. All I can say is be careful. Make sure you're not putting yourself in danger. Pick your battles.
- RP