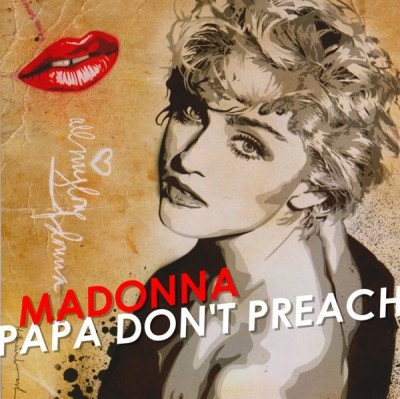 Just before I had my abortion, in the abortion-place waiting room, filled with the other quiet women and quieter men, Papa Don't Preach came on over the radio.
'…I'm in trouble deep
Papa don't preach
I been loooosin' sleep'
The friend who had come with me, tense and full of care, muttered blackly, 'Oh, for fuck's sake.'
'But I MADEUPMAMIND
I'm KEEPIN MA BABYYYY…'
And, bloody hell, it was perfect.
'I would have been fine with some soft jazz,' I said, quite loudly.
Another ruined woman next to me started laughing, and then stopped, because this isn't funny. Except it was. I madeupmamind. Ahhhm keepinmababy. Thank you, Madonna. Thank you for cutting to the core of it all.
Life is absurd a lot. And thankfully, it's often absurd just when you need it to be. Of course, the absurdity works both ways. You can't have an absolute diamond, like Papa-Don't-Preach-at-your-abortion, fall into your lap without understanding that you'll need to pay for it.
Picketers outside the clinic, for instance, trying their best to emotionally scalp vulnerable teenagers and women who have made a decision about their own bodies and are simply getting on with it, at 8am on a Tuesday. A middle-aged woman in a blue coat, with leaflets that are angry, yellow and red, and knowing with a jolt that she thinks she has some right over your body. What is happening inside your body. Yours. Mine. Absurd.
And to be honest, picketing outside the clinic itself seems cutting it pretty fine. A bit like planting billboards against the dangers of drowning at the top of the water-slide. If we've come this far, chances are we're taking the plunge.
Unsurprisingly, it's fairly easy to get caught up in the drama of an abortion. After years of hearing tear-misted screen lovelies whisper the words, 'I'm pregnant', putting into motion a series of increasingly exciting and narratively satisfying events, it's strange and surreal to suck on those words yourself.
As a human, and (perhaps especially) as a writer, you can't help but step back and examine the things that happen to you from a descriptive perspective, to put into words the murky mists that travel in and around your brain. Sad, self-indulgent, not always helpful, but true. And I knew that when I said the words 'I'm pregnant', I said them as a character in a drama, and nothing else. For me, there was an instant separated-ness from the phrase: I was simply speaking the lines that let me know this wasn't going to de-rail the course I had set for my life.
For others, they speak those words, and they fit. Fine. For some, there is an attachment to and repulsion from the words that make a definite course of action difficult and traumatic. It's them I feel genuine pain for. But for me, it felt like I'd accidentally come off the motorway into a fairly pleasant village. It's not that I couldn't appreciate the view, it's just that I was already running late, and traffic's always a nightmare in similes.
And it's funny how much guilt is still associated with it. Because when I found out I was pregnant, when the little stick did its little thing, and I felt that lifted bubble of serene horror, it popped with an, 'OK, so who can I get some advice from about this?' And the answer was: no-one.
No-one I knew had had an abortion, to the best of my knowledge. Because, although it's OK now, it's not, really. Although in my head – riddled with the cold logic of the North – this was as morally taxing as wondering whether having a flu jab is murdering innocent bits of virus, I was aware that I still had to tread carefully. Be careful who I told. Be careful how I went about this with work. And I was so cross with myself about that that I instantly told almost all of my friends, in much the way that I would tell you, if the subject ever came up. I am not ashamed that I had an abortion. The only, ONLY thing that kept me (and keeps me) from full, (read: non-anonymous internet) disclosure on the topic is the fact that I think if my parents knew, they would be sad. And I don't want to make them sad. And that's my choice.
I recently told a very old, very dear friend (I had the abortion in January, just for your records, Lady In Blue), and her immediate reaction summed up my feelings about the whole thing.
'Oh BLOODY HELL, that is SO ANNOYING.'
And it really was. But, in all honesty, I don't feel like it was much more than that. Of course it was painful, of course it was depressing – it's a medical procedure and you're sick, and you cramp and you're literally bleeding FOR AGES OUT OF A HOLE IN YOUR BODY – and of course there is that part of you, that tiny, irrational part that whispers, 'What if this is your only chance? This is it, and you've missed it? What if tomorrow, your torso gets blown off by an angry mechanical horse, and you have to live the rest of your life in a barrel with wheels, knowing that you'll never have a spawn of your own to push you around?'
And yes, that is a possibility. But I didn't want to have a child. And I really, truly don't think children should be born to people who don't want them. There are already too many people here. It's full. Have you been on the Tube? It's awful. And also, when I think about that, I think about being forever haunted by butIMADEUPMAMIIIIND, I'MMMKEEPINMABABYYY, and I laugh. Thank you, universe.
So, to any other guilt-lackers out there, I'd like to impart some Practical Abortion Advice. I didn't really have any because of the whole hush hush wink wink sin sin etc, and now that I've got through it, I'd like to share some stuff with every potential womb-ruiner who needs it.
1. Go to a specialised clinic, if you can, not a hospital. It's still free. I know, right? I ended up having TWO abortion attempts (because of an admin error, not because of any last minute panic on my part) and first time around, I was sent to a massive hospital where the abortion centre was ON THE SAME WARD as the antenatal clinic. HEY, CAN WE GET SOME BABIES OVER HERE? It was only because of the amazing quick-thinking and patient persistence of the friends I took with me that I didn't melt into a horrified grey puddle of ooze.
2. I had a medical abortion rather than a surgical one because I didn't fancy the idea of being under anaesthetic. It hurts like absolute balls, but only for about half an hour. Also, I was phenomenally sick, and the entire bleeding process took about two and a half weeks in total. Your call. If I was to do it again (which I'm obviously gunning for), I would probably go surgical. But that's just me. I'm a pansy.
3. So the medical abortion takes place over two days – you go in and you have the pre-abortion tablets (where the mites just do a general sweep of your womb for debris, look, I don't know, I'm not a doctor), and then 24 hours later you go back and have the proper embryo-blasting stuff. You need to have someone drive you home. Do not get a taxi. Get someone to drive you home, and stay with you FOR THE REST OF THE DAY. Trust me on that one, and make sure it's someone who can a) make you laugh and b) make you cheese on toast.
4. People will be shocked if and when you tell them. They will be shocked that you have told them. It is how we know to react to this news, from films and such. But, if they are kind, their first and most pressing objective will be to see if you are OK. And if you are, they will be too. They will relax. It will become a thing that is OK To Talk About, Actually. This is your body, it is your call. If you don't want to tell anyone, fuck everyone. It's your body. If – like me – you're actually, fundamentally, really not that emotionally caught-up in the whole thing, I kind of think it's important to talk about that too. Don't feel pressured into jaccuzzing in your own non-existent guilt. No, of course we don't want girls everywhere to think HEY, ABORTIONS ARE AWESOME NOW! They're not. They hurt and they're shit and they make you feel afraid and sick and stupid. But, for me at least, it wasn't a moral wrench. So I'm not going to pretend like it was.
5. After you have had an abortion, you will greet every period like it's the final shot of The Shawshank Redemption. A beautiful crimson hug. You will also be paranoid about birth control, probably for a long time. So will everyone who went through it with you. But frankly, there's not a lot of harm in that.
'I'm in trouuuble deep…'
Except I didn't feel that way, not really. And to pretend otherwise would make me a hypocrite. To my friends, the people who helped me through this hot-topic medical procedure, thank you. Sorry it was a bit of a pain. To the woman in the blue coat, what you do comes from a place of true belief, and I understand that. But to those of us who draw strength from logic, from reason, from science, it's not enough. I madeupmamiiiind, and, fundamentally, it's none of your business.