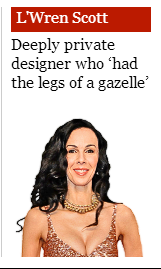 I think we all need to get on our feet and give a standing ovation to the internet or, more specifically, the tabloids and gossip magazines which the UK seems to produce as quickly as we can stuff them into our greedy mouths.
The news that L'Wren Scott had committed suicide reached me, as is the way these days, on Twitter. As a relative newbie to the social media platform I still am occasionally shocked by people's ability to undermine and devalue the sadness of this kind of news in just 140 characters (Bob Crow's death is a particularly bad example of this, but that is a matter for another time….).
Even when I searched #l'rewnscott, the first 'suggestion' for me was to follow not the woman herself, but Mick Jagger – with a tiny box in the bottom left hand corner saved for Scott's own profile. But in this case, Twitter's reaction to Scott's suicide could be seen as practically angelic compared to that of the national media.
Leaving aside the fact that almost across the board, Scott was referred to as "Mick Jagger's girlfriend" for a moment, yesterday the front pages of not one, but three tabloids displayed a huge picture of Jagger at the moment he found out about Scott's death. I'm looking at you, the Daily Mirror, Daily Mail and the Daily Star. Clearly not considering the news of the death of a talented woman to be enough to shift copies, they decided to plaster the singer's clearly distressed face across them instead.
The UK tabloids don't have the best reputation but even they seemed to outdo themselves yesterday. And it wasn't just the red tops at it. "Deeply private designer who 'had the legs of a gazelle'" cried The Times' home page. Oh yes, because her long limbs is surely the way that she would have wanted to be remembered, and certainly her most important characteristic to note.
The Daily Mail's sidebar of shame unsurprisingly went all out, including a picture of "grief-stricken" Georgia Jagger, a 22-year-old now dealing with a death in her family, and a baffling feature titled: 'Overdoses, broken hearts, divorce and the troubles of sex symbol Jagger's women'. You can't help but feel the Daily Mail are somewhat revelling in the fact that Scott – outwardly a driven and successful business woman – was struggling behind closed doors.
Yesterday they proclaimed that: "Scott was said to be distraught and 'embarrassed' over her failing business, as she owed nearly $6million to creditors", and today they have an 'exclusive' with the designer's estranged sister declaring: "L'Wren Scott was desperate to have children, her estranged Mormon sister claimed today, wondering whether this void, rather than money woes, might have been the real reason she tragically took her own life." You can almost hear the cries of 'See! We told you that women can't be successful and happy! If only she'd followed her sisters path, got married, churned out numerous children and lived as a Mormon, all this might never have happened!'
Of course the coverage has simply garnered further coverage. The Guardian published a Comment is Free article yesterday condemning the press' reaction as "lurid" and proclaiming that "The popular press has reverted to its pre-Leveson position." But where is the opinion piece which focuses on Scott? Where is the article that laments the fact that this woman's death has been lost in all the noise and headlines anointed with pointless exclamation marks?
Now that the news of her death has been registered, and the tributes have begun to pour in, it would appear that many media outlets have taken note of the widespread criticism of this initial coverage, and adjusted their headlines accordingly. However, it does seem all a little too later. During her life, Scott was clear that she had worked hard and wished to be known for her work in fashion, rather than because of the person she was in a relationship with. It is therefore sad and ironic that in her death that is exactly what is happening. In an interview with The Times just last year Scott was quoted as saying: "I don't want to be defined as someone's girlfriend." I think the press should honour that.
- LD, @DraperLucy