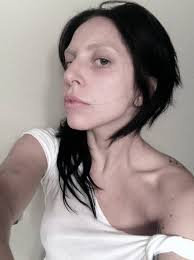 Above: Lady Gaga's #nomakeupselfie
Don't get me wrong – I am well aware that there are bigger things to worry about than whether some people want to post up a picture of themselves without make-up and donate to a cancer charity. In the scheme of global injustices, it ranks pretty low. But, as my Facebook (bareFacebook? no? ok…) feed has been increasingly swarming with #nomakeupselfies, couched in the stiff-upper-lipped-ness followed by an out-pouring of repressed emotion I normally associate with Blitz dramas – "no excuses! we've just got to get on with it! But darling – you're beautiful! I never realised!" – I've felt more and more uncomfortable with the whole campaign.
It seems impossible to criticise this campaign without facing a barrage of "WELL IT'S RAISED A LOT OF MONEY FOR CANCER SO IT'S ABSOLUTELY A GOOD THING." I am not in the pro-tumour brigade, just to make that clear. I will not be suggesting a "ciggieselfie" campaign whereby everyone can take a photo of them pouting with a fag, text a number, and money will go to fund the efforts of tobacco companies to get kids in the third world addicted to nicotine. But, I do have a right to think whether or not I will participate in the means that lead to the money-raising ends. If people do, then that's fine – it's their decision. But I don't want to participate in this one, nor do I feel that other people should be pressured into. Here's why.
The debate around the nature of this campaign seems to revolve around two opposing arguments. Firstly, does this perpetuate the idea that going without make-up, and showing your horrible bare face, is a terribly brave and frightening thing to do, requiring oodles of courage – just like the bravery shown by those fighting cancer? Or, does it empower women, allowing them to realise that slap-free faces are pretty normal and that they are *KLAXON* not actually disgusting to everyone else around them. So it seems like you can either complain on these grounds: that equating the "bravery" of going without make-up to that of someone going through cancer treatment is wildly offensive, or you can defend the campaign on the grounds that it's created a groundswell of more naturalistic images of women, and raised some money in the process.
But to me, this dichotomy doesn't get to the heart of the problem. Courage is entirely subjective: for some women, going make-up free is probably terrifying, and props to them if this whole exercise makes them a bit more comfortable in their own skin. The real issue with this campaign is that it does nothing to shift the parameters of the relentless focus and scrutiny of women's appearances: it simply shifts the goalposts in another direction.
The introduction of the nomakeupselfie seems to bring into play a whole other set of aesthetic ideals for us to live up to. I don't know about you, but the nomakeupselfies I've seen have felt rigorously controlled and artificial. Hair perfectly blow-dried, skin dewy, posed in a flattering, over-exposed light, with the wide-eyed selfie taker exhibiting a blandly noble half-smile, or solemn pout. It strikes me that, even though these are called selfies, there's very little "self" in them. They just feel like tightly controlled single images, fleeting shadows of the platonic nomakeupselfie ideal, which is something akin to a peach with false eyelashes, and thus the whole exercise becomes a carefully orchestrated performance of "being natural".
And here's what really irks me about it: I am not going to be pressured into looking any particular way, by anyone, even if it's for charidee. If I was being asked to get my tits out to tackle, say, the extinction of whales, I would refuse (probably. They are majestic – and so are the whales). It's my right to do what I want with my face and my body, and I won't be pressured into presenting any particular image of it – even if it's ultimately for an undeniably good cause. We should diminish the scrutiny of whether a woman is or isn't wearing make-up, and the significance of whether or not a woman chooses to do so. The women I know are starting businesses, raising babies, dealing with physical and mental illness, being posted overseas, making films, helping loved ones through tough times, writing books, being promoted, meeting people, breaking up, moving abroad, buying houses, studying, running marathons, getting drunk, getting their shit together, falling apart, starting again, and loads more besides. And I really, really don't care whether they're doing all of the above in full make-up, bare-faced, or saying that they're not wearing any when in fact they've got a dab of concealer on and a bit of blusher. I don't give a shit. It's entirely their choice. And, no one else should care – the focus should be on what we are doing and who we are being, not on how we look with or without a swipe of bronzer.
So, even though I totally agree with raising money for this cause, I'm not joining in with a campaign that insidiously increases the scrutiny of our faces. Of course I think that a society in which women are more comfortable going without make-up, and in which we have more diverse images of women available than those which are groomed and airbrushed to within an inch of their lives, is a good thing. But I'm not sure that turning the unpainted face into a piece of social media performance is getting us any closer to this goal. And anyway, I want to sit in a bathtub of baked beans when I raise money for charity. The colour really suits my skin-tone.
-SW