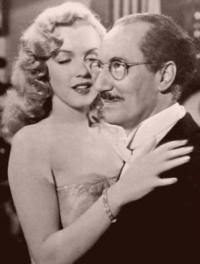 For as long as I can remember, I've preferred older men. My very first crush was on a boy five years my senior in Sunday School (racy stuff), and while my fellow freshers were smooching each other in the Union bar, I was making wistful eyes at the PhD students. Nowadays, at the ripe old age of 27, I often find myself getting involved with chaps in their forties or fifties. Fortunately, I enjoy looking after window-boxes and griping about how everything on TV is rubbish these days.
 But seriously, folks – single men of this vintage have masses going for them. Their duvet covers and pillowcases match (such sophistication, so romance), and their minds are unsullied by Redtube. Plus they tend to live alone, which means no queueing for the bathroom in the mornings while their weird flatmate is covering 90% of his body with Veet. Yes, they come with a fair amount of baggage. But doesn't everyone, when you get down to it?
 'Sounds delightful!' I hear you cry. 'Where can I sign up?' Woah there, ladybro. Before you go bounding merrily across the age gap, there are some things you'll need to get your head around if you're considering dating an older man.
They won't believe you actually fancy them
Unless your would-be squeeze is made in the Rex Manning mould, he will be staggered that anyone is taking an interest in him at his time of life – less still a bona fide fox like you. Such is the premium our shallow society places on unlined faces. If you wait around for him to make the first move you could be waiting a long, looong time. So go for it! Flutter those eyelashes, open that second bottle of Jacob's Creek, seductively nibble the leftover salad garnish on his plate. In terms of how strong you should come on, think 'Golf Sale' sign.
 You'll actually use your landline
To your average forty- or fiftysomething, Tinder is what you use to start fires. Your new romantic prospect will likely woo you the analogue way, which means entire evenings spent on the sofa waiting for the landline to ring (and dialling 1471 every five minutes just in case you unwittingly blacked out for a couple of seconds and missed a call). Fun times, end-of-the-last-century style. Still, it's not all bad. They might write you – gasp – an actual love letter.
 Plan your nights out
Choose your dinner venues carefully. Hipster burger joints, for instance, are a recipe for disaster. Your date will look at you incredulously when you suggest queueing for a glorified Wimpy, then mispronounce 'chorizo' just like your dad does when you order.
 And speaking of your dad…
You will sometimes be mistaken for father and daughter when you're out and about. This is embarrassing, though less so for you than it is for those doing the mistaking.
 Gender politics: you win some, you lose some
Your beloved will have come of age in the 1970s or 1980s. So all being well, he should be fully conversant with feminist theory. Jackpot! However, he will also have lived through an era in which office bottom-pinching was still considered megalolz. It's a funny old mix: in my experience, older men are delightfully unfazed by underarm hair, but will automatically (until you flip out about it in the middle of Tesco) refer to women as 'girls'. Ah well. God doesn't give with both hands.
It's all the same lying down
When people find out that you're regularly breakfasting with someone several decades your senior, they'll inevitably get all giggly, and then finally pluck up the courage to ask you: 'But is it different? You know, in bed?' Barely, is the honest answer. Yes, middle-aged men are less keen on gymnastics than their twentysomething counterparts, but as anyone who's ever done their back in half way through will tell you, this is by no means a bad thing.
Meeting his friends and family will be difficult…
Your plus-one will probably have an ex-wife (or two), and children who might not be much younger than you. Awkwardness ahoy! Handle meetings as you would any other tricky social situation by tanking up on wine beforehand. And remember, it's a bit like bears: they're more scared of you than you are of them. (Maybe.)
 …but him meeting yours will be worse
The open-minded, progressive sorts you surround yourself with will be totally on board with your new relationship, right? Erm, wrong. Actually, almost everyone you know is going be horrified by your choice of partner, and will do their best to coax you back onto a more conventional path. Prepare yourself for a tidal-wave of concern trolling. I've found that the best comeback for the inevitable 'But he's so much older than you!' is to silently count off your fingers for a bit, then yell 'OH MY GOD, YOU'RE RIGHT! I LITERALLY HAD NO IDEA!!!!!!'
You need to think ahead
Put bluntly, you ain't never growing old together. And an age gap of more than, say, eight years forces you to be honest about what you both want much sooner than you would otherwise. By the by, don't automatically assume that your other half won't want to spend six months backpacking around South-East Asia with you just because he listens to Gardener's Question Time. He might just surprise you.
 - EH