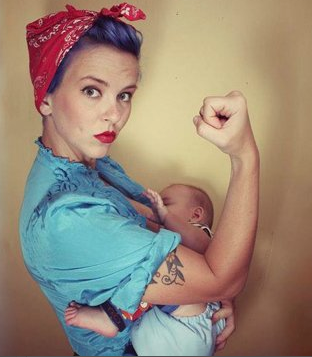 Image courtesy of Everyday Soiree

I'm considering doing something I never do.  I'm thinking about going into a Sports Direct shop.  Whilst I'm in there I'll do something I've been doing pretty much every 3 hours for the past 6 months: I'll feed my baby.  I'll feed my baby with my breasts.  I know, it sounds horrible, doesn't it?  Horrible to take an innocent baby into that disordered den of cut price football kits and golf umbrellas.  But a mum breastfeeding her 3 month old son was recently asked to leave Nottingham City Centre's Sports Direct and forced outside to feed him in the rain.  Apparently she was told that breast feeders were not welcome.  That makes me angry.
 As well as being a pretty shoddy thing to do to a customer and her tiny baby, ejecting a woman for breastfeeding is actually against the law (breastfeeding mothers are protected under the Equality Act 2010).  But perhaps the law is no bar to protecting the sensitivities of the wider public.  Because breastfeeding is offensive, isn't it?  That's the impression I'm getting from the spate of recent incidents: a mum breastfeeding her baby in public was photographed by a stranger and labeled a "tramp" on social media and another mum has just secured a settlement from a public pool in Kent for being told to leave for breastfeeding her baby.  Not to mention the vitriol that accompanies these stories when they are reported in the media.
 I know I shouldn't waste my time reading those comments – not even the witty ones drawing comparisons with defecating in the pool – but it is so depressing.  Especially the ones expressing dismay that this is the thin end of the wedge and soon breastfeeding mums will be whipping boobs out in restaurants and on the bus.  Well, yes, they may – because they are feeding their babies.  You see, if you are breastfeeding your baby and you stop doing it, your baby will starve.  So, it's not really making a statement to be feeding your baby in public, it's not about wanting to cause offence, it's really just about, you know, wanting to keep your baby alive. It just seems odd that a society that is apparently okay with seeing half naked women and breasts in every newsagents can get so upset about seeing a baby using breasts, usually very discreetly, in a way nature intended them to be used. And if you think seeing breastfeeding in public is offensive, let me introduce you to "Crying Hungry Baby" – noisy little tike, isn't she?
I'm not even going to give the dignity of a response to arguments that breastfeeding mums should stay at home or use bottles to feed their babies when out.  Breastfeeding is natural and is in fact recommended by the NHS and the World Health Organisation (incidentally, the WHO recommends children receive breast milk for up to 2 years of age or beyond, but isn't that just too "gross" to consider? It is if the responses to a recent article in The Sun about a woman breastfeeding her 5 year old are anything to go by).  Actually I don't think that this issue is just about breastfeeding.  Formula feeding mums often have a hard time too with people judging them – brilliant mums made to feel like they are poisoning their child by giving it something other than breast milk.   But all mums want the same thing – a healthy, happy, thriving baby – and we should be able to use whichever option to feed them without being saddled with shame and guilt.  Everyone else should just butt out.
- BL