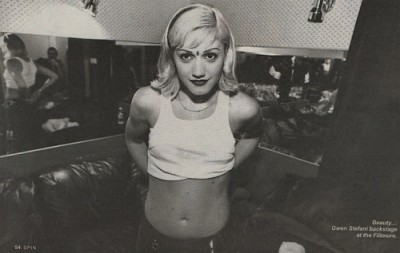 For the first time, I can remember fashions from the first time round, and it's freaking me out.
I know what you're thinking, older women, and it's 'boo-fucking-hoo, little girl. Try having Marie Claire selling the same boiler suit you wore in your twenties to today's firm-bottomed youngsters when you, the 'wrong' side of fifty seven, are doomed to pop-socked laden future of slacks and targeted ads for vaginal tightening creams. My heart bleeds for you, you irksome foetus. Indeed, I am playing the world's tiniest stradivarius (a stravidarius which I bought, incidentally, with the million pound profit I got from my townhouse, which I bought for £2 in 1963), and as I play, the blood and the sweet melancholic music blend to provide YET MORE PITY FOR YOU and your concerns about ageing. I am weeping with endless empathy. Etc, etc.'
I take your point, irritated older women of my subconscious. I'd hate being one of those young writers who assumes that everything that is happening to them is happening for the first time. Which is why I'll happily declare right now that, if at some point in the near future I am to get pregnant, I will never, ever write a newspaper column about the trails and tribulations of being a first time mother. Well, not unless the money is REALLY REALLY GOOD. That's a promise from me to you. It is a solemn vow.
Anyway, so the other day my colleague sent me this: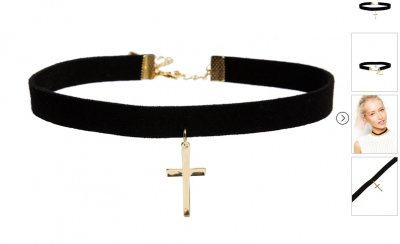 Is this a dagger I see before me? Breathe in, millenials. That is indeed what you think it is. Your eyes do not deceive you – it is a velvet choker with a cross on it.
A velvet choker with a cross on it.
A VELVET CHOKER WITH A CROSS ON IT.
I wore one of those when I was fourteen. Chances are, you did too. And it's not just the choker. I'm seeing velvet spaghetti strap dresses. I'm seeing silver things in Whistles (they're not quite the charming silver combat trouser- bodywarmer combo I sported for the millennium, but they're on their way). I'm seeing mini-backpacks and jelly shoes and crop tops and tie dye and OFF THE FUCKING SHOULDER TOPS. What fresh hell?
It was only when I noticed that I was scouting the murder victims of True Detective for fashion tips that it dawned on me that the nineties were back. I realise that the circuitous nature of fashion means that things will always go in and out of style – it is an inevitability. Part of my irritation at the return of the nineties is, I accept, the ready-made wardrobe I would have had I held on to all my old clothes. Am I upset that I didn't keep the baby blue mini backpack I was given on my thirteenth birthday to contain my very first mobile phone (which had an aerial! An aerial! And no address book!!!)? Yes, I am. Even though I would look like a twat in it. And am I sad that, as a friend recently pointed out as she gazed wistfully at the washboard stomach of a seventeen year old in hot-pants and a crop top that we are 'no longer the fit ones'? Of course I am. I'm only human, and like many other ancient humans on the verge of death from old age, I couldn't name a single Jessie J song. But this isn't just about ageing gracelessly. It's about fashion, and commerce.
You see, the circles that determine what goes around comes around style-wise seem to be getting smaller. Unlike my pelvic floor muscles, they are tightening. While I can understand how my mum can look at the kaftans of two years ago and sigh wistfully, that 'oh my god, I can't believe those are back in fashion', the nineties only happened about ten minutes ago. OK, not ten minutes ago, but a lot less than the forty years ago that were the seventies. I refuse to believe that the things people were wearing twelve years ago count as 'retro' or 'revival'.
Why is this happening? Is it because my generation has finally come of age, stopped interning, and got jobs in the fashion industry just as they were realising that they should be taking all their styling tips from Clueless? Is it because Kate Moss still looks good in these clothes? Or is it because fashion has, actually, reached the zenith of homogeneity and there is nowhere else to go from here?
I think it's the latter.
Think about it. There are no subcultures to borrow from (when was the last time you saw a proper teenage goth?) and everything is a meta-ironic version of something else. Buzzfeed makes articles from other articles, songs are sampled and rehashed into other songs, Celebrities are our 'style icons' who we're supposed to copy to 'get the look.' Street style blogs have developed tropes of their own and are becoming boring in their sameyness. Where else to borrow from but a mere decade or so ago? It doesn't matter that a lot of it is terrible, because it's new(ish). Even the nineties is a long time ago in current fashion schedules, when you consider how there's not even much point in throwing anything away now that last season's 'victoriana chic' is next season's 'gothic wonderland.'
Maybe I am wrong, maybe it is because I am just getting old and no longer have a figure that looks good in Topshop 'Mom' jeans (oh, how we used to deride 'mum jeans'! Now they are the latest thing) Only time will tell. If, in the next couple of months, bleached denim starts popping up everywhere on the high street, we'll know for sure that the fashion time-space continuum is truly broken and that, in this homogenous universe we inhabit, there is truly nothing that can ever happen ever again.