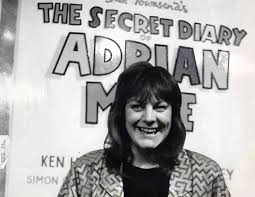 For anyone who ever attended an author's talk at a public library in the 90's, you will know that they were typically odd occasions attended by weird and wonderful people wearing socks with sandals, who would be carrying Wilkinson's carrier bags filled with questionable items like mouse traps and salmon paste. Although I'm not sure if this is still the case, I do know that it was at an event just like this that I met my idol.
Since the age of ten, I have been a Sue Townsend devotee and addict and along with my mum I went to that talk in 1999. It was completely thrilling. I sat in in the room, quite near the back and looked at Townsend from afar. Later, she signed my copy of The Secret Diary of Adrian Mole. I'll never forget that feeling of having her attention for a sweet, split second as she looked over her glasses and gently asked how old I was (eleven three quarters). One of my favourite life moments, along with having breakfast in the Magic Kingdom.
Sue Townsend was the first person outside of my immediate family to have stirred my feminist conscience, although until relatively recently, I had so taken this for granted that I hadn't realised it. Which is a bit stupid really.
Her writing is devastatingly sobering (for a sparkling example of this, look no further than The Queen and I when Liz and Phil and the rest of the royal lot are packed off to live on a council estate). This is indispensable in an age where self-aggrandising cleverness and dull, ironic commentary are the norm. She shakes us and reveals the simple and complex and often gruesome truths (which in the Adrian Mole series regularly arrive in the form of treacle-haired Pandora, a wily vixen who is now PhD, MP, speaker of umpteen languages and life-long teaser of Adrian' affections). Yet somehow Townsend finds magic (always) and redemption (sometimes) in the everyday and tragic which makes you feel…well, not quite so bad about things.
Sue Townsend was a literary rebel in the body of an ordinary woman who seemed to live an ordinary life of love, imperfections and tragedy, complete with a taste for vodka and silver hooped earrings (which she didn't mind gave her the slight look of a comedy gypsy).
She certainly wasn't afraid of feminism and of making sure that thousands of kids were unwittingly soaking up a feminist narrative before they were even teenagers.
It doesn't matter whether you are a boy or girl, man or woman, or gay or lesbian or straight, posh, not posh, whatever. Because that's the thing about Townsend; despite the raging anger, justified finger pointing and sinister social satire, she believed in everybody (apart from Margaret Thatcher). It will be worth the trouble even if you are only able to read a half, a quarter or hell, a page of a book.
I was just about to leave my flat to make my way to the airport to catch a flight to Malaga when I heard that she'd passed away. Quite frankly Dear Diary, I bawled my eyes out.
But then I thought about the sun, sea and Sangria ahead of me and that she would probably find an overly sentimental reaction distasteful.  So instead I decided to drink a large glass of wine as soon as I got to the airport in silent celebration of my hero. I think she would approve.
I was also thoroughly heartened to discover just how much she was loved by others. JK Rowling led the tributes and I am delighted that I am not the only person to have been in love with Sue, Mrs Mole, Adrian, Pandora, Jo-Jo, Bert, Queenie etc. etc. (we could etc. for a while here).  I am even more delighted that we have a woman whose tributes have focused on her achievements, wit, humour, raging socialism and passion for justice, political and otherwise, rather than appearance, or marital status.  We could pick holes in the fact that they pretty much all began with a line about her having three children under the age of five her early twenties and her struggle as a single mother – of course it is likely that were she have been a man in the same situation, that part of her life would have long ago been forgotten.  But then, those were the facts, and so they should be celebrated. She didn't forget where she came from, so I don't see why we should.
If I were to write one message for Sue, I would echo her sentiment from that author's talk on that summer evening in Barking in 1999, before the Millennium Dome and Weapons of Mass Destruction had begun to set the pace for the new decade and our crazy social-media/celebrity saturated lives.  Remembering how I stood by in desperate anticipation of the message carefully being scrawled in the front of my battered copy of her most famous title, I would write:
"Dear Sue, aged 68. Thank you for the laughs and for always telling me the truth.
"It was very nice to have met you.
"Claire, your No.1 Fan, aged 26 and three quarters."
- CC