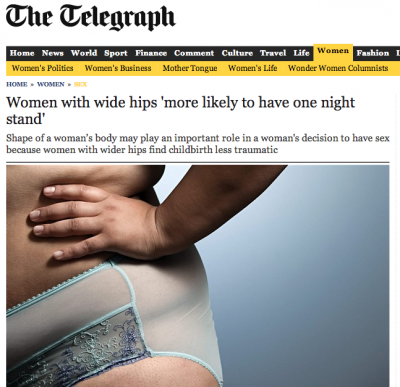 "They have long been known as 'child-bearing hips'. Now, a new study has revealed that women with wide hips are more likely to have one-night stands and more sexual partners in general." This is how the Telegraph broke this week's news that actual scientists are conducting ACTUAL STUDIES into just how much nookie you're getting in relation to the width of your middle bit. Yeah.
Indeed, Leeds University, which apparently has nothing better to do than commission pointless research,  'found the shape of a woman's body may play an important role in a woman's decision to have sex because women with wider hips do, in fact, find childbirth less traumatic.' WAIT. HOLD UP. You mean it's not because men apparently find large-hipped women attractive? That makes a nice change from the usual biologically determinist body shaming guff the media comes up with. Thanks Telegraph! No, this time it's about how big your vagina isn't (or is). So actually, the same old body-shaming guff, just framed slightly differently. Never mind that, as several of our twitter users have highlighted, the width of your hips has nothing to do with the size of your pelvic cavity, let's roll with it.
Unusually for the Telegraph, which is usually one of the more enlightened newspapers (amiright ladies?), the article is based on the age-old idea that women always have babies on their minds, even when they're getting down to it with a complete stranger in a Travelodge after several rounds of quadvods. ESPECIALLY THEN. "This jagerbomb swilling Australian direct marketing expert who frequents Clapham Infernos while enrobed in a bodywarmer is as good a potential father as any" she must tell herself, of an evening. 'It's a good thing I have such wide hips, which by some biological miracle also have resulted in a correspondingly massive vagina so cavernous that will hoover up all his man sperm like the Hellmouth in Buffy, while cackling evilly in anticipation of the next 18 years of CSA cheques I'll be getting. Sweet!'
Again, as one of our readers (they're basically taking over our jobs, so wise and funny are they) pointed out, such stereotypes are pure Telegraph. Women have babies, like babies, look after babies, and, even when they're pretending to do other stuff, other stuff that they think they can do as well as men (bless), they're really just thinking about babies. BABIES BABIES BABIES BABIES BABIES.
Getting back to the topic of hips, however. The amount of detail this article goes into is insane. 'The women for whom one-night stands accounted for three out of every four of their sexual relationships had hips at least 0.8inches (2cm) wider than those who had fewer one-night stands', we are told. WELL KNOCK ME DOWN WITH A FEATHER TELEGRAPH, THAT'S SOME SCIENCE RIGHT THERE.
It's over to the commenters on this one:
'Yes! Another great bit of journalism on fat slappers. It's why I read the Daily Telegraph' says impeccable human being 'johnnyjustiss'.
'Doesn't seem to have cramped Kate Moss's style', says future father of my children 'foxie1′.
'Isn't this a variant of the awful truism "fat girls are more grateful"?' Asks the virile and attractive 'johnrhysdavies'
and 'My thoughts exactly. The skinny birds have boyfriends', says Brad Pitt lookalike and excellent feminist 'Mvubu88′
So there you have it, fat slappers of the UK. A veritable pool of sexy male talent to dip your chubby toes into. All for the taking below the line on any Telegraph article about women. I'm wet just thinking about it.