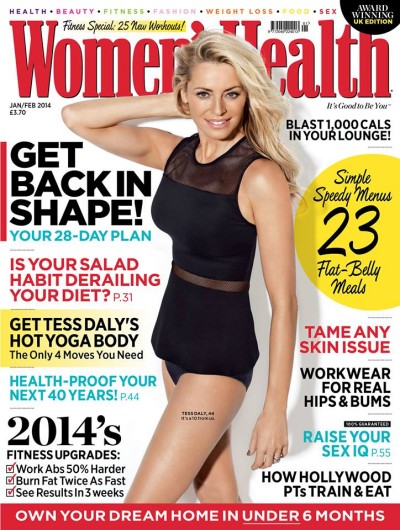 I'm a big fan of Men's Health magazine – as a woman I do get some funny looks reading it in public, but the exercises and diet tips generally focus on building muscle and fitness, as well as improving performance, albeit with a testosterone focus. So, when I spotted an issue of Women's Health, I thought I'd give it a go – expecting more of the same, but with articles targeted to my lady-hormones (in their defence, they did eventually get around to telling me when I should start worrying about my thyroid and how to reduce my risk of osteoporosis, so props to them for that).
So imagine my disappointment when I flip open to this: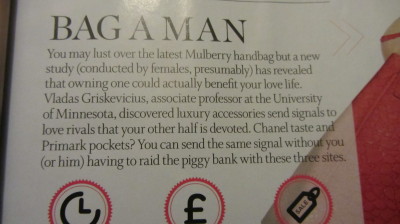 FFS. Women's Health is supposed to be a health and fitness mag. At least try and sell me a bag that I can fit my trainers in, rather than telling me I need a bag that will keep love rivals away from my man. So much for encouraging healthy relationships with other humans (not that many women's mags do that.) Frankly, if your relationship really needs a handbag to survive, then you need advice on where to get help, or how to get out – not a link to rentahandbag.com. I swear to God, this featurette had me doing a Lady Bracknell for a good ten minutes. A HANDBAG?
But that's not all. Other comedy highlights include "primal fitness" – one of only two exercise regimens in the whole mag, I should add. Primal fitness consists of a 30 minute work-out they recommend you do at the park which includes "the cat walk" (crawling), "the rabbit walk" (bunny hops) and "the toddler climb" (in case you needed infantilising a bit more). The illustrations indicate that these should be done in a leopard fur bikini, but my local park isn't really that kind of place and I bet yours isn't either.
"Is your salad habit derailing your diet?" I'm then asked. SPOILER ALERT: it turns out that Tesco's chicken and bacon pasta salad is not low fat. Who knew?
Then we have "Get Tess Daly's Hot Yoga Body: the only 4 moves you need". Tess Daly does yoga twice a week. Now, I'm sure she's a lovely lady, but when you consider how Men's Health tend to interview athletes, twice weekly yoga isn't really going to cut it. I didn't finish the article feeling inspired to take up her gruelling training regimen, let's put it that way. Moreover, the focus on getting a 'hot' body rather than a strong, healthy one will be familiar to women's magazine readers the world over.
In classic, 'food diary' style, Women's Health also interview a celebrity trainer about her diet and exercise regimen (the highlight of this diary is 11am on Saturday, when she consumes '2 litres of water' – YUM). Their comments in response to this are ridiculous – they recommend she tries coconut butter to aid fat loss (why does she need to lose fat exactly?) and suggest she has juice instead of breakfast cereal (!) Although they do quite sensibly recommend she try eating lunch (to stop perilous snacking, obv).
Then we have 'YOUR FLAT BELLY DIET DAY'. Apparently, if you hardly eat anything all day it will make you look slim (I haven't road-tested this, because not eating makes me grumpy). I have to say it doesn't appeal to me, especially not when you contrast it with Men's Health diet tips: "Split your regular workout into two sessions, boost your metabolism, eat some pizza". Seems fair.
But of all their tips, my personal favourite is this: "Every hour you sit reduces your life expectancy by 22 minutes". I guess I must be dead, then.  Apparently half an hour of sitting down has the same effect on your lifespan as smoking a cigarette (If you stand up for a half hour fag break does it cancel out? I need to know).
To lighten the mood after that bombshell, the next page begins a feature on which shades of pink to wear in which decades of your life ('ON TUESDAYS WE WEAR PINK'). They don't really go into how this will boost your health or fitness, but seeing as I have a neon pink swimsuit at the back of my wardrobe, I will dig it out and see if it shaves a few minutes off my mile.
Then we have "SHAPE SHIFTING WORKWEAR", which sounds supernatural, but isn't. It's four pages encouraging you to label your body shape after some kind of fruit, before telling you what to wear to work, presumably to make it look like a different (in some way more appealing??) kind of fruit.
Once you've been transformed from quince to cucumber, you may or may not have worked out your 'PERFECT WEIGHT FORMULA' – also known as "the holy grail of dieting' which 'makes you better in bed, more confident in meetings and turn shopping for jeans into a pleasure." NEWSFLASH, Women's Health: Shopping for jeans is never a pleasure, no matter what size you are.
Finding your weight formula involves calculating your number and then only being allowed to love yourself if it matches what you see on the scales. You can also "win an extreme body makeover" (don't write in folks, this mag's been kicking round my doctors' waiting room for a couple of months). The prize includes medical weight loss aids which helped their 'before and after' model drop from a body fat percentage of 24.6 (perfectly healthy) to 16.2 %
I have nothing against dieting and weight loss – whatever you're into. But there are already so many magazines talking endlessly about these things. Conflating weight loss with health is a dangerous business, especially when the model that is being featured was healthy in the first place. Women's Health is too much diet and not enough exercise, and it really is a shame.  I can't be the only woman who wants to bulk up rather than lose weight? Reading this magazine made me realise that it just isn't made for the likes of me, and the latest edition just confirms that: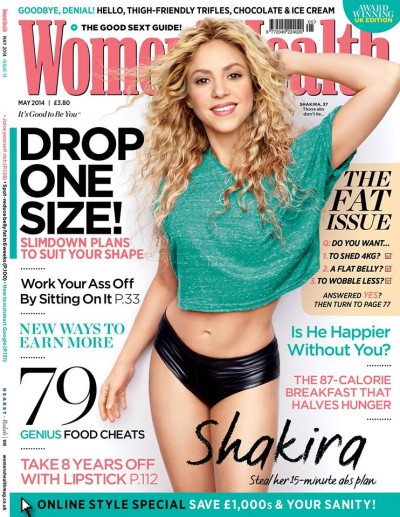 'Drop one size', 'wobble less', '87 calorie breakfast', 'work your ass off', Shakira? I'll give it a miss and stick to the metabolism-boosting pizza, thanks, and if you're interested in being fit and strong rather than 'hot' and 'skinny', then I'd suggest you do the same.
- AT