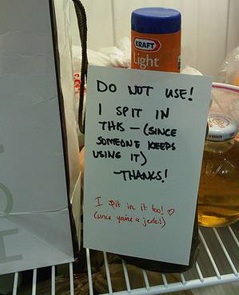 It was about the time that my current housemate told me I was 'not fit to live with other humans' that I started thinking about writing this post. FYI, that was a couple of weeks ago. So it's been stewing in my brain since then, building up a bitter, bitter marinade of rage and retorts that I should have said at the time but wasn't quite quick enough to come up with – with only a brief hiatus for Easter chocolate in between.
Now, I'll be the first to admit right now that I'm messy. But 'not fit to live with other humans' would have been a hell of a lot more of a defensible comment if she wasn't saying that while simultaneously keeping a mouse-infested bag of old Mexican food in the centre of our kitchen (not pet mice – just the regular old chancers you get crawling in if you live in a dilapidated London house your landlord once built 'for fun' which boasts very few sealed entry points and is mostly made of rotting wood. But actually, thank God they weren't pet mice.)
And somewhere in between arguing that she should get rid of the bag, and the mice, and the month-old tin of refried beans, and weakly trying to defend my right to live with humans, I began to ponder the age-old (extremely new) problem of shacking up with housemates right into your late twenties, thirties and beyond. Who was the reasonable one here? Did it matter? Have we all been driven mad by the close proximity of other obnoxious twentysomethings, all of whom claim to Work In The Meejah? Why do mice like Mexican food? This article will answer all of these questions, and more.
By which I mean, I'm now going to give you a breakdown of all my past living situations and nightmare housemates, and then ramble off into some quiet, uninhabited corner of cyberspace where I might be fit to live. Therefore, without further ado, we'll start off with…
Number 1
The Student Halls
They were in Camden, we shared three unisex toilets and two unisex showers between 25, and my mum cried when she saw them. In other words, they were perfect. £110 a week bought you a cooked breakfast every morning (eggs only slightly green), a healthy dinner at night (vegetarian option was memorably chips with new potatoes), and a single security guard who couldn't have cared less whether you swung from the lampshades with a stolen alligator while dealing crystal meth to six year olds at five in the morning. What it lacked in style, it had in the freedom to literally do whatever the fuck crossed your mind at any time of day – which was awesome when you were high on acid, and slightly less awesome when the homeless dudes from outside came in every night, rattled your door handles and then ate your frozen pizzas.
Things got tougher when someone left a pool of semen on the floor of Shower Number One, which led to the memorable fortnight where I used copious amounts of talcum powder every morning instead of showering. I also wore a hat indoors for eight days. Nobody seemed to care.
Number 2
The high-rise
In a space about the size of a Doberman's kennel, I lived with two other friends from halls in a north London high-rise during my second year of university. We all fell out when one the girls had a bust-up with her boyfriend over whether we 'provided enough food to guests in our household'. When he tried to break up with her, she clung on to his leg as he walked down the ten-inch-long hallway. She was pretty small, and she was sliding along on her leggings-clad arse while screaming that she'd try to provide more Kettle Chips in future in a desperate bid to make him stay (none of this is even hyperbole. The guy wasn't even remotely cool – he once referred to Sylvia Plath as 'a bit of a moaner'.) That was pretty much the last time I saw her.
Number 3
The idyllic Russell Square steal
By some incredible twist of fate, I ended up living in possibly the best accommodation in London during my final year of university. We had a John Lewis kitchen (a fucking JOHN LEWIS KITCHEN!), an entrance through a mews (a fucking MEWS!) and a roof garden. We once had a Sunday roast where we invited 30 people – hell, I'm not sure we even knew all of them – and cooked a Tofurkey in our oven and a chicken down the road at our friend's house. When the chicken had done, he put it in silver foil and ran down to our house with it inside a backpack. These were my salad days. Which is ironic when you consider they have a lot more to do with chicken.
Number 4
The drug hut
Working as a receptionist at an extremely well-to-do place in South Kensington, I took a room after uni in what can only be described as a dystopian household. The residents were my very cheery, optimistic college friends, who spent most of their time smoking weed. Accordingly, I spent a lot of time airing the smell of cannabis out of my skirt suit before heading off to work in the morning as they came back in from a night out.
We parted ways after they had a house vote for a more fun flatmate and turfed me onto the street, but not before my ex turned up on the doorstep, slurring that he was 'strangely attracted to me all over again', before lunging at me with the immortal chat-up line, 'How drunk are you?'
The worst part of this entire experience is the 'strangely attracted to me all over again' part. I mean, strangely attracted? 'Strangely attracted' is what you say if you suddenly develop lustful feelings for puppets. It is not something I took kindly to as a 22 year old female human.
Number 5
The airing cupboard
Having wandered around on the dole for a while after that, I got myself another office job without finding somewhere to live first, and ended up living in my friend's airing cupboard. In case you can't already visualise that, I was curled up next to the boiler, under a blanket that my friend's grandma once made. I hung my clothes from a coat-hanger above my head and washed my tights in the evening with hand soap in the sink. Then I went to work and told everyone I had a nice place with my (fictional) fiancé in Canary Wharf.
We started the Vagenda while I lived there, and, despite the two-bedroom flat being inhabited with about eighteen people (as well as cupboard residents), we all got on fabulously.
Number 6
The Swedish chalet with the mean flatmates
So this is the current abode. I moved into it when I'd gotten my first pay-check from the office job I started while sleeping in the airing cupboard, and have stayed here ever since. We used to have an awesome girl live here who painted our kitchen wall with chalkboard paint and used to draw wonderful things on it. Now she's gone, we have a wonderful outlet for passive-aggressive messages about who takes out the recycling and what colour hair is stuck in the shower drain.
Other highlights of my two years here include the week when someone once put a Post-It note on a bar of soap by the sink, asking me not to use it. And then there's the bi-annual appearance of our 70 year old landlord, who turns up without warning or explanation from Spain and sleeps in a sleeping bag in the basement for a month; we presume this is when he falls out with his wife.
It's a nice enough place, bar the rotting wood and the infestation and the way people from the bus stop can look directly into my bedroom on my eye-level, and I only pay like six million pounds a month to hide in my room and rub shoulders with people who have explicitly made it known to me that they not only would rather not live in the same house as me, but would rather I wasn't permitted to live anywhere, with anyone, ever again.
But hey, y'know, it's home – and I'd love to hear if any of you can beat it.