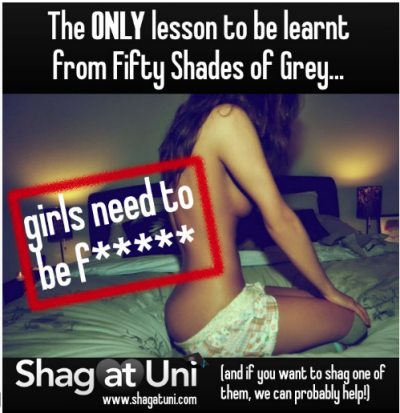 Last week The Guardian published '10 things I'll miss about being a student'. Don't bother reading it unless you think you'll benefit from a ten point list of University clichés (onesies/student loans/shitty flat), but it did make me compile a list of ten things which, in the year of my graduation, I REALLY, REALLY won't miss about being a student.
1)  'How did you get a first in that essay? You must have pulled some pretty big favours ha. ha. ha.'
Apparently a little lady brain isn't capable of doing well in academia without a 'helping hand' from her male tutors. The little shit that said this to me failed to remember two things; we have a double blind marking system, and using my gender as an excuse to justify his 3rd Class degree won't make him feel better much longer after graduation.
2) 'I hadn't had much sex in my life, until I met your house'
Ah, even university isn't immune from the age-old binary stereotype of the Madonna or the Whore. Give it two weeks into freshers and you will be divided in the same vein of the Hogwarts sorting hat, only this time it's his misogynistic hat uncle (probably a fedora) doing the sorting. And you're not at Hogwarts. And unless you're a virgin, you've been put in the equivalent of Slytherin. And once you're in, there's no getting out. But seriously, I've seen many houses of women slut-shamed during my time at university, and I know not one boys' house that has suffered the same abuse. In the end, we reclaimed it and named our house 'Titty Terrace', partly as a 'fuck you', partly because we like alliteration.
3) 'Feminist Society? Really?'
Yes feminist society. Yes I am a feminist. No I don't hate men. If you knew how much bras cost you wouldn't bother asking me if I burned mine. I didn't come to university to have to waste my time answering these questions.
4) 'I thought girls were supposed to be clean??'
The dawning realisation that women aren't actually a robot army of Anthea Turner clones in disguise got pretty tiresome pretty quickly. In our house of 9 girls, one housemate amusingly documented the progress of a cup growing mould (day 7, the bacteria is multiplying quickly but hasn't learned to love yet). Our male friends were less impressed.
5) 'Your case of sexual assault is legitimate because, clearly, you're a respectable girl'
This was said by a student counsellor to a victim of a serious case of sexual assault. The point he was trying to make was that her case was definitely rape, as she didn't seem like the kind of girl that would be 'asking for it'. This simultaneously offered no comfort or support, and added to the blurring of that one actually very defined line. With 1 in 4 female students experiencing instances of unwanted sexual behaviour (NUS statistic), this backwards view of the 'perfect victim' is particularly dangerous when coming from student support structures.
6) 'Mind The Gap Tuesday… Get the Tissues Ready!'
The title of one of UniLad's infamous examples of truly hard hitting journalism, featuring 12 of 'the hottest' thigh gap photos they could find. I will buy anyone a drink that can stay on this website for longer than 3 minutes without wanting to grow their armpit hair long enough to use to strangle the editors.
7) Whilst on the subject of hard hitting student journalism – The Tab
An online national student publication with content submitted by and for each university. I'll let it make its own case, with articles such as 'Slinging a Bird: A Geezer's Guide', '5 Worst Make-Up Mishaps' and 'A Girl's Night Out from a Guy's Perspective.'  They're not even the worst examples, and we're not linking to them, so you'll have to seek them out yourself. You're welcome.
8) 'Women are the housewives and carers of our country'
Senior Labour Party politician Andy Burnham (that one with the hypnotic eyelashes) came to our university as a guest speaker, and after being asked how Labour would engage women with their policies, he spouted five minutes of babble about how women are the carers and housewives of the country. I'm not disputing that there are huge issues of childcare and maternity leave that need to be addressed, but pigeonholing a room of female students as solely capable of being housewives was hardly inspiring. I was less mesmerized by the eyelashes after this, tbh.
9) 'There's only one woman on this term's reading list'
I've been fortunate enough to have been able to study many women writers, but have heard some horror stories about universities with no women writers on their reading list. We're already having trouble being taken seriously in academic studies (see point no.1) – symbolically annihilating women by excluding them from reading lists is hardly going to help change that.
10) 'Tight and Bright…'
…pimps and hoes, nympho nurses and dirty doctors. The Carnage fancy dress themes that may as well have been randomly picked out from an issue of Loaded from 1998. This nation-wide student night out insists it's all in jest, and I would be willing to accept this as 'just a bit of fun' if I was allowed to have my fun and dress as a pimp from the eighties in a purple suit two sizes too big, without being shunned to the corner of the club for refusing to adhere to the 'sexy bitch' dress code.
In fact, the best thing about graduating is probably being able to wear your own clothes.
- PP