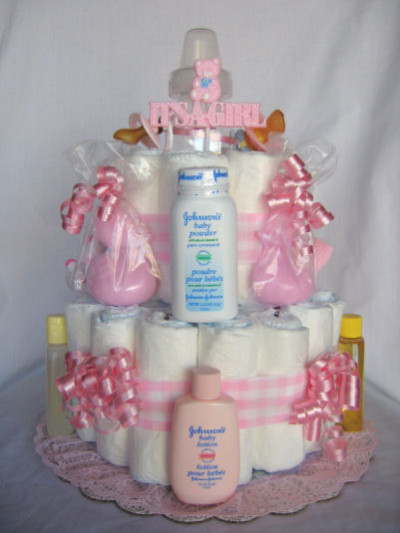 This is an actual cake that exists.
If you're a woman, aged between, let's say 18 and 45, living in the UK, with the capacity to get pregnant or with female friends or family members with the same capacity, there's every chance you've recently been involved in some way with the most irritatingly twee and unpleasantly grasping American import since Taylor Swift. I speak, of course, of that singularly heinous and exquisite form of torture They (They talk a lot, don't They?) call the baby shower.
If you haven't yet had the dubious pleasure, I shall attempt to illustrate the basics for you. There will be a hugely pregnant woman who will almost certainly have been summoned to get dressed up and abandon the comfort of her own home against her will when she would really rather be in her pyjamas/bath/bed, as befits most women in the final stages of gestation. Depending on the nature of said pregnant woman's social circle, there will either be a cacophony of screechily excited women in their best frocks, or a desolation of mildly baffled women who are questioning their choice to give up a lovely weekend afternoon for this tomfoolery. There will be a load of tacky decorations, often closely resembling something that would like to be the other party in a Cath Kidston suit for copyright infringement. There will be cake. Please note, I'm not complaining about the cake.
There will be some truly appalling games, pandering to multitudes of gender stereotypes and often managing to body-shame pregnant women along the way. And there will be mountains and mountains of extremely mundane presents. You will have to sit and watch while Prego opens them all, and make obligatory appreciative noises. Even if you couldn't identify the item if your life depended on it.
From what I can gather, baby showers originated in the US and originally involved older, more experienced women of the community gathering at the home of a young expectant mother and 'showering' her with advice and helpful tips. It sounds a lot like socially-mandated busybodiness tome, but I imagine it's the sort of thing that could be quite useful if you're about to have your firstbaby and haven't seen it done before. The present aspect came later, progressing through small token gifts through to today's full-on outbreaks of baby-related consumer goods. And this is wherethe UK came in. There are now entire websites dedicated to throwing the perfect baby shower, as well as websites and shops that offer wish-list services so that the parents-to-be can pre-select exactly what they want their friends to buy to welcome their new arrival.
I'd argue that our overweaning culture of celebrity worship has fuelled the growth in baby showersover here. Rachel on Friends had one. Miranda from out of Sex and the City didn't want one, but got one, and actually quite enjoyed it. I remember seeing photos in Heat magazine in the early 00s of people like Kate Moss, Sadie Frost and Sharleen Spiteri attending baby showers, accompanied by breathless coverage and exacting details of all the designer articles given as presents (to women who could probably afford to buy anything they wanted for their baby, and would almost certainly be given much of it for free by the designer/manufacturer in exchange for the odd namedrop or pap shot). Later in the decade, Victoria Beckham reportedly received so many gifts at her baby shower for Harper Seven a few years back that she donated most of them to charity. Money well spent for all of her guests there. Most weeks, one or other of the celebrity glossies will feature a pretty pink florally fluffy party thrown for Prego Celeb of the Month, full of cupcakes, cleavages and three-tiered nappy cakes (See above. They are BONKERS).
Last year, we were treated to acres of photos of Kim Kardashian and her guests at a shower that looked approximately 17 times more lavish than the sum total of all the weddings I've ever attended, including my own. And just this week, L'il Kim has apparently solicited her own fans for baby shower presents via Twitter. Stay classy, Kim.
Many of these women have had at least one extravagant and highly-publicised wedding, the coverage of which serves to fuel the rampant consumerism of the 21st century wedding industry. It clearly wasn't hard for someone to realise that lavish celebrations for other life events would be a happy little money-spinner, and piff paff poof, we have the baby shower. Now, please don't get the idea that I'm some kind of curmudgeonly celebration-refusenik. I'm a bit on the grumpy and anti-social side but when it comes to people I like (not least myself), I quite enjoy celebrating life events.
But I attended a baby shower recently, and established that there are two aspects of this particular genre of celebration that really aggravate me. Firstly, the actual format of them is hideous. I can't imagine anyone finds them genuinely enjoyable. In the UK, we've traditionally waited for the safe arrival of a baby before giving presents, and then you got to decide whether to ask the new parents what they would like or choose or make something yourself. You also got to decide the size/value of your gift, based on whether you're booked in to be a godparent, tangentially related, or it's your colleague's best mate's daughter-in-law that's given birth. Baby showers seem to sidestep this aspect of donor control and instead imply a great big 'OMG I'M HAVING A BABY AND YOU ARE ALL THE PEOPLE I THINK SHOULD BE GIVING ME PRESENTS SO COME TO MY PARTY AND BRING ME ALL THE STUFF.' It makes the mother-to-be come across like Cartman in South Park directing his little pals on which Mega-Man to buy him for his birthday – his excuse being that he's only eight (and animated) and so doesn't know any better. In addition, the 'fun' obligatory games are generally appalling. Stick-the-Bottle-on-the-Baby? The kind of thing we grew out of in primary school. Everybody guessing how long a piece of string will be needed to fit all the way round the pregnant belly? Reeks of body-shaming. Passing around disposable nappies that have had chocolate bars melted into them to try and guess which type of confectionery was used? Disgusting, in anyone's language. And a waste of good chocolate, unless you could bring yourself to actually lick it out of the nappy. Plus, in deference to the expectant mother, there's generally no alcohol involved, so no hope of obliterating the pain temporarily.
So far, so irritating. But then I begin to struggle with the wider social implications of baby showers. Time and again, women come up against narrow, limited expectations of their capabilities, and feminism has done much to counter these over the last century or so. But baby showers, and their ilk, are really quite problematic. They reinforce those narrow expectations by emphasising which of a woman's accomplishments should be feted and celebrated – and in the current culture, it's pretty much getting married (which we've been doing for centuries) and getting pregnant/giving birth (which we've been doing for millennia). There isn't a culture of big, lavish, inclusive celebrations for passing your driving test, or getting a proper grown-up job, or graduating from university, or setting up your own business, or successfully persuading somebody to publish something you wrote yourself. Maybe there doesn't need to be. Maybe the odd congratulatory Facebook message and your own inner glow of satisfaction are sufficient to acknowledge these achievements. But why is an impending birth singled out for such adulation and largesse? It reinforces the idea that, until she has reproduced, a woman has accomplished nothing of note.
As Carrie Bradshaw once noted, 'Hallmark doesn't make a 'Congratulations, you didn't marry the wrong guy!' card'. Of course, she was comparing the imbalance between celebrations for marrieds versus singles (which is also annoying), but there is something to note in the way women are celebrated. Lavish weddings and elaborate baby showers may temporarily elevate a woman's status amongst her social circle, but they effectively serve to limit our perceived socially valid accomplishments to hatching and matching, and so serve to diminish the status of women in society.
And aside from anything else, they make you want to shove matchsticks under your fingernails and peel off your own skin, just to distract yourself from all the chocolatey nappies and gift-wrapped packets of baby wipes. Enough.
- anon