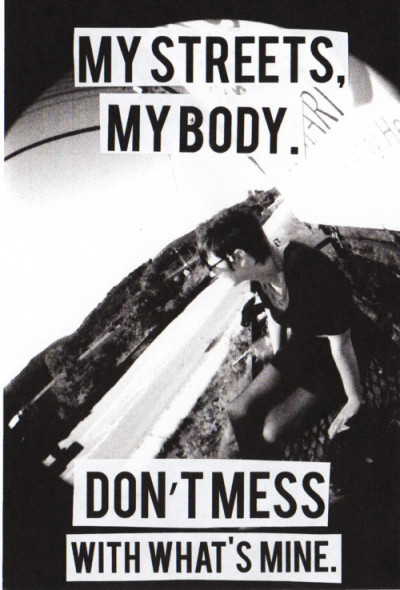 I am angry. I am angry that this week, I felt physically intimidated – because I am a woman. It was a normal day, certainly nothing out of the ordinary, and on paper a seemingly simple occurrence. Perhaps you may even think I am overreacting. Yet I felt scared, frustrated with myself and, frankly, pissed off that this happened. Observe:
I walked through Liverpool city centre this week to the train station, to travel back home to work. It was early – I mean 6am early – but the sun was shining, birds were singing and the streets were deserted. It was all quite pleasant, and I must admit that I thought how strange it was to feel so safe. I didn't worry about walking alone at that strange time at all – and why should I have done? I love the city, and it was a beautiful morning.
Then, I head further into the city centre, and it begins. People start to pop up out of the blue like daisies. Annoying, paralytic, sleazy men daisies. A club must have recently closed, because there was an alarming amount of super drunk men (the type of drunk you can only get after drinking until 6am on a Tuesday morning. A TUESDAY, people!) staggering around in their sweaty party shirts, kebabs in hand. One man lurched towards me, slurring something unintelligible. I veer around him and speed up my pace. It strikes me that I am the only girl, and indeed the only sober person, in this situation, and I feel wary.
In front of me, four men are weaving their way up the street, shouting, screaming and generally being dicks. They start to fight, punching and kicking each other to the ground, having the occasional reconciliatory moment before returning to the more important task of beating the crap out of each other. There is no way I can walk past them, I realise. My instincts are urging me to get away from this situation, so I do. I make a U-turn to reroute.
It's only then that I see a man standing silently behind me, watching me. He had just walked past me up the street, barely noticeable against the four fighting guys ahead, but now looking remarkably creepy. He stands there, having been staring at the back of my head, blowing smoke rings as he watches me. Now who do I take my chances with? The four drunk men, or the creepy headwatcher?
After doing a conspicuous little dance of confusion (that did nothing to make me look any more confident) back and forth on my heels for a few seconds, I sigh and head for the creeper. He's going the opposite way to me anyway: up the hill, as I turn right into a deserted street. Like an idiot.
But no. Now he's changed routes too and is behind me, walking a little too fast in the wrong way. I speed up, turn and gasp; now, he is right behind me, brushing my arm. He is too close; it is too quiet. I walk as fast as I can, not knowing what the hell to do. He lurks up behind me steadily for a few moments, and then I run – as fast I can until I arrive back onto a street with more people. He disappears, and I breathe easily. Until I bump into the drunk men again, who are now all the best of friends and start screaming at me to suck them off. Which I politely declined.
How is it justifiable that, in 2014, I have to reroute my path to work to avoid a dangerous situation – only to get into another situation? It was 6am and light, not exactly a dangerous sounding time of day. I am sure I would have also felt slightly worried to be a man if I saw people fighting ahead, but not in the same way, and I'm sure not in the way I felt threatened sexually. And I am convinced that if I were a man, that silent creeper would not have followed me or brushed my arm, or that worse may have happened.
I may sound paranoid, but I genuinely believe something could have happened that morning. I felt unsafe, I felt intimidated and my instincts were screaming at me to move – but there was nowhere to go. It got me thinking: what if something had happened? Would it have been my fault, for thinking that walking to work alone is a good idea? Most people would probably disagree; I mean, it's a legitimate excuse, I was dressed in work clothes, I hadn't had a drop to drink. But what if something had happened and I too had left the club at 6am, wearing a little black dress? What if I was sober in the dress? And what if I had been drunk? I'd have certainly been more vulnerable, and I'm sure people may have had slightly different ideas about who was to blame then. And yet, surely I should be free to feel safe in both a little black dress and black work suit.
The fact that we have to consider what to wear and where to walk when going anywhere is a problem. The fact that women can feel intimidated for absolutely no reason is a problem. The fact that I feel embarrassed to tell this story, because it may be "just nothing" is a problem. But for every little occurrence we brush off, another incident occurs. For every "it's nothing" we usher under the table, or refuse to utter, another attack isn't taken seriously.
If we feel afraid, or angry, or upset, then it's a problem if we don't express it. This isn't the first time I've felt unsafe out alone because of who I am, but it's the first time I felt properly, genuinely frustrated about it in a long time. I would never usually talk about something like this. But if I don't speak up about it, how will I know how many other "just nothings" happen to other people? How will I know if others agree with me, or talk about how we can change things?
I should be able to feel safe in walking anywhere, at any time, in any place. And so should you.
- Alex P