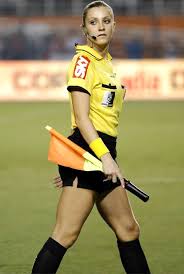 I have been interested in football pretty much ever since I became conscious of its existence. My family are huge Arsenal fans and my younger brother, sister and I have always been treated completely equally by our parents. I've never felt that there was any expectation that I wouldn't love football due to my gender – despite the rest of society suggesting otherwise.
Inspired by Sporty Spice and, later on, Bend it like Beckham, I played football at school. I was actually on the school football team until the age of 11, when we were told that boys and girls were no longer allowed to play football together because the girls might get hurt, and there weren't enough girls to have our own team. And that was the beginning.
Ten years ago, my family got season tickets for our team. Let me tell you, nothing makes feel more like a part of something than sharing the highs and lows of a match with 50,000 other fans who love your team as much as you do. At least, that is, until during a heated London derby, a Chelsea player gets an injury and Eva Caneiro (the team's obviously incredibly intelligent, and, incidentally, very beautiful medic) runs out into the pitch and the man in front of you shouts: "Get your tits out!" whilst his mates laugh along. Yeah. That can make you feel a little separate from the crowd.
So here's the thing about being a female football fan. However much you follow and love the game, every so often there's a little reminder that, to some people, you'll never quite belong; that football, even in the 21st century, is essentially a lads' club; and that because you were born with a vagina, you are not allowed a full membership.
This extends way further than a couple of metres from the pitch, incidentally. When I finally downloaded Tinder recently (I know, I know), I was surprised by one thing in particular. It wasn't the prevalence of mirror selfies or profile pictures from Tiger Temple, but the amount of attention that one of my pictures got from members of the opposite sex.
One my profile pictures on Facebook is of me at an Arsenal game wearing a team shirt and scarf  - and, since Tinder links up to your Facebook account, everyone can see it. I happen to think I look pretty good in the photo (y'know, it got 40 likes, but whatever, who's counting?) plus it represents me as a person pretty well, in one of my favourite places of all time, throwing up a gang sign, obv.
And one of the most common questions I get asked by these modern suitors, having seen my pic, is some variation of: 'R U one of those girls who pretends to like football just to get guys lol?'
Literally, is that even a thing?!
Nowadays I feel confident enough to stick up for myself in situations like this, but younger me, despite having the role models of Mary-Kate and Ashley in Switching Goals for inspiration, simply stopped voicing my opinions on my favourite sport in mixed sex contexts, for fear of being embarrassingly ignored, or, even worse, hideously patronised for having "tried to join in the conversation". Put simply, women's only legitimated role in this arena is as something to be looked at.
Don't believe me? Take a terrifying jaunt to the annals of Twitter, where there are accounts run by female football fans, some with tens of thousands of, mostly male, followers. What is immediately noticeable about these popular accounts, however, is that alongside their tweets about Hodgson's squad selection or #DareToZlatan banter, you can find pictures of the tweeter pouting in her knickers and cropped Man U shirt, or retweets of her photos being featured on Lad Bible's "Cleavage Thursdays". These women and girls have realised that, in order to be taken seriously in any capacity when it comes to football, they need to play up to the sport's culture of female objectification. Consequently female football fans become a fetishised commodity, never equal to their male counterparts. Is it any wonder that, when the Brazilian referee Fernanda Colombo Uliana made the news after officiating her first top-flight match earlier this month, the coverage was pretty much dominated by admonitions to look at her arse in a white bikini?
The whole things makes me really sad and really, really, fucking angry. I hate the fact that so many female friends of mine, who I know would absolutely love the excitement and emotional drama the sport entails have no idea that that side even exists. I hate the fact that they'll probably never know what it's like because they feel excluded or victimised by the media coverage of the sport. And I hate that I can't imagine things any other way. Because it doesn't actually have to be this way.
But you know what? Mostly I hate the fact that there are men out there who genuinely believe that their attention is worth so much to me that I would put time and effort into pretending to like football just for a right swipe on Tinder. No one is worth that much trouble. Except maybe Olivier Giroud.
-MB