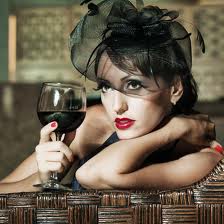 Having once been a waitress myself for a whole three hours before being fired for dropping plates and accidentally pouring wine on a customer who shouted at me, I am usually sympathetic and polite to restaurant staff. I get it, I know what it's like, and I don't want to be an arsehole. But there's one thing that's been igniting my ire recently, and been sapping away at my sympathy, being as it is a Very Bizarre Thing happening at uncomfortably frequent intervals. And this is, of course, the issue of the Gendered Wine Tasting.
As a disclaimer, before I go on, I should point out that this applies in the main to heterosexuals, for reasons that will be imminently clear. At this point you are offered the choice of ignoring the rest of this article, but should you so desire, press on.
When sitting at a perfectly charming establishment's table enjoying a delightful dinner with your significant other, someone you're pretending to have an important meeting with, or some weirdo you found on Tinder and managed to persuade into a suit for the evening – but who may yet still wrap you in bin-liners and preserve you, Damien Hirst-style, in his loft – you might decide to splash out on some wine. This could be either to lubricate the flagging conversation with said internet pervert, or just for the sake of spending an extra needless 15 quid, but either way, you're drinking.
Now, I ain't talking just any old plonk. Same as I ain't talking about just any old place. The kind of throbbing dive where the walls are peeling due to the condensation of a mixture of sweat and fear is not the kind of place up for debate here, so change your imagery. I am talking SWANKY SHIT.
You decide to order the booze. Obvs I mean something slightly more sophisticated than a Neknominate cocktail; I mean the kind of thing you have to ask the waiter for, because it's written down on a menu on actual paper, perhaps in French or ancient Etruscan.
You attract the waiter's attention, either by clicking your fingers imperiously as if Britain still governed the colonies and everyone is still in jodhpurs, or alternatively by nervously catching his eye and looking away again just as quickly, like a 13 year old boy at a disco.
You order. Depending on how the evening's shaping up, you may plump for higher alcohol content over quality. We've all been there.
What seems to happen next is something that I find so utterly galling that even writing this makes my armpit hair clench, fold itself into a pliable ball and roll away like tumbleweed.
Because the fact is, in this scenario where one of you is me and the other is my partner, one of you has a peen. The other looks like she probably has a vaj hidden somewhere. Peen and vaj are seated at opposite ends of the table. The waiter arrives, bearing wine.
He pours it for the peen first.
Bit annoying, but never mind. Whatever happened to 'ladies first', eh? Some kinds of entrenched patriarchal subjugatory hierarchies assuming the weakness and fragility of the fairer sex, I can cope with. First dibs on the lifeboats on the Titanic, for instance.
So the peen is in a suit (probably. Maybe he's in a horrible hipster outfit made entirely out of kale, but same difference) and he's sitting opposite you and he gets his wine. The waiter steps back. You extend your glass, natch. What transpires then is, frankly, just too appalling for words, but I'll try. The waiter just stands there, arms akimbo. He seems to be expecting something. A pat? A biscuit? A friendly squeeze?
Oh. It seems he has finished. The besuited peen takes a satisfied sip, swirls it around his mouth and, nodding sagely, bellows: "This wine pleases me…fetch me some more! Bring mead! Bring slave girls! Tonight we will feast and be merry!"
Well, maybe something not quite along those lines, but with a similar sentiment. The waiter looks on, most satisfied, job done. It seems that the wine has been unanimously approved by all important parties concerned. Only then, after a really dramatic and tense pause whilst he awaits approval, does he deign to pour it for me.
If I'd been waited any longer for the wine that wasn't fucking appearing last time this happened, I'd have been collecting my bus pass. What would've happened if he'd found out that I was actually England's most prominent up-and-coming regional expert on wine and its niceness, come down especially for the day from my enormous wine farm where I farm wines? INCIDENTALLY, I'm not, but he didn't know that. What's important is that I could've been.
So I had to sit there, mute yet apoplectic, because, you see, my silly lady tastebuds are simply not well developed enough to tell the difference between nice wine and shit wine or, heaven forefend, even to decide for myself what tastes nice. It's honestly quite shocking I've lived this long without someone at my side round the clock to follow me around Waitrose, making sure I don't ingest anything poisonous like car park tarmac or accidentally buy a shipment of quinoa in a premenstrual rage. Frankly, if it had been me making the wine decisions I'd have probably plumped for something that was really vinegary with cork bits floating in it, or worse still, an inferior rosé. Must be something to do with the moon.
I was so surprised when this happened to me the first time that I didn't even have time to harrumph indignantly, 1920s colonel-style as though from behind a nice big walrusy moustache.
The third or fourth time this actual real life situation happened and I had more time to take stock, I said, cringing behind my natural British politeness which expressly forbids me from saying or doing what I really think: "Er. Excuse me. I would also like to try the wine, actually."
This time, and I'm actually serious here, the waiter LOOKED AT THE MAN OPPOSITE ME FIRST. To check. It was the sort of grown-up glance I imagine new au pairs give to the mothers of their small charges when they've demanded something in a grey area, as if to say, "Is she allowed to play with the glitter glue just before lunch?"
I felt so infantilised in that split second that I was, if you can suspend your disbelief, rendered fucking speechless.
The guy had to nod in embarrassment to the waiter, on my behalf, mainly because my uterus and ovaries had amalgamated into a huge vengeful tidal wave of oestrogen like that scene in The Shining, and hung, pendulous, in the air, threatening to engulf the whole restaurant with its wrath.
But then the fire alarm went off and the crowds in front of the fire exits parted before me and my helpless womb as though I were Moses himself.
As I said: some gendered patriarchal behaviours, I can live with.
-HRH