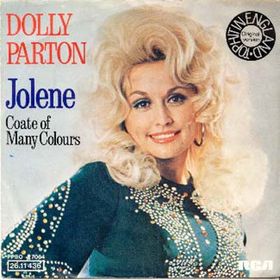 I love music. I mean, I know everyone loves music, but I love all of it. Music made by men and women, music from all different countries and decades. Anything that's got a tune or a melody or some form of chord, I'm just freaking all over it.
But last year, it properly dawned on me for the first time how many songs only talk about women in terms of how they look.
Now I'm not just talking about the 'You're the hottest bitch in this place' line in Robin Thicke's 'Blurred Lines' (a track which, controversially, I love – despite its lyrics and that video). I'm talking about the ones you wouldn't even think about. I'm talking about everything from Chris DeBurgh's 'Lady in Red', to Bob Dylan's 'Girl From the North Country', to even Verdi's 'Violetta'.
Just to be clear, I like to dress up and talk about how beautiful Mark Ronson is as much as the boy or girl. I don't think there's anything inherently wrong with talking about the way somebody looks. It's just when you think of all the great things women can do (like, y'know, talk and write and run and jump through hula hoops) and how little those things get mentioned in songs because people are too busy talking about our appearance, it gets a little boring. It doesn't really happen so much to the menz.
And so, eventually, I started rewriting some songs.
It started with James Blunt's 'You're Beautiful', re-imagined as 'You're Intellectual':
You're intellectual, you're intellectual
You're intellectual, it's true.
I read your thought process on cell mitosis
But I don't what to do
Cos I've not got the smarts to be with you…
and then Chris De Burgh's 'Lady in Red' as 'The Lady Sells Beds':
I've never seen you selling as well as you sold today,

I've never seen price marked so right, you really nail it.

I've never seen so many want to buy a bed from our site,
And when you turned to me and said, 'That's the third king size today',
I have never had such a feeling,
Such a feeling of complete and utter awe, as I did today.
The lady sells beds, and not just for me, for everyone
People buy here, not at Dream Beds

You make me want to buy!
But I hardly know the girl behind the hearsay,
I'll never forget the way you sold today…
and now I have an entire album's worth of great tunes that cover the entire spectrum of female talent, bed-selling, mitosis and all. We call it the #morethanabody project.
Of all the songs I rewrote during this campaign, I found Dolly Parton's 'Jolene' the most interesting. Partly because it's one of my favourite songs of all time and I just love watching pre-Wrecking Ball Miley Cyrus sing it with Dame Dolly herself (who, FYI, is her godmother) – but mainly because of the time ol' tale of women comparing themselves to one another it tells.
Dolly's classic was released in 1973. And as Lily Allen so wisely imparts to us in the opening track of her latest album, 'Sheezus', the woman-comparing game is very much still in its heyday:
I'm ready for all the comparisons
I think it's dumb and it's embarrassing
I'm switching off, no longer listening
I've had enough of persecution and conditioning*
But unlike in 1973, social media is now a huge part of our lives. It's a double-edged sword that is simultaneously wonderful in the way it keeps us connected, but also poisonous due to the Sidebar-of-Shame-esque comparisons it invites.
I thought that if our little rewrites could pop up in these social spaces (spaces that all too often only value women for their looks), they would remind people of the vast range of wonderful things that women can do – and maybe, just maybe, they might encourage people writing songs or books or films to think a little more about mentioning all the great things women can do as INSTEAD OF or AS WELL AS how women look.**
So, without further ado, I give you 'Jolene' (Ed: Please do watch the whole thing, it's fucking fantastic):

*Note that despite this declaration, Sheezus is still littered with references to Lorde and Gaga and Rhi-Rhi, which just shows us how deep-rooted this shit is.
**Not you, Gallagher brothers – you are surprisingly brilliant at celebrating women for more than just how they look. Like for their eccentric families or singing capabilities. WELL DONE!
-GS