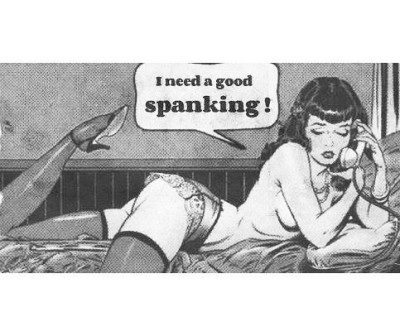 We've all played that game in our heads where we imagine our own tragic but lavish funeral where people throw themselves at our coffins whilst sobbing uncontrollably into fancy hankies, and think up the various things they might say about us during drawn-out, emotional speeches. Or maybe that's just me? (it isn't – Ed.)
I'd like to think that people would describe me as a resolute, driven person. They might say I was an independent, free-thinking lady. They might even throw in 'she was the perfect combination of beauty and brains and badassdom' for good measure (a girl can always dream, right?) So basically, in my funeral fantasy, they'd be likening me to a goddess-like creature, while sobbing A LOT.
All of the above sound like great qualities for a feminist to have, but then here comes the tricky part; not only am I a feminist, but a feminist who acts out her fantasies of submission on a regular basis. When I say submission I mean choking, slapping, biting, restraining, spanking, being called a dirty slut – the whole shebang. Some people seem to think that it is impossible to call yourself a feminist and enjoy BDSM play, but I beg to differ. Either I am the exception to the rule or we need new rules – or  - here's a thought – no rules.
I discovered my slightly deviating urges at the tender age of fourteen. There was nothing tender, however, about my dazed daydreams. I found myself inexplicably fascinated and excited by the idea of being dominated.
Growing up, as my friends and I conquered new territories in relationships and sex, I would listen to my girlfriends chatter excitedly about the thrill of having their hair pulled by their boyfriends, and often wondered if I was somehow twisted for harbouring urges that went far beyond a fistful of hair.
I cannot claim that identifying with both the feminist ideology and BDSM lifestyle has been a completely easy process. I, much like several other fellow BDSM-friendly feminists, feel the need to explain myself and my desires. It seems a given that as a feminist you are not supposed to like being dominated by a man, not to mention have them inflict pain on you, call you names and toss you around like a rag doll. Hence, whenever talk turns to sex and feminism, people either call me out on what they see as two conflicting things or politely try to hide their amazement. It seems that the following ingenious mathematical equation buzzes through their brain whenever the topic comes up: submissive in bed equals submissive in everything. No, no, NO! Or perhaps more appropriately: red, red, RED goddamn it!
I wish I could blame this reasoning on Fifty Shades of Grey, where a virginal (no, sorry, an actual virgin) wallflower of a girl discovers that, OMG, she's into all sorts of kinky shit, all of which  perfectly compliments her shy, submissive nature. Of course, I can't draw such hasty conclusions seen as Fifty Shades only happened a few years back, and the prejudice against pro-BDSM feminists has been around for much longer than that. Let's return to my funeral for a moment. I am certain, 100% sure that no-one, not a soul, would describe me as submissive or a shy wallflower (or virginal for that matter). Why can't I be just as independent, clever and driven even if I like being spanked and tied up?
It is easy to pigeonhole a person based on practically anything they enjoy or don't enjoy; we don't often spend a lot of time trying to understand things we find unappealing. What people outside the BDSM lifestyle struggle to comprehend is how different the in-the-bedroom me is from the person I am outside the bedroom. Even I have been surprised by how dirty we can get between the covers without it filtering into our everyday lives as a couple; we chat about normal stuff, we go to the cinema, we exchange tender kisses – all the things you'd expect an average couple to do. My partner respects me and I respect him. End of. The dominant/submissive play stays within the confines of the bedroom, and I am just as fiercely goddess-like outside it as usual.
I suppose what makes fellow-feminists wary is the violence and control wielded by a man on a woman (naturally, this also occurs the other way around but in my situation I am always the submissive one). What I'd like for people to realise is that this power and dominance only exists in a single moment, in a role playing situation, and is not 'real'. For me pain is an aphrodisiac and submitting my body under someone else's will a thrill. For someone who is not into such things, it can sound sinister and condemnable. The perceived loss of power is an imagined one; we enter a fantasy situation where I am free to envision myself completely helpless. However, in reality I could stop the scene anytime I wished. You could even argue that I, the submissive, hold the true power of the situation – imagined or not – in my hands. In my current relationship I have been able to be completely honest about my desires, and have never felt quite this liberated, accepted and EQUAL. That's right, being able to ask for what I specifically want (and there have been men who have been uncomfortable to provide me with that), makes me feel like the power is in fact equally distributed. Things aren't being done to me, they are done for me.
I often also wonder if it all just boils down to the man vs. woman power struggle. With me being bisexual and all, were I to kink out to this extent with another woman, would it be seen as a similar issue? I can't imagine anyone suggesting me being antithetical to feminism then.
Ultimately, I don't want anyone telling me what I am supposed to and not supposed to enjoy as a feminist or as a woman. Those who condemn female subs from the get-go offer a lopsided view on BDSM – how could they possibly appreciate the lifestyle if they're not in it themselves? I will never understand women who feel the need to criticise other women based on their sexual preferences; I feel that it goes against the very essence of feminism. I know that for me, looking from the inside out, I am no less feminist or more submissive because of BDSM. So no, to answer my own question, liking a good spanking every now and then does not make me a bad feminist. In fact, it just means that I know what I like, am not afraid to ask for it and know where to get it. And there is nothing sinister about that.
- Nora S