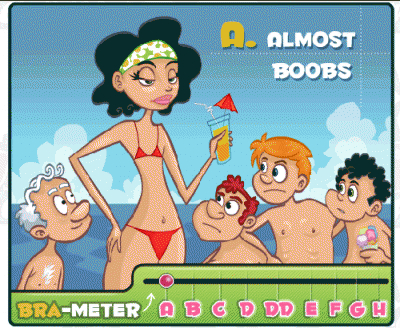 I don't remember the first time my breasts, or lack thereof, really entered my consciousness – though I do recall placing two rather large grapefruits inside my top, age eight, and showing off my newly acquired assets to my grandmother.  After laughing for what seemed like an hour she told me to stop being ridiculous; I said that I wanted boobs like those, and she said that they would come in time. Satisfied with this answer, I returned the citrus fruits to the fruit bowl and carried on with an eight year old's proper business: furiously colouring, and lazily pondering the meaning of life.
Some years passed and I got my period – the gateway, I assumed to instant boobs. I firmly believed that once the hormones began coursing through my ovaries, bringing torture in their wake, they would also throw in a little extra by way of a fuller bust – a consolation prize, if you will. But, dear readers, here's the catch: I've recently turned 21 and my 32A bust has been a constant presence on my otherwise changing body. It may be time to throw in the (sanitary) towel.
With my period began a, er, period of serious anxiety regarding my flat chest, and the perceived unattractiveness I experienced as a result of it (and, in my darker days, still do). Looking back on my teenage years, I don't remember small-busted celebrities in teen magazines being touted as gorgeous or sexy – they were always referred to as waifish or boyish, perhaps athletic, but never really beautiful. If you're 5'8" by the age of 16 and pretty skinny, that lying bastard media never told me you're likely not going to sprout double Ds overnight. Throughout puberty, all I heard was a chorus of, 'It'll happen' or, worse still, 'They'll get bigger when you have a baby.' Seriously.
I was 14 – so, in the full throes of non-boob-growing puberty – when a friend and I went shopping for a birthday card for one of our friends. Standing in the card aisle and mindlessly browsing the glitter-covered creations, I picked up one at random. It was clearly supposed to be addressed to a male, though whether it was a birthday or a 'get well' or just a regular old 'have fun in the patriarchy' card escapes me, and on it were a list of letters A to F. A to F corresponded with illustrations of bra-covered cartoon breasts, because of course they did. And what stuck with me was that A, my cup size, stood for 'almost'. Seven years later and those few seconds of looking at the alphabetical breakdown of women's worth is firmly etched on my brain. I now view that aforementioned 'almost' as some kind of Beckettian lack and thus my strive towards anything else, any other cup size, will forever be futile – ever tried, ever failed, you know?
And then there's the street harassment unique to itty bitty titties. One balmy summer evening of late, I put on a treasured Celia Birtwell dress with a deep V-neck and a high hemline – why the hell not? Feeling like a boho princess, I rushed down to The Globe for a performance of Much Ado About Nothing coz I'm cultural like that, thinking that I looked pretty damn great. Running down the London Bridge stairs, I squeezed past some guys in their mid-twenties making their way up, courteously smiling for giving me way. A few steps after, I heard one of them say, 'The trouble with birds like that is they're all leg and no tits.'
I had no time to stop and process but it had already put a dampener on my evening. Once again, I was confronted by my 'lack'; despite all my other 'desirable' assets, my flat chest rendered my body 'trouble'. The rest of the evening was spent in a state of self-consciousness; I fidgeted with my neckline so no one would have to see my bony chest, like some kind of reincarnation of Medusa, but mostly I just wanted to go home.
Body perfection is possibly the most dangerous myth fed to women, and God knows it starts at a young enough age. We are always 'almost', but never quite perfect enough. We are taught to focus on our perceived lack, instead of celebrating what is already present. As a result, our bodies spend years being criminally under-appreciated, helped along by reminders from cheesy birthday cards and men with very little depth.
But this story has a happy ending. I've made peace with my chest size, the way it complements my body, and what I look like in the mirror. In fact, I now find it downright irritating that high street lingerie manufacturers seem to insist all their A-cup bras have to be air-padded neon strap-on chest devices with more padding than your average Argos sofa. I'm finally okay with my breasts and want to represent them accordingly: small and lovely 32As. I want delicate lace and a selection of fastenings and styles. I promise it's possible to make a bra for small breasts without stuffing it full of gel and air and silicone. It just takes a little more thought. All girls deserve great bras, not just the ones who fall at the perfect C-cup midpoint.
And meanwhile, for all well-wishers who might have thought they were being cute when I complained about my breasts, I'd like to throw out some advice. Please use no variation of any of these (all experienced):
'It will happen, just you wait!'
'They'll get bigger when you have a baby!'
'As long as he gets a handful!'
'You can always get a boob job!' (Yeah, really.)
The truth is, big boobs don't make the world go around any more than teensy ones do. But confident women sure as hell can.
-ZT