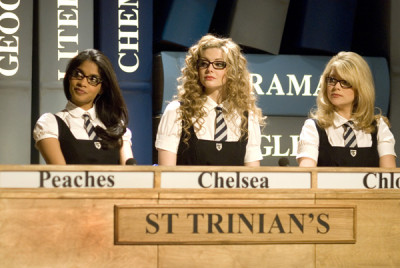 In my high school days, people always seemed genuinely troubled when I told them I went to a girls' school. They'd normally say something along the lines of, 'Ooh, that must be really [insert negative adjective],' while the look of concern on their faces would generally indicate that I should expect to be slipped a scrap of paper with the number for Childline on it at any given moment. All this, despite the fact that they would, almost invariably, have little to no idea what they were talking about.
Now, I'd be the first to admit that my seven girls'-school years weren't exactly all peaches and cream (breaking down into floods of tears in the middle of my GCSE RE exam particularly springs to mind… And no, it wasn't because of a sudden crisis of faith). Overall, however, they were pretty great and, having spent a good chunk of them plotting ways to get boys into the place, I've retrospectively become glad that I didn't.
Girls' schools get an undoubtedly bad rap: the general consensus seems to be that they're all either convents for the every-which-way-repressed or places of rampant debauchery, like St. Trinian's on crack (don't even get me started on the wildly sexist assumptions inherent in this boring old manifestation of the Madonna/whore dichotomy). Of course, no school – single-sex or otherwise – could ever be perfect but, in the name of balancing the scales a little, let me tell you why a girls'-school education has the potential to be really fantastic.
There is, of course, an obvious academic benefit (according to a 2012 Institute of Physics report, single-sex schools send 2.5 times more girls on to study A-level physics than mixed schools) but even more important, in my opinion, are the much overlooked social benefits. Despite the 'bitchiness' often lazily attributed to every girls' school (because, you know, all girls are entirely incapable of getting on with all other girls, bitches ain't shit but hoes and tricks, etc.), my high school years actually did wonders for my confidence and self-esteem. Bear with me here.
You see, the beauty of educating teenage girls in a single-sex environment is that, for those five or seven or however many years, you provide them with an environment largely removed from the sexism that is so deeply ingrained in wider society. Instead, you allow them to spend their formative years free from gender stereotypes – between 9 and 3.30, Monday to Friday, during term time, at least.
It's not that mixed schools deliberately or consciously enforce gender roles, but the same thing that causes men in the UK still to outnumber women in the boardroom 4:1 and out-earn them by 15% means that girls and boys continue to be treated differently at mixed schools. It may be a throwaway comment here, a spot of preferential treatment there: all seemingly trivial acts, done without thinking, which only serve to confirm gender stereotypes for all children. Of course, sexism is not entirely absent from girls' schools either (one of my male teachers once 'jokingly' told a class full of 15-year-old girls that a woman's place was in the kitchen, which, needless to say, did not go down well) but it is, quite simply, much less of an issue.
So, what does this mean for girls'-school students? Well, in my experience, it gives them a great deal of confidence, whether it be to take A-level physics, wear no make-up or be comedian-style funny – all things that society, sadly, still deems strange or inappropriate for girls. Do these things happen in mixed schools? Of course. Are they more common in girls' schools? I'm saying yes. It's not that we were explicitly told that we had every right to do this stuff – it just never occurred to us that we wouldn't. With no boys to be compared to, nothing seemed off-limits to us.
Don't get me wrong, I am in no way advocating a life lived without boys (the horror!) But I do think that it's no bad thing for a girl to spend a school-sized chunk of her hugely determinative teenage years in the company of other girls. Nor is this article intended to be a pro-girls'-school manifesto: along with all the good stuff I've mentioned, rest assured that there was plenty of bad stuff too – just like in any other school. But the pros still managed to far outweigh the cons.
Since moving on to university, the most common question people have asked me is, 'What's it like being with boys again?'  My answer to this is normally twofold: first of all, just because I went to a girls' school for seven years does not mean that boys are an alien species to me – I've always had male friends. But more importantly, I tell them, I honestly hadn't even noticed. Whatever other people seem to think, I don't have some kind of mental alarm system that goes off whenever I speak to a member of the opposite sex. I'm not thinking, 'I'm a girl, speaking to a boy' – I'm thinking (if, indeed, I am thinking at all), 'We are two people, having a conversation.'
And that, more than anything, is what I most value about my girls'-school education: it brought me up as a person, rather than a girl.
-MB