'A paragraph should be like a lady's skirt: long enough to cover the essentials, but short enough to keep it interesting.' – Anon
In light of the above quote, I am quite certain that I often make intense literary criticism with my skirts. I philosophise with my culottes. I perform interpretive dance with my cut-off jeans. My clothes are an expression of who I am (and whether I can be arsed in the morning), and apparently they provoke a reaction in the people around me. They 'say' something about me. So it's only right that I learn how to dress so that people 'hear' the right things when they look at me.  So far, so logical, as far as dress codes go, but why is the emphasis always put on the woman being looked at, rather than the person looking? Why do I have to list all of the implications of what I'm wearing before I leave the house?
School is great for a lot of things. Social niceties, chit-chat, forcing yourself to get on with people you despise without poisoning them (studying, if you have the time and inclination). It allows us to practice being adults, without the repercussions, and dressing appropriately is a part of that. You won't get office jobs if you dress inappropriately, according to what society deems appropriate, and that includes wearing revealing clothing. Schools have a duty to educate us about these societal rules, but what I have an issue with is gender-policing, masquerading as education.
The way dress codes are being enforced against young women is a topic that's been in the news a lot recently, both here – where 250 girls were sent home from Ryde Academy last week for having skirts that are too short – and abroad. In New Jersey, a group of schoolkids have launched a social media campaign, called 'I Am More Than a Distraction' against punishing young women for their clothing choices (one girl was made to wear a baggy shirt over her existing clothes as 'punishment' for them being too revealing. Last month, a girl who was banned from prom for being 'too slutty' and distracting to the dads hit back against the school in question with a blog post that went viral. Meanwhile, a girl in the Canada is taking on her school's 'finger-test' (where your skirt or shorts can be no shorter than where your fingers fall when they're by your sides). Embarrassed in front of her class and being told her short shorts were 'a distraction,' she's spoken out about the onus being placed on girls and young women to dress 'acceptably'. She also, in a completely badass move, papered her school with signs reading: 'Don't humiliate her because she is wearing shorts. It's hot outside. Instead of shaming girls for their bodies, teach boys that girls are not sexual objects.'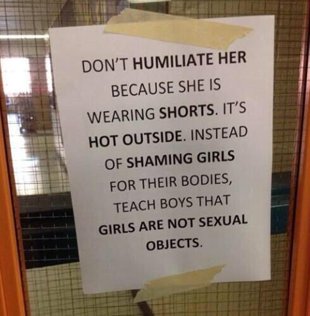 In response, a lot of commentators are writing her off as brattish, as someone who does not want to conform to rules that are there to train her for the real world. But the thing is, these rules don't seem to be in place because the students, male and female, need to dress smartly. It is so that girls don't become a distraction to the boys. And that is where this story stops being about teenage rebellion, and starts being about the sexist crap that women have to deal with from the point they hit puberty.
I remember being at sixth form and having a similar dress-code (no strappy tops, no cleavage and the top and bottom halves of your outfit MUST MEET IN THE MIDDLE, GIRLS!) We were part of a girls' school, but there was a boys' school right next door, and the sixth form common rooms could mix (I'm not even going to get started on the fact that the boys' common room had vending machines and a foozball table, and the girls' common room had a kitchen….hello stereotypes!) Nearly every time we were told to adhere to the dress code, it was because female bodies were deemed 'a distraction'. Notices went out saying that, although it was hot, girls shouldn't really take off their cardigans and wear only their strappy vests whilst sitting outside on the grass. Another notice went out about the increasing visibility of cleavage and how this was a 'distraction' to staff, although it was noted that it was female staff, not male who had pointed this out. Those who dressed alternatively were often picked on, too (girls who dressed more conventionally got away with shorter skirts, for instance). Cropped trousers were banned as a 'gateway' to shorts (it's a downward spiral, guys). Even in our final week, which had fancy-dress theme days, there was talks of cancelling it unless the outfit 'was very obviously a costume.' By the end, we begged for a uniform.
Take more than a cursory glance at tumblr and you'll see that the number of posts that address the issue of 'dress codes' is increasing by the day. Young women are are speaking out and fighting back, and I, personally, am glad to see the next generation of feminists pointing addressing the flaws with a system that teaches a fifteen-year old girl that it is her responsibility if she is objectified.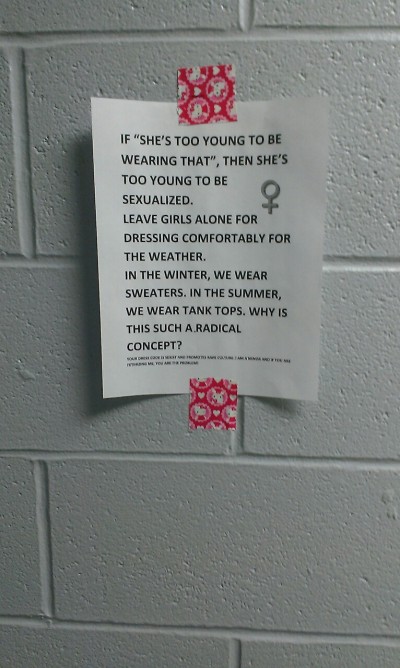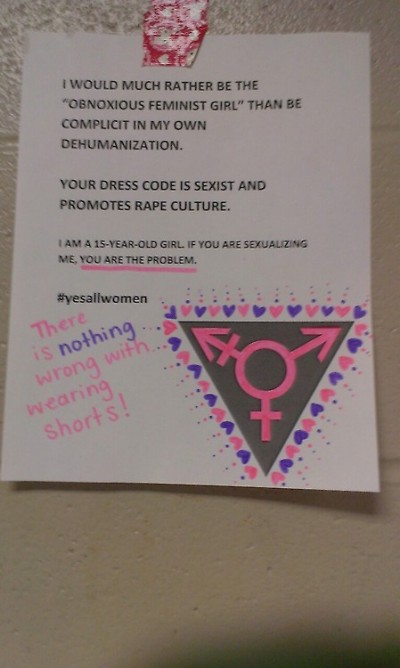 (signs via tumblr)
(via tumblr)
In reality, it's fairly easy to tell if a dress code is sexist. Does it apply to girls only? Is it predicated on the assumption that a bit of exposed flesh will drive all males present to distraction? Does the enforcement of it involve publicly humiliating young women by berating them in front of the class, making them wear big baggy shirts over their existing clothes, or standing them up against a wall?
When Everyday Sexism has reports of sexual harassments from schoolgirls, harassed whilst wearing their school uniform, we know it's informed by a culture that teaches a woman her body is not hers (not to mention pornography that fetishists youthful schoolgirls). This failure to ascribe women agency is the same kind of mentality that asks how short a woman's skirt was when she was assaulted or values her solely on how she looks. It expects women to become bastions of morality, keepers of virginity, walking, talking breasts-and-vaginas. It disrespects men because it relegates them to the realm of gawping, hormonal caveman, unable to function because BOOBZ. If we teach boys that the way a girl dresses is directly related to whether or not they will distract them, how can we expect them to not view a low-cut dress as a means of enticing them, rather than just as a piece of clothing?
I am not saying that there should be no dress code in schools; I think they are important. They have a place educating young people about how they present themselves, and that will be relevant in the workplace later on. I just don't think that the emphasis should be on a quite frankly antiquated and insulting idea about women's bodies. A dress is just a dress, not an enforcement of a patriarchal morality, and the faster we all acknowledge this, the faster my skirt becomes an item of clothing again.
- Sairah Rehman