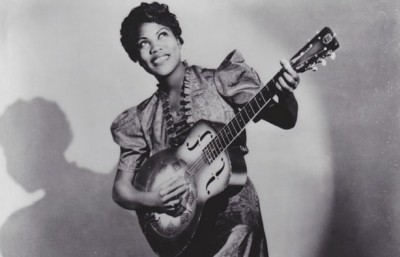 Rather than being any kind of lazy attempt at making music devoid of creative input, the cover version is a powerful opportunity to reinterpret and re-explore something tried and tested, or even something less well known, all through the conscious act of the artist's selection.
Although covers (or even tribute bands) can be frankly cringe-worthy, there are a number of notable instances where the cover version of a song has served to challenge the original, whether by reimagining its arrangement or by dramatically changing the nature of the lyrics, or any number of different variables. Arguably one of the most altering of these variables is when the cover version is sang by someone utterly different to the original artist. I have chosen to use this as the basis for the following playlist of renditions by badass women originally sang by men.
1. Patti Smith – 'Gloria' (orig. Van Morrison, Them)
Find it on: Horses, 1975.
There are times when one listens to Patti Smith's rendition (read: redefinition) of Morrison's 'Gloria', that I start to question whether or not Van had anything to do with the song in the first place, such is the power and revelation of her paring of beat poetry and rock n roll skiffle musicality. Incidentally, the infamous opening line, 'Jesus died for somebody's sins but not mine' was an original insertion by Smith as part of her contribution to it, 'In Excelsis Deo', which goes some way to explain her total ownership of this track. It's quite interesting to listen to Smith's cover in tandem with this charming piece of footage of Them:
Also worth a mention is the fabulous live version of The Who's 'My Generation', also on Horses, featuring some great, stuttering vocals from bass player Ivan Kraal and ending with Smith's rallying proclamation, 'We created it, let's take over.'
2. Cyndi Lauper – 'When You Were Mine' (orig. Prince)
Find it on: She's So Unusual, 1983
Prince's Dirty Mind album version from 1980 was not released as a single although got its fair share of publicity as one of his decidedly less risqué pop ditties, and it was later released as a B-Side to his 1981 single 'Controversy'. However, Lauper famously chose not to change the gender pronoun in her funky, synth-driven version of 1983, which lends great ambiguity to the track.
Prince's version is pretty riffy affair, whereas Lauper's is an Eighties Drum Machine wet dream, so much so that it feels like a massive oversight not to have been included in any of John Hughes' films. Lauper's shrieks display an amazing vocal range, in comparison to Prince's rather more sedate original. What's more, her dancing in this live footage, along with the vaguely Cockney Pearly Queen/zebra get-up, is an absolute triumph.
3. Regina Spektor – 'Chelsea Hotel No.2' (orig. Leonard Cohen)
Find it on: YouTube
Although doing a cover of a song as intimate as this is always going to be a tall order, Spektor's cover is a magnificent tribute to Cohen's beatnik narrative which doesn't undermine the personal content nor attempt to radically over-invent it. Like Cohen's simple guitar and vocal arrangement, this live BBC recording is similarly sparse, with just Spektor's vocals with a piano – although it is, nonetheless, undeniably warmer than Cohen's.
Although the more recent Lana Del Ray version would appear to replicate the simplicity of the original guitar and vocal arrangement, Spektor's vocals ultimately feel more authentic in comparison.
4. The Slits – 'I Heard It Through The Grapevine' (orig. Marvin Gaye)
Find it on: Cut, 1977
To be totally accurate, 'I Heard It Through the Grapevine' was originally originally recorded by Smokey Robinson and the Miracles for Berry Gordy's Motown label, but it is Gaye's soul classic that has become the standard. The Slits took the smooth organ introduction of the original and replaced the grooves with wonderfully abrasive guitar-work and their trademark bouncy bass-lines.
As in the case of Cyndi Lauper, singer Ari Up chooses to retain the gender pronoun sang by Gaye in this invocation to a cheating woman, which makes perfect sense given their iconoclastic treatment of musical norms and the pre-supposed gender conventions of female musicians. Happily however, The Slits maintained the structure of the backing vocals, which ensures that the cover holds onto enough of the stylistic qualities of the original to be recognisable (and not necessarily a 'sabotage'), but reinvents the tone entirely in what is a fabulous punk reinvention of a soul classic.
5. Siouxsie and the Banshees – 'The Lord's Prayer' (orig. God)
Find it on: Join Hands, 1979
This was a regular live favourite of the Banshees in their early days along with, hilariously, a version of the Captain Scarlet theme tune. It found its way onto the band's brilliant second album Join Hands of 1979, committing fourteen whole minutes of blasphemous wailing onto 8-track. Especially joyous is the 'ring, ring, ring a ling a ling a fucking ding, knockin' on heaven's door' at about four minutes in along with Siouxsie's catastrophic attempts at yodelling about three minutes later.
For the die-hard amongst you, there exists an extremely rough recording of the Banshees' very first performance of the Lord's Prayer at the celebrated 100 Club Punk festival in September 1976, featuring a very early incarnation of the group where Sid Vicious 'plays' drums.
6. Marianne Faithful – 'As Tears Goes By' (orig. Mick Jagger, The Rolling Stones)
Find it on: The Very Best of Marianne Faithful, 1989
This is a bit of a cheeky addition to the list since, the seventeen year-old Marianne Faithful's single release of 1964 actually predates the Stones release the following year. However, a demo version exists with Jagger singing the vocals before the Stones went onto release it in 1965. Furthermore, given that the song was one of his and Richards' earliest original compositions – up until 1964 the band had predominantly performed old blues standards – I reckon that about gets me off the hook.
It's a strangely melancholy rendition from Faithfull, with little if any change in vocal tone, but this is largely compensated by the warm timbre of her unaffected vocal delivery along with the sweeping string sections which float through the piece. This TV recording shows a gushing Brian Epstein talking to Faithfull post-performance, wherein she famously lounges on a platform whilst singing (or at least, miming along to) the song.
7. Janis Joplin (Big Brother and the Holding Company) – 'Down on Me' (trad.)
Find it on: Big Brother and the Holding Company,
Although Big Brother and the Holding Company's self-titled debut was only slightly successful on release (and is not near as canonically recognised as its follow up, Cheap Thrills), 'Down on Me' was a Top 40 hit. Based on a traditional blues song, Joplin altered many of the lyrics of the original as well as reinvented the arrangement itself. It's ultimately a bit of a hippy statement of unity against adversity, Joplin defying those who would look 'down on me'. The studio version is pretty great, but the live version of the band at Generation Club, New York City in 1968 packs a hell of a punch.
It is above all Joplin's incredible vitality that makes this 'cover' (albeit a loose one) so fantastic a deviation for the original, as well as so evocative of the musical and cultural climate that she, and her band(s), played such a fundamental role in creating.
8. Nico – 'Das Lied der Deutschland' (German National Anthem)
Find it on: The End…, 1974
This was included on the German chanteuse's 1974 release, The End…, which she made under the close supervision of long-time collaborator John Cale. It later came to form a habitual part of her live shows in the mid to late 1980s, though has often been mis-titled as simply 'Deutschland Über Alles'in such instances.
In his memoir Nico, Songs They Never Play on The Radio, Nico/ The Faction pianist James Young recalls one performance when Nico was aggressively booed off the stage for performing this in Germany (much in the same way that Pete Doherty was a few decades later). This was probably because, in Nico's interpretation, she opted to sing all the original three verses of the German national anthem. Since the end of the Second World War, the first two have largely been omitted due their propagandistic use by the Nazis during the war. The recording too has been subject to considerable criticism as a result of this.
However, the recording of this track is typically of Cale's work with Nico, and highlights the chamber/choral quality of her rich voice in conjunction with the gothic temperament of her ever-present harmonium. Fun fact: when Nico lost her harmonium whilst on tour, Patti Smith bought her a new one. Although Nico is performing an almost Nazi-era iteration of the German national anthem, there isn't a great deal of pomp going on here, and her maudlin delivery effectively undermines any fascist rallying cry it may otherwise have had.
9. Sister Rosetta Tharpe – 'Strange Things Happening Every Day' (orig. Traditional African American Spiritual song)
Find it on: Gospel Blues – The Very Best of Sister Rosetta Tharpe

 Sister Rosetta Tharpe covered this traditional spiritual song in 1944, the Decca recording of which featured American boogie-woogie pianist Sammie Price. The success of this single release was of huge importance within the contemporary musical, cultural, and socio-political context and has been referred to as the very first gospel hit to 'cross over' into more widespread notoriety. Indeed, on its release, it topped the "race records" chart, the term originally used for the R n B chart in the USA.
Sister Rosetta Tharpe is quite possibly the most maverick female musician of the twentieth century. Although this may seem quite a lofty statement to throw into the mix, the significance of her bridging the gap between gospel and (what would become) rock n roll is phenomenal, as is that of the effect of her impact as an African American woman in music from the 1930s onwards. Certain themes remain constant within the great lady's repertoire, and the majority of her output is never that far away from a gospel spiritual like this number, but such topics are married with soulful, incandescent vocals and plucky, almost abstract guitar-work that render her unique contribution to music and art, in my opinion, almost unparalleled.
If you like this song, take a few moments to watch this infamous footage of Sister Rosetta playing her hit 'Didn't It Rain' on a train platform in Manchester in 1964:
10. The Donnas – 'Dancing With Myself' (orig. Gen X)
Find it on: Mean Girls Soundtrack, 2004
'Dancing With Myself' was always a slightly ambiguous Gen X song in the first place, and much has been made of the possible allusion to masturbation throughout the song, not least of all through the lyric, 'well, I wait so long for my love vibration, and I'm dancing with myself, oh oh oh'. Incidentally, When Gen X's Billy Idol released it as a solo artist in 1981, the B-Side was a song called 'Ugly Rash' which would seem to support such suspicions.
At any rate, The Donna's version just fucking rocks. It was, perhaps oddly, used as the fade-out-to-the-credits song in the 2004 film Mean Girls. The drums are so heavy and the guitar practically squeals as its courses through the sugary vocals.
- Kate Ross