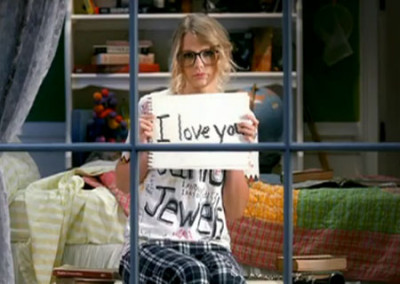 You know what I think would be interesting?
Giving lots of people a piece of paper with 'Taylor Swift' written in the middle and an instruction to complete five minutes of automatic writing. Would anyone care to place bets regarding how many times 'crazy ex-girlfriend' is written? Or perhaps – horror of horrors – 'teen girl music'?
You see, the media has a strange problem with our Taylor – and that means that a lot of people outside the media end up having one, too. If the endless articles about why she's the fourth horse of the musical apocalypse had any serious grounding, I'd be inclined to listen to them. I mean, for starters, Swiftie has written some pretty problematic lyrics (Better Than Revenge, anyone?) which a lot of us could go to town on. But the media's coverage of Swift ignores this (perfectly legitimate) criticism and instead attacks her for usually one of two reasons (or both, if they're feeling generous): she is the 'crazy ex-girlfriend' songwriter, the songwriter for teen girls, the cutesy little emotional button who writes candidly about her relationships and often hilariously throws her exes to the dogs through the medium of song.
If you don't believe me that the media like to create a strange Taylor-Swift shaped monster possessing the key qualities of 'crazy', 'manipulative' and 'obsessive', often inciting reader comments with more colourful language, then just go ahead and click on the links above. But a creative person with a guitar writing about love shouldn't exactly be something to write home (or to Richard Littlejohn) about. Why is it that Taylor creates such a ruckus? Could it be time to sound out the SEXISM KLAXON?
Perhaps you don't need to be told that female confessional writing, like Taylor Swift's, is all too often seen as self-indulgent and unimportant – while men do exactly the same thing and it's 'profound' and 'poetic'. For further proof of this happening since, like, forever, I feel like now is a good point to mention I've heard so many criticisms of Sylvia Plath and Courtney Love for this very same reason – while their male counterparts (and often their boyfriends) are hailed as workers of genius. They're not crazy, manipulative and obsessive; they're deep, troubled and expressive. They're certainly not 'just prisoners of their hormones'.
Which brings us to the issue of teenage girls. Taylor Swift writes songs about heartbreak, falling in love – let's face it, issues that are appealing to teen girls everywhere (as well as the rest of the population, no doubt.) Pop songs are popular for one of two reasons: because they're catchy, or because people identify with them. TS has managed both. Go figure.
So why are the media so hell-bent in this case on shaming not only the artist who creates these songs, but also her fan base for liking them? Like, really? Are the media really shaming teen girls for crying at a Taylor Swift show? Do we actually live in a society that tells teenage girls the music they identify with isn't important? Do we seriously live in a place that dismisses and mocks a female artist for vocalising her emotions? I can't even begin to count the amount of times I've heard the word 'fangirling' in a negative context, or people dismissively describing something Swift-esque as 'teen girl central' – as if something associated with teen girls is automatically unworthy of our attention. In fact, more often times than I can count, 'teen girl' is seen as synonymous with 'worthless'. And I am really, really not okay with this.
The fact of the matter is that teen girls are subject to a whole range of criticisms and negative stereotyping, a unique shit-stirring cauldron of ageism and sexism – and, since teen girls are (broadly speaking) a large proportion of her fan base, Taylor Swift is subject to these too. Ergo, she is constantly punished for it.
Put simply, music for teen girls (if there's such a thing as music being solely for teen girls) is seen as unimportant and insignificant because the tastes, thoughts and interests of teen girls are undervalued and mocked. If anyone else would like to join me on a life-long project to defend teenage girls from the never-ending waves of unfair criticism, feel free to drop me an email (and I am available for parties.)
But one of my favourite things about Taylor Swift is that she's so aware of these illegitimate criticisms of her and deliberately plays up to them: whether it's saying 'That's a little fast – and I'm saying that' to her friend about a couple's trip to Italy, or a witty 'Whenever a man shows emotion, I appear', she knows how the media sees her, plays up to it and dismantles the criticisms by making fun of herself. Despite all articles to the contrary, Taylor Swift is a smart woman. And a pretty hella funny one at that.
Girls are socially conditioned to keep quiet about the things that irritate us, for fear of seeming 'irrational', 'hormonal', or 'bitchy'. Because of this, Swift is so important. We are taught explicitly to suppress our true feelings so as not to appear crazy. We are taught implicitly that those feelings aren't valuable or important or worthy of mainstream expression. But hey, Swift isn't afraid of seeming 'crazy'. She says what she means, with unflinching candour. She gives zero fucks.
When criticisms of pop culture are legitimate – and there are plenty of them – then it's important to discuss them. You might hate her problematic lyrics in her earlier work. Everyone has different tastes and, of course, you might just not like her sweet, sweet melodious music, which is totally fine. But for ages, I wouldn't even admit my love of Taylor Swift to myself – never mind my peers – because of these criticisms of her. Why? I'm talking sexist bullshit here.
So, to all the haters out there: I suggest you take a good hard look at yourself and wonder what really makes you hate Taylor so damn much.
-LM