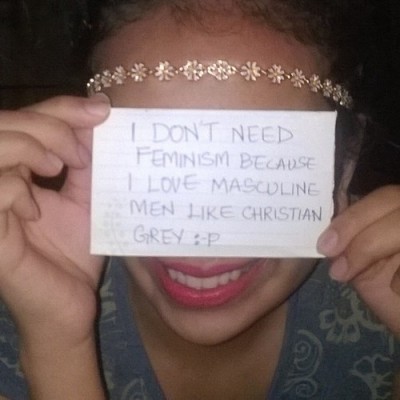 You know the face. When someone quickly realises they have told you something they will regret. It's the face my sister saw when I accidently told her Dumbledore died (sorry again, Sis). It's the same face this woman had after she turned to me, at a party, and said "I'm not a feminist".
It wasn't until my early twenties that I said I was a feminist out loud and it wasn't long before I became (I know that as a feminist this is a horrible word to use and I apologise in advance)  'shouty'. Every second thought was "Is that sexist? I think it might be sexist! This is OUTRAGEOUS! Are you buying The Sun? How DARE YOU?! Is that advert using a woman's body to sell me shoes? UNBELIEVEABLE. Now who can I corner to shout about all this to?' *narrows eyes and scans the room*
This is both completely thrilling and utterly exhausting in equal measure and you'll hear no apology from me. I was, I am, riding the feminist wave and absolutely loving it. But in order to save the ones closest to me from my constant barrage I decided to feverishly fling this outwards and wade deeper into feminist waters (aka set up a Twitter account and follow all things feminism).
Slut shaming. Bikini bodies. Is marriage a cry for help? Female Genital Mutliation. Black feminism. Harriet Harman. Does workplace equality make it harder to break the glass ceiling? Everyday Sexism. Body Hair. The Downing Street Catwalk. These are just a few highlights from my relentless Twitter feed. (Plus 'Real Super Animals with Super Powers' and Paris Hilton with a unicorn under a rainbow. Obviously).
The deeper I went down the feminist rabbit hole the more I found answers and the more I forgot the question. It is endless. Now of course this should be something to celebrate – feminist voices are being heard but before long I found myself cowering slightly from the whirling opinions spiralling around my head, up into the sky and back into history. At one point I just wanted to throw all the women's magazines and feminist blogs in the air around me and shout at the top of my lungs "I don't fucking know!" Boy (or shit, should that be 'girl'?) did feminism rear up and roar at me.
Just as I was reaching saturation point I found Women Against Feminism.
"I don't need feminism because I don't think men are pigs"
Oh God…
"I don't need feminism because I am not a victim"
What? Wait, stop that's not…
"I don't need feminism because I can own up to my own mistakes I've made in my life and do not have to blame them on the completely fictional patriarchy."
No one's suggesting you do…
"I don't need feminism because I have been shamed by them for not fitting in their ideas"
Bugger…
"I don't need feminism because I don't hate men."
*sigh*
Unfortunately it seems that whilst we were enjoying riding our wave we forgot that waves never crash to shore alone, that there is often another, much bigger wave lurking behind. So much of me wanted to stand at the back and shout "guys, stop, we've lost people on the way – we'll have to go back". I began to feel if we were being too shouty, too quiet, too victimising, too forceful then we have already started to fail and I hated it. On the 'Women Against Feminism' blog I can see posts by people saying that have received hate messages from 'feminazis'. There is so much about that sentence that is sad. All I can think as I scroll through the fast accumulating likes and posts is: how the fuck how did this happen? I feel like I'm spinning on the spot, arms outspread, looking at my fellow feminists and asking – seriously guys, where the hell were we? Then I remembered where I was.
Back at the party. "I am not a feminist." After this calm, totally genuine admission from this woman I went on what can only be politely described as a tirade. Pummeling with facts and figures, trying to convince her that she was wrong, that she was mistaken, that she just didn't understand what feminism was. Slowly as I began to tire and my face melted from determination to utter disbelief, hers hardened in quiet confidence that she had just been proven right. That we feminists were all the same. Shouty, elitist and actually a little bit mean. Men haters and blamers, women victimisers and blamers. I pawed at her with words, desperately trying to persuade her she most definitely was a feminist because (here comes my moment of glory) "you're a woman, how could you not be?" Ugh. She got up and walked away and on reflection I would probably have done the same. What an epic fail.
People shouldn't feel they have to tip toe around feminism for fear of angering the beast. In order for feminism to be truly powerful it needs to be accessible and engaging, to everyone, and at the moment it's just not, not yet. The crucial argument 'you're a feminist if you believe in equality between the sexes' just isn't being heard clearly enough amid the noise.  We need to start to celebrate even the smallest act of feminism, shout about them rather than preach about our ideals that can often have negative or resentful foundations (in other words what I did so expertly badly). Perhaps I am being too idealistic in suggesting feminism become a social movement that is universally loved but without this positive reinforcement it will be very difficult to stem this 'anti-feminist' tide we're witnessing from the likes of Women Against Feminism.