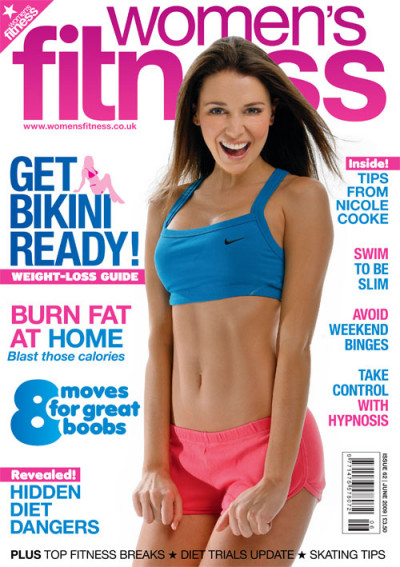 I started running some years ago. That first, tentative heavy jog around Wandsworth Common in baggy grey trousers and my PE trainers changed my life. From there I dove head first into the health and fitness world, and this hasn't come without some unhealthy troubles.
Running has remained the constant. And this has been wholeheartedly positive. I've steadily grown my Lycra collection, run marathons, half marathons and other races, made great friends, got a job at a running magazine, achieved thighs so muscular my jeans no longer fit… But with the plunge into this world – the websites, the magazines, the forums – came a dark side riddled with conflict, confusion, insecurity and, well, ill health.
Over the years, I've watched various trends come and go. The fun diets and fitness movements – you know, eating seven eggs one day and then only beetroot the next, adding cayenne pepper to your lemonade, clocking 1,000-calorie workouts, something to do with cavemen when people hashtag 'paleo'. May I tentatively suggest that the reason we don't eat like cavemen and live in caves anymore is because, y'know, we don't have to?
This year the extreme has hit the mainstream. National newspapers are telling us to give up sugar; The Times even had a model explain how. I've upped my banana consumption to three a day in protest (you can have 25 a day before potassium levels get dangerous, FYI). People in my office are on the 5:2 diet. The fridge is leaking almond milk. Chocolate-lovers are eating medjool dates instead. Now I'm one of the biggest date-lovers – I'd go to the Middle East just to eat the best ones going – but please! I'm drinking matcha tea as I write this, for goodness' sake, and no matter what anyone tells you, it really doesn't taste great when you get to the lumps.
My 'normal' friends and my three very head-screwed-on sisters look on in confusion. I recently sneaked some almond milk into my luggage on a family holiday and was met with outrage. When I got back, I went on a five-day juice detox and my sisters sent me abusive texts. I only actually made it to 10pm of the first day (but that's hardly the point) – no matter what you read in magazines about it being tough but then feeling really energised, and having glowing skin and hair, it's just not worth giving up food and drinking celery for. Believe me, I tried.
The trouble is that this is the message you get from the media. I work in health magazines and I'm surrounded by the reality; it isn't quite as straightforward as it appears.
Staff regularly take part in challenges to 'get ripped'. A recent example was a 'six-week flat belly challenge'. Three female staff members underwent a psychologically scarring 'before' shoot in a brightly lit basement studio, wearing far-too-tight underwear to emphasise those 'flabby' bellies. Then, six weeks later a glamorous 'after' picture hailed the results.
These girls worked their asses off to get into shape: 90-minute daily sweat fests, carb-free meals, banana bans, weekly weigh-ins. I watched my good friend, who was incidentally in the best shape of her life pre-challenge, question everything she thought she knew about being healthy, suffer more body insecurity than she'd ever experienced, and become envious when her colleague mentioned her periods had stopped. Was her body fat not low enough to stop her ovaries working properly, goddammit? Disruption to the menstrual cycle is a common side effect of low body fat. And that's just one example – the grim realities are endless. But when the final feature came out, none of that was documented. The reader just saw a slightly modified meal plan (they can't publish how little they were actually eating!) and a short account of it being hard work but worth it for the results ('Sure, it was hard not eating bread, but look at my abs').
How can this be positive when the reader sees that her hips are wider than the girl's in the picture, and tries the plan to no avail?
I always thought it was a journalist's job to tell the truth. Even if the truth is a bit grim. For the bulk of humans, to get ab definition you need to stop seeing your friends, work out like a demon and eat chicken breast for breakfast. Even lentils have too many carbs. If the challenge was about what it really takes to be a bikini model, then it's valid: it proves to the masses that being a bikini model is a full-time job requiring discipline and deprivation, and one that's not viable for most people. Furthermore, getting visible abs isn't really enough, because then what? You're still the same person. Why don't they tell us this?
The problem, sadly, doesn't stop there. You can't just choose not to buy the magazines sending out these messages. Once you're invested in the health and fitness world there is a whole manner of things to obsess over and, erm, aspire to. I love people being active and doing things that make them happy, and if their happy cloud seeps into mine through a tweet or a blog post, then lovely. Positivity is super. But can we just take a second to ask about all the extreme fitspiration? The smug vegan food bloggers, and the people screaming 'strong is the new skinny' (while being skinny but also having abs). I am a self-confessed sucker for it. I thrive on these blogs. My Instagram is swelling with pictures of rainbow salads and thigh gaps. Swelling, I tell thee.
It's an unhealthy obsession and I'm not proud. I gave up my Daily Mail celebrities-in-bikinis online feed six months ago. I'm six months clean! But I've found other things with which to fill my insecure head.
I hate how often I think about my body. Every time I catch my reflection or see a photo of myself, my eyes aren't drawn to my happy face, I focus on my arms or how 'cheeky' I look. I know that happiness doesn't come from a thigh gap from giving up going out for dinner. I'm an active person and it makes me feel brilliant, but there is still this unhealthy edge to my desire to be healthy, and it troubles me. I'm not sure what the answer is and, in 10 years' time, I am sure I'll look at pictures of my present self with envy (that's what wiser people say to me, anyway). It doesn't stop it happening.
We all need something to strive for, but this ideal body is not a real something. I'm aspiring to a false reality I know I don't even want. The beautifully shot Instagram pictures of that vegan desert and the classic 'hipbones on the beach' selfie are just that: tactfully taken images of isolated things. The rest is made up in your head.
The press does its bit to enforce an unrealistic health ideals and then it filters through into every lifestyle choice. Of course I want the world to be health-aware, but it's gone too far and we all need to calm down. Go for a run, then eat toast. It's OK! Eating toast is OK. It doesn't even have to be gluten-free – and if it is, it'll cost you £3 a loaf. But getting sucked into the world of women's health and fitness as it exists now might cost you one hell of a lot more.