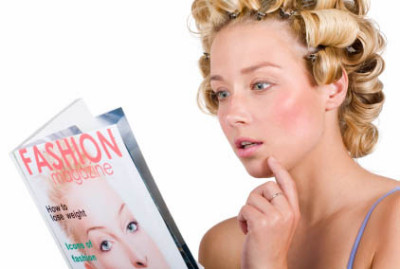 A lot of the time when you're a woman in the media who talks about gender equality and all that, people tell you to 'get laid'. And the thing is, there is no real response to that. 'I had sex this morning, thanks, and the man responsible didn't manage to pound feminism right out of me via my cervix,' is one possibility. 'I have burning cystitis so I don't think I'll bother,' is another. 'Are you offering?' is probably the one that they're looking for. And 'Fuck off and die,' is the (admittedly more fun) one that confirms their Angry Feminist stereotype. Talk about a rock and a hard place.
So I've been sexually active since an incident on my best friend's kitchen floor with a man only known to me as 'Chubz' when I was 14, and the weird thing is that I've actually become more feminist over time. I could attribute this to my own personal growth, education, changing opinions and analysis of the media I consume, yadda yadda yadda, or I could just go ahead and admit that I'm pretty sure all of my sexual partners had magic Gender Equality Sperm™ because everyone knows that the only things inside my brain come from what last went inside my fanny. Whatever. What I'm trying to say is that a decade of experience has led me to believe that sex is not the feminism antidote so many men's rights activists say it is. In fact – and stay with me here – it might have another function entirely.
What tipped me off on this was partly a feature that I spotted in this month's Glamour magazine promising '10 new things to do in bed (+3 classics worth another go)'. This suggested to me that people actually do have sex for pleasure, rather than just to bang the more controversial political views out of their partners, so naturally I bought it and ran home to find out more. I say ran, but it was kind of more like ambling, because I had a sore vagina from the night before when a guy I met on Tinder screwed me three times in a row in a desperate attempt to stop me campaigning against the glass ceiling. But I digress.
Throwing myself down on my cold feminist bed in my room, which is devoid of all furniture and decoration apart from one large poster asking 'ARE MEN NECESSARY?' that covers one entire wall, I opened up the magazine and eagerly devoured the feature. Now, ladies and gentlewomyn, I was expecting something good. My current shag buddy and I had just gotten into wolf-bagging, which I won't extrapolate too much on but let's just say it involves a fishing rod, a scrap of bacon and a lot of manual dexterity. And you can imagine my disappointment.
So as not to entirely ruin the rollercoaster of orgasmic fun that awaits you in Glamour, I won't reveal all of their tips and tricks. But safe to say, these are some of them: 'fumbling' ('yes, resorting to some grinding but never actually, you know, doing it,' says a wise woman at Glamour. 'I wouldn't blame you if you went in for round two a few hours later.' Wait, what?), 'fingering' (nope, never heard of it either), 'cuddling', and '15 minutes of non-stop hard laughter' (which isn't even a euphemism.)
Now the thing is, I'm wondering what the hell else the Glamour team have been doing all this time. Did they discover wolf-bagging before me? Have they been doing that thing I read about on Reddit where a guy punches you in the stomach just before he comes because it tightens your vaginal muscles? Is there a secret way of having sex where you press your belly button and another orifice appears to put his dick in and everything changes completely? HELP ME OUT HERE.
The most worrying part of this is that Glamour is a magazine ostensibly pitched at 20-30 year olds. The article following the one that tells its readership to rediscover fingering is about how much to put in your savings account each month. I haven't even once drunkenly considered opening a savings account during a deep conversation about life with a friend at 5am on the floor of the bathroom. This means that Glamour aims for Real Life Adults, more real even than me. And the kinkiest piece of sex advice it can give these savvy, professional, independent women with savings accounts is that they should dry-hump their boyfriends and then laugh at them before a top fingering sesh.
Can anybody tell me what the fuck is going on?