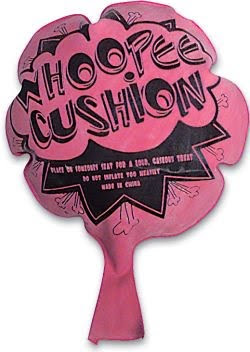 There's been a lot of talk about the confidence gap recently, and how women should just get out there, take some space, raise their hands and make themselves heard. True: being louder and making demands, if they are justified, can indeed increase confidence and possibly result in better opportunities professionally. But how does one begin to take space in some areas of life, while not in others? How are we to be louder and bigger while still fitting into a size 8 and never farting? (See? Farting is a Feminist Issue! I told you we handled the big issues – Ed.)
Having been brought told that we need to behave as little princesses, I wonder if a lot of us still feel the pressure of having to pretend, that just like princesses, we do not really have to go to the toilet, or fart, or harbour any other bodily functions whatsoever. This may be largely unconscious, but somewhere deep within, this princess ideal still lives and controls our basic instincts of relieving ourselves when nature calls. And God forbid that there be anyone close enough within hearing distance to be able to tell that whatever is happening behind that closed door definitely isn't just powdering noses. How else do you explain eight women essentially going without pooping for a month on a yoga retreat, just because they shared one toilet that also happened to be adjacent to the sleeping dormitory? We could have won the world record in constipation.
You see, I was one of the eight women. And yes, I went without a number two for nearly a month. There was always somebody in the room, and often on the telephone (which was most unfortunately placed just by the toilet door.) I could not relax. Just couldn't do it. Not without risking that the others might hear embarrassing sounds, or worse still, need to visit the toilet straight afterwards. I don't know why this was such an issue. I know that I am not a princess. Nor would I ever want to be, and yet, I just couldn't understand how the others managed do their business without me ever hearing anything. Was I somehow less of a lady, somehow defective as a female? It wasn't until I had private conversations with some of the others, and somehow we ended up talking about constipation, that I found out that everyone had the same problem.  All of us were so embarrassed about the natural functioning of our bodies and the sounds and smells that come with them that we simply stopped shitting.
It might not be a surprise that this was a problem for me. As an ex-dancer, I still struggle with controlling my body to keep it in check and somehow contained, almost sealed. There can be no excess, no seepage. I was trained to strive towards having a silenced, ideal body. The mute body of a dancer becomes almost immaterial in its ability to evoke the illusion of weightlessness: a picture perfect body in motion, in virtuosic feat. In the end my failure to meet the ideal made me ill. Suddenly the body became its own obstacle. It had demands. It would no longer be silenced.
I am learning to take space. I don't deny myself food anymore, or force myself to exercise excessively in order to reduce my already petite size further. As a result, I am bigger, which is great when queuing – I don't get stepped over as much, for instance. Professionally I try to go for things and put myself outside of my comfort zone: I am making myself heard. And if I am in an exercise class and need a break, I take one. Or I leave and ask no one for permission. Because this is my life, my body and my time, and therefore I make the decisions.
And still, I struggle with the silencing of my body in everyday situations. Since I can see that I am not alone in this, the silencing becomes political, somehow symptomatic of a culture where women are expected to be pleasing, pretty and clean at all times. Or worse still, weightless and invisible. The pressure to be a lady still holds, whatever gains we make in other fields. I may ask for more and be louder professionally, but visiting a public toilet still leaves me uncomfortable even about the sound of peeing, not to mention sounds related to any more strenuous business. Occasionally coughing up phlegm in the morning leaves me feeling very unladylike. As disgusting as it sounds, I can assure you that it is way more disgusting to keep the cursed thing just sitting in the throat.
Here's the thing: living as a body is noisy business. There is no point in fighting the futile battle of suppressing, silencing and minimising the body. A normal human body will pass gas 15 times a day, and have up to two bowel movements a day. Do you really want to be the exception that does not? Think about it: isn't it better to get that stuff out than keep it all in? It is so much healthier to live with well functioning bowels. Besides, there are no such things as fairy princesses – they are just an illusion created by humans with real bodies that sweat and fart, just like you and me.
- LL