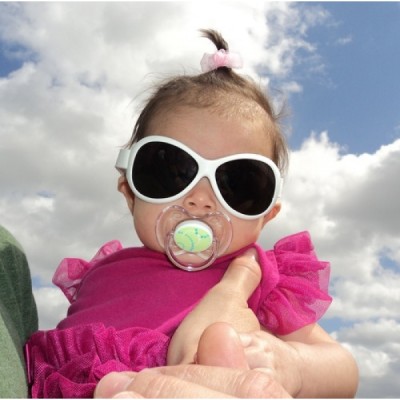 I'm an ex-Brixton party girl. I'm an ex-convent girl from Sussex. I'm also, rather boringly, an ex-Project Manager.
What I am now is a Stay At Home Mum. But I feel more like a litany of exes.
I am, quite frankly, grieving 'me'. I want me back – I liked me. I treated me well, took me places, did exciting things, never judged me; always allowed me to do whatever I wanted no matter how frivolous or ridiculous. I always liked the outfits me came up with too.
Thing is, stuff happens during birth, pregnancy and new motherhood that feels a little bit like you've been in the trenches of no-man's-land dodging bullets when you thought you were just in the queue for a gurgling, podgy baby. The shock of this has changed 'me'. She is different now.
Talking to a few mums who have had difficult or traumatic births, they all say the same: the rollercoaster of emotions post-birth feels similar to Post Traumatic Stress Disorder – because they just weren't expecting what happened to them, to happen.
Some women do have complication-free labours followed by luminously healthy babies that sleep through the night early on – they get that gurgling podgy baby dream. But at the other end of the spectrum are women that get ripped to shreds during labour and then are kept up all night for the next two years. Currently, antenatal classes tend to focus on the former, leaving the latter to enter the aforementioned no-man's-land with the barest equipment to help them. And that's about as helpful as a paintball gun in an all out war.
I remember during my antenatal class, under the guidance of the teacher, writing a list of what I would need to support me during labour: 'Candles,' I listed, 'A calm playlist for the iPod,' and then finished the whole thing up with, 'A nightgown that will preserve a little bit of dignity and still look OK in the photos after.' I look back on that list puzzled by the innocent creature that wrote it. I finished up in that delivery room naked and caked in blood from my waist to my toes. No one will ever see that photo. In it, I have the look of a wild animal that's been caught in a trap and then sawn free; it chills me every time I look at it.
We need to do more about this. It's not fair to send women marching down their line armed only with candles and birth plan wish lists. I'm not talking about scaring them with horror stories, but being pragmatic and arming them with information that they really need might be a start.
For example, what I needed in my maternity bag was some serious kit: Sitz bath granules to help heal stitches, maternity pads to soak up blood, arnica to reduce swelling, pile cream to help my sore bottom, prunes to avoid constipation, strategies to deal with the horrors of sleep deprivation – and the list goes on. Instead I had to turn to the internet to provide me with the information and signposting to resources that I needed. And considering that browsing the internet for medical information isn't traditionally acknowledged to be the best idea, this really wasn't ideal.
I also needed to know, at that time, that I wasn't alone. That it wasn't that my experience was unique in its awfulness. The pre-birth propaganda (as I like to call it in my motivational speeches) doesn't so much cover what you need to know as what you all hope will happen. I mean, maybe some people get to light those wretched candles and enjoy the sweet sound of melancholia permeating Bon Iver's second album, but I've not met anyone yet. Doesn't that tell you something?
Then there's the baby to manage. Even if your body is failing you, you must be able to detect and manage colic, baby sleep habits and reflux, and know how to breastfeed – to name just a few. All of which are bewildering if you've never met them before. We're making great strides in supporting breastfeeding, but what about the other issues? What about post-natal classes for mums that actually cover this stuff so we don't all end up weeping into our keyboards and desperately trying to find the answers on Mumsnet forums at 3am? What about even making mention of the psychological impacts of having a baby – of missing your former self and your former life, even while you love the child that you have made? What about making your natural grieving period for that life OK, and normal, and accepted?
Childbirth is, in reality, pitted with risks, but we are lucky enough to live in an age where there is medical intervention to see us through. Parenting is very much the same, even if the risks then are more emotional than physical (although a toddler taking a flying leap at the right angle can and will bruise your ribs.) We need to talk about this stuff, and prepare for it. It needs to be a stop point on the pathway to motherhood, so that we don't end up lost in the wilderness with a screaming child the minute we've pushed it out of us.
Personally, I would much rather have come home to all the equipment I really needed to bring me back to physical and psychological health, rather than unlit Jo Malone candles and a freezer full of lasagne. Wouldn't you?
-EW