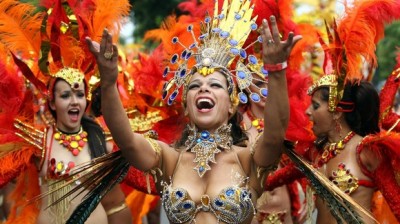 Why there is nothing hypocritical about feminists twerking or dancing in the streets at Carnival
 Apart from the worst bank holiday weather since 1986, the lead news story from last week's Notting Hill Carnival was that of Mary Brandon, the student who pushed away a man after he groped her and was badly beaten up for her trouble. If such despicable acts were more depressing than the rain, the silver lining in it all was Brandon's defiant response: 'I'd take a punch again from this loser or any other loser who thinks it's okay to treat women like this.'
As I applauded Brandon's zero-tolerance approach to criminal behaviour (and where some feminists complain that respondents to sites like the Vagenda and Everyday Sexism spend more time moaning about this criminality online than taking men to task about it, I wish to point out that fear of precisely this sort of retaliation is a valid reason why so many women do not), the episode got me thinking about (some) men's behaviour more generally when we are in certain situations (such as Carnival or a nightclub) and the way we as women feel about how we ourselves behave.
Notting Hill Carnival is an event close to my heart.  Every August bank holiday, my girlfriends and I play mas: we spend the entire day chipping (basically walking, with rhythm), dancing and drinking on the road behind a truck with a bar and a soca DJ. We love the music. We love the dancing. We love the rum, the sense of abandon: we call ourselves bacchanalists with good reason.  The spirit of the carnival is joyous, vibrant and inclusive – many of us have forged friendships on the road in that small corner of west London.
It also happens that we do all this while wearing what is essentially a bedazzled bikini and a feathered headdress. We dutty wine and attempt the six-thirty (Google it) dressed like this, while thousands of people watch and take photos.
Lately, in light of recent events and a seemingly ever-pervasive rape culture, some of us have been wondering whether, as good feminists, we should really be okay with disporting ourselves in this way. I cringe, for example, when I hear people describe lap-dancing your way through college as 'empowering'. Yet that is exactly the word that springs to mind when I think about how prancing about in public, scantily clad, makes me feel. My friends and I wine in the streets, sometimes with each other, sometimes with guys, always with guys looking on – and we love it. Yet one of my friends has recently admitted to 'modesty pangs' and a 'weird double standard', and cites only the mask-like effect of the costume as permission to behave 'like someone else'.  Another friend referred me to the origins of Caribbean carnival in inverting normal roles, where 'a dustman can be king for a day' and vice versa, implying that it is only the topsy turvy land of Carnival that makes our behaviour acceptable.
Are the 'cultural' aspects of Carnival really the only way we can justify our behaviour?  Or are we just hypocrites?
Why do some feminists feel guilty about stuff that's fun?
I first started thinking about this about a year ago, when internet debate about Blurred Lines had reached fever pitch. Among many others, this website was vocal on the subject – and that was before Miley Cyrus at the VMAs. One of the things that struck me about this Vagenda article was a sense of the author's internal conflict: her initial instinct was to enjoy the song and emulate the girls in the video, and her later reflection that the video is "an orgy of female objectification" fails to extinguish this:
"However, instead of being repulsed by the video, I felt repulsed by myself. Because I still wanted to prance around in the nude thong while being admired by Pharrell."
A similar theme seemed to emerge in this post, in which the author agonises over whether to  continue attending the twerking classes which clearly give her pleasure, versus taking a stand against twerking because "it isn't terribly feminist".
Ignoring any discussion of Blurred Lines itself, my reaction to these articles was 'Why would anyone admit to enjoying something, and then go to great lengths to rationalise why they were wrong to enjoy it? Why are some sexy women viewed as 'empowered' while others are seen as victims? Who decides these things?'  Having sensed something of the same conflict creep into my enjoyment of Carnival, I decided to probe these feelings further.
How Carnival voyeurs make me feel
In my first year as a masquerader ('mas' is short for masquerade), I remember the surprise I felt at Japanese tourists approaching me and asking for a photo while I touched up my make-up, before we'd even started. As I dashed to follow our truck as it joined the parade route, being I was taken aback at the rows of camera lenses lining the barriers either side of the road.  Amidst all the pre-Carnival prep (lots of talk of ab crunches and a 'bootcamp' regime, hardly any actual ab crunches or bootcamp regime), I'd forgotten that Carnival is a tourist attraction.
That first time, I felt coy and self-conscious. But since then, I've accepted that being part of the spectacle is half the fun, and I enjoy the attention. Mainly it's from tourists wanting a snap of those headdresses, which look so photogenic against the grey London skyline; but I've always been aware of a contingent of men with zoom lenses who despite the event's cultural context, are obviously enjoying the sight of our bikini-clad bodies, gyrating to the music, in a sexual context. My awareness of these spectators fades in and out according to the song that's playing, the amount I've drunk and whatever little dramas are unfolding in our group at any given time; but it would be disingenuous to deny that we are there to display ourselves to other people as well to party.
Most of the time, I feel nothing but flattered by this sort of attention. In fact I would go as far as to say that the feeling of being sexually attractive to onlookers is one of the things I enjoy about playing mas. It's not the biggest thing (dancing gets me higher), but it does make me feel powerful, sashaying down the road feeling like I own it, until that feeling simply dissolves into the joy of hearing my favourite tune come on and forgetting everything except dancing and singing along. I don't usually feel like that in my daily life. I am not a model or a dancer, I am an ordinary woman who once a year masquerades as someone far more sexy and gorgeous, and remembering that I have that within me and the effect it has on other people is empowering.
I say 'most of the time'. Fortunately I have never experienced any kind of assault at carnival, but last year – this year was too rain-soaked to count – I realised that I hadn't been sure what my boundaries were until they'd been crossed. I saw a couple of young men crash the barrier and take a selfie of themselves posing with thumbs up and smug grins, either side of my friend's bottom, without her realising until afterwards (I was too far away to stop them). They were inches away from her. Later on, when I decided to call it a day and head home, I stepped aside on the pavement to pull a pair of shorts and T-shirt on over my costume. Two more young men rushed up with their camera phones, and ignoring my angry 'No!' leaned right in and snapped me as I pulled my shorts up, and looked highly pleased with themselves.  Both of these incidents felt extremely disrespectful and invasive, with a total disregard for personal space or feelings and a total failure to understand boundaries and context.
Boundaries are rarely blurred lines
The line between enjoying your own and others' sexuality, and disrespecting, objectifying or exploiting it, is highly instinctive. This is why arguments concocted to explain why one woman is 'empowered' but another is 'exploited' can sound contrived. Boundaries are just something you feel and are subjective, as Sex and the City aptly illustrated: remember the episode when Samantha unexpectedly discovered she did have limits after all, on witnessing her new friend perform a lewd act under a restaurant table?
(Seriously, is there anything that show didn't cover in a 25 minute TV episode? It really was very comprehensive.)
For most of us, the mere awareness that someone is sexually attracted to us does not traverse our boundaries. An unwanted admirer may make us feel uncomfortable, but as long as he or she sticks to admiring, it's socially awkward at worst. The majority of men who feel sexually attracted to someone else manage to avoid harassing, objectifying or sexually assaulting that person. It is a minority – and criminals – who don't. Most people too, instinctively understand the importance of context. It's obvious that once someone has stepped off the parade route and is changing into her civvies that it's business as usual: like leaving the beach behind, that temporary set of rules that permitted you to watch and photograph her dancing on the road no longer applies. It's obvious that dressing up in a bikini and headdress does not mean you consent to total strangers making a trophy out of one of your intimate body parts. When men get these social cues wrong, it is clearly they who are at fault, not us.  It does not make our behaviour less feminist.
Sometimes dancing is just dancing
Dancing in particular is where some people seem to get confused. I know it can look sexually suggestive, when we do some of those dance moves. Legs are apart, pelvises are thrusting, girls are wining together, guys are joining in. But I wouldn't say it feels sexual as such – it's sexy in the broad and liberating sense of being free with your body, of opening up muscle groups and moving your body in time with someone else's. When someone comes up and wines with you, or twerks or daggers or whatever, our skin may touch but I've never felt anyone put their hands anywhere except my waist. It's all just a load of fun, and I've frequently observed that a group of heterosexual girls on their own will happily dance in this supposedly sexual style, not to try and attract each other, not to 'practise' for when men may be watching, but just because it feels really fun. Sometimes ladies sit with their legs wide apart, because it's comfy. Mmmm, feel that inner thigh stretch!
I guess where that brings me to is that men who see me at Carnival – or at the beach, or in a nightclub in a mini-dress – may or may not be objectifying me in their mind. But provided nothing in their behaviour crosses my personal boundaries and makes me feel disrespected or uncomfortable, it has more to do with them than with me, and I haven't caused this by dressing or dancing 'provocatively'.  We all have different boundaries: as one of my friends put it, "Yes true I am effectively walking around in a bikini in Notting Hill, but how I conduct myself on the road does not scream vulgar or disrespect. I think all women should have the right to choose how they are comfortable presenting themselves and what situation they put themselves in."
Enjoying your sexuality should not be treated as an act of rebellion
Nor do I feel any shame in enjoying feeling sexually attractive to other people.  There is nothing transgressive about female sexuality – although the media would often have us believe otherwise, which is why some female performers get slut-shamed (Miley, Rihanna, Madonna) and others invoke their sexuality as an act of subversiveness (Miley, Rihanna, Madonna). But if we can't enjoy our sexuality, then we're just back to being female eunuchs. Not only are the women in the Blurred Lines video are portrayed as beautiful, sexy and desirable, but there is chemistry between the male and female performers. Wanting to emulate this is natural (although the desire to wear a nude thong, less so). There doesn't have to be a contradiction between this and distaste for other aspects of the song or video.
The issue of whether a lap dancer, for example, has felt empowered to make a personal choice and enjoys her work, versus being exploited, is also subjective and it is wrong to assume that lapdancing can never feel empowering. On the other hand if the only benefit you personally derive is the extrinsic one of money, while third parties enjoy your body, that doesn't sound very empowered to me. I would question what agency a woman had in making that decision (this is a male feminist friend of mine's test for establishing whether a woman is being exploited or not and I think it's a good starting-point).
But if your behaviour gives you intrinsic joy, whether it's dancing in a bikini in the street; attending a twerkshop; enjoying feeling attractive in your sexy new evening outfit; or strutting around your bedroom in a nude thong pretending to be Emily Ratajkowski, you are acting for your soul's own benefit and nothing else.  What could be more feminist than that? If someone else sees something different – sees 'gagging for it' where you feel 'liberated' – that's their mistake, not yours.
- Catriona Edwards