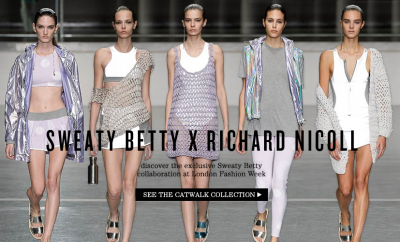 Dear Sweaty Betty,
I write to you as an affectionate, nay passionate, follower of your brand. My (frequent) trips to your boutiques provide everything this 'modern' woman could want: neon hair-ties, attractive sports-bras, tastefully lit changing rooms… So why the letter? In short, because this 'modern' woman couldn't be more disillusioned by Sweaty Betty's recent London Fashion Week collaboration with Richard Nicoll.
I stumbled across the runway video on one of my regular visits to SB's site. It stood out because it didn't have the words 'sweat wicking' or 'ergonomic' in its description. 'Designed for the modern itinerant woman', (cue: frantic googling of 'itinerant'), the collection apparently 'presents the notion of slowing down, embracing calm, travel, fitness.' I mean, that does just sound like a load of verbs thrown together for effect but still, I watched the video with an open mind.
Now, I'm not going to comment on the clothes themselves (although suffice it to say anyone attempting to embrace calm whilst exercising in a maxi-dress has my complete sympathy), but what's got me in a real post-yogalates sweat is the women used to model such a collection.
We've all stressed and wrung our hands enough at the fashion industry and their notoriously sadistic body standards, but I never expected this of you, SB.
You, who picture women actually doing stuff (ie. not just leaning on stuff) in your catalogues. You who send me encouraging emails about quinoa, when I really should be writing that chapter. You who made it cool and sexy to be a bit puffed, 'cos fuck it, WE'VE DONE SPORT, and now we're just going to put our hair in a top-knot, throw on our just-within-reasonably-priced hoodie and strut down the street PROUD. You, who always seemed to hit the right note with diversity.
I'm not knocking those beautiful models – I'm not going to describe their bodies or suggest how healthy or otherwise they are, because that's really neither here nor there -  but what I want to point out is how unrepresentative they are. We know that women come in all different shapes and sizes (cheers, eyes), and that 'healthy' and 'sporty' take many different forms. Over the years of buying your products, this is the thing I have most appreciated about your brand – that you have represented this, that your models have been picked across a huge spectrum of body shapes and looks – and identifying with this emancipated perspective, your clothes have made me feel good.
I have written this letter because watching that video made me feel crappy (and not just because of the minimal techno), and cheated of the brand I thought I loved. You were winning the race all along, Sweaty Betty, and now it seems like you've fallen at the final hurdle.
Yours disappointedly,
FD