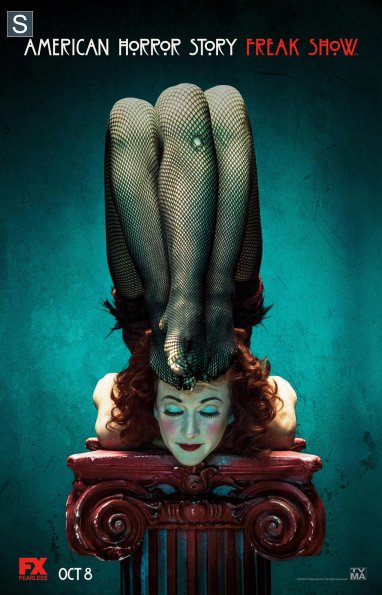 You expect a certain number of terrible things to happen when you watch a show with a title like "American Horror Story: Freakshow". The murderous clown is certainly fair game. The calculating show mistress makes sense. Both provide commentary on what it means to be "a freak." I have to be honest though, I didn't expect there to be a gang rape scene presented with virtually no comment, and, what's more, it was never named as such. Even Jezebel's write up failed to acknowledge that what took place on screen was rape, opting instead to call it "carny porn."
All four seasons of "American Horror Story" have featured rape, both casually and as part of important plotlines. The three preceding seasons could stand for some scrutiny themselves. This season premier dove straight in.
Elsa, played by Jessica Lange, is the one who orchestrates the chillingly deliberate scene. It's implied that she encourages a young woman named Penny to smoke opium, and then films her having sex — but really, being raped — with several major and secondary characters, all of them the eponymous "freaks" of the show. Penny sees the video, and tearfully declares she must have liked it, though she can't remember a thing.
What's important here, and what distinguishes this rape scene from many others on television, is the way it so casually involves the characters we are expected to sympathise with. Only one episode in, and we're being asked to side with abusers. They are victims of abuse themselves, and that's significant, but it doesn't erase this scene.
Numerous current popular shows feature main characters with major flaws, and we are encouraged to both vilify and sympathise with them. Game of Thrones, Breaking Bad, Mad Men are just three examples of shows with amoral characters. There are major characters in all these shows who are rapists, and yet as the show unfolds further, the viewer is encouraged to believe in them. To judge them but to forgive as well.
Rape is not a tool to make a character more "complex". Yes, people have their flaws. They have their demons. But the kinds of things that make a character more interesting are the kinds of things that can eventually be forgiven, if they try hard enough. We want to see ourselves in characters, but that doesn't mean forgiving every mistake either. Some things shouldn't be forgiven in a four-episode story arc.
TV is relevant to people's real lives in ways we don't always realise. The characters of a show are fictional, but that doesn't mean we don't connect with them. Who can't identify with being rejected at some point? Many people have experienced being a "freak" during their life, whether from a physical difference, a mental one, or something that no one noticed at all, but which has affected how they saw the world. In our very real world, victims of rape, especially rape which occurs while under the influence of drugs or alcohol, are instant outcasts. In "American Horror Story" this rape is offered up as part of a commentary on how pathetic and futile average, American, suburban life is. As an overarching theme, this is utterly compelling. Elsa points out how maybe being a "freak" on the outside doesn't mean you are one on the inside, and vice versa. But the message is marred with the cheap, unnecessary use of indicting a woman for her own rape. Granted, it's a good plot device to help us see how awful and self-serving Elsa can be, but it doesn't end with her. Every character in that scene is committing rape.
In episode two, the rape is not alluded to. Penny is gone (though her character will return at some point, according to the cast listing). Ultimately, she was just a plot point.
- Indigo Trigg-Hauger