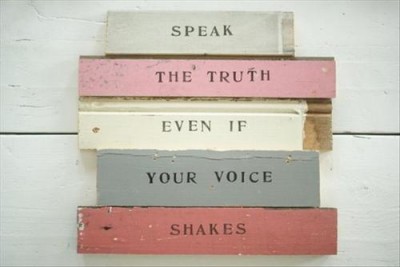 Three weeks ago I came to the realisation that I have been emotionally abused by my husband.  It wasn't such a smack-in-the-face realisation – I guess I have known something pretty fucked-up was going on all along, if I'm completely honest.
At my lowest point, a few weeks ago, having been told to "go fuck yourself you moron" for 'deliberately slamming' a door, I turned to my favourite companion in times of distress – good old t'internet.  I was amazed and comforted to find so many websites and forums with plenty of women (and some men) describing exactly what I was going through, and the term that was applied was 'Emotional Abuse'.  Being able to put a name to what I had been experiencing was a huge relief.  I wanted to run through the streets shouting "See!  I wasn't crazy!  I was being abused!"
You see, I had actually been questioning my own thoughts, reactions and even sanity because he made me feel as if his behaviours were completely justified and that my reactions were always exaggerated.  He had royally shat on my self-esteem.
So I wanted to share some of behaviours I experienced, partly as a form of catharsis and also to flag up some of the features of Emotional Abuse – perhaps they will ring true with some readers who will now be able to put a name to what they are experiencing.
Constant criticism
This usually revolved around a) my clothes – I don't like to have loads of useless shit in my wardrobe I never wear and I don't see the point of spending half my salary on clothes.  Yet he made me feel as if I had no self-respect because I didn't like to go out and buy 'decent' clothes on a regular basis.  Yet even when I started buying clothes in shops he approved of, he would find fault.  Then there was b.) my contribution to housework – even though I was the one getting up at five thirty every morning to go to work while he was not working, and I would come home to do the shopping and cooking every evening, it was simply never enough.  He complained that I never opened the curtains in the morning… "Yes, darling, because it was still dark outside when I left for work and you were fucking SLEEPING!" And c.) my dangerous ice-cream desires – yes, he had a thing about ice-cream.  Sometimes I fancy an ice-cream. More than sometimes in the height of summer.  I'm only human for fuck's sake.  Yet he would usually be disapproving and complain about how 'fattening' ice-cream is and then I would feel like a greedy cow for wanting it so much, by which time it was too late.
Unfair accusations of cheating
One evening he told me that a friend had shown him irrefutable evidence that I had been cheating on him.  Tonight was my last chance to confess, he said.  I denied everything but the pressure he put on me about this 'evidence' made me question my own sanity.  Had one of his friends seen me kiss someone goodbye and assumed I was cheating?  Perhaps I had actually kissed somebody and blanked it from my memory??  In the end, when he refused to show me the 'evidence' I started to suspect he was making the whole thing up.  I finally discovered that he had read my diary and found an excerpt in which I described a dream I had about cheating.  Even though the heading on the page clearly said 'dreams' and other dreams were described, he had been convinced of my unfaithfulness.  I actually left him for three days following that episode.  I was in shock at his behaviour and how easily I'd been manipulated.  When we spoke he found ways of justifying his behaviour and turned everything around by saying I had abandoned him and my reaction was exaggerated.  When I look back at this episode I feel like a first-class fool for going back to him.
Gaslighting
This one is particularly fucked-up.  The name of this type of manipulation comes from the film 'Gas Light' (1944) in which a husband attempts to manipulate his wife's sense of reality in order to convince her that she's insane.  The most blatant example of this happened a few weeks ago.  My husband said "Get me a coffee."  There was no 'could you' or 'please' and the tone of voice was aggressive so I told him to get it himself.  He then became furious, insisting that he had asked me very politely and that I had over-reacted, as usual, and that my feminist ideas were making me crazy.
Not letting me react
Whenever he was hostile to me and I tried to defend myself or give an explanation, he would suddenly shout "Don't raise your voice at me!" and turn everything around to focus on my 'over-reaction' to the situation rather than what had actually happened.
I could go into so much more – the jealousy, possessiveness, becoming frightening when angry, disapproving of friends, refusing to see a marriage counsellor (because I'm the only one with a problem) – but I reckon you get the picture already.
I am totes against victim-blaming but I do feel like I am responsible for allowing this to happen.  I Iet him control and emotionally abuse me.  I narrowed down my social engagements and hobbies.  I changed my style and started buying clothes in shops I knew he approved of.  I started to seek approval for even the smallest things.  I realise I wasn't able to do or buy anything without checking that he liked it first.  I chose to ignore the voice inside that knew he was a controlling sonofabitch.
And so I ask myself: how did I, a Vagenda-reading feminist, allow him to treat me like a piece of shit?  Why didn't I leave him after the crazy-diary-cheating episode?  Why didn't I just buy the bloody Ben & Jerry's?  First of all, I was (am?) so co-dependent that I simply couldn't imagine living without him.  Whenever we had arguments and I felt like I was going to 'lose him' my anxiety and depression reached suicidal levels.  And I never told him (or anyone else for that matter) that I was feeling suicidal because I didn't want to look like an attention-seeker.  So I just sucked it up and felt so relieved when we 'made up' that I just overlooked his awful behaviour.  Second of all, my self-esteem was so low that I believed that being with someone so strong and direct would 'improve' me somehow.  And thirdly, babies. I feel like I need to have a baby yesterday, but it just doesn't make sense… I mean, I work with pre-school kids and I wouldn't want to take any of them home with me!
What tipped the balance?   "Go fuck yourself you moron."  Something inside snapped when he said that to me.  When he came to bed that night I pretended to be asleep but was trembling inside.  I could feel so much hatred emanating from him that I really thought he was capable of assaulting or even killing me.  I didn't sleep at all out of fear.  The next day we met in a café and I told him I wanted him to move out of the flat (I'm paying for) he exploded in a barrage of insults, listing my faults and inadequacies including my favourite line of all: "You're not fit to work with kids because you've had depression and a sexually-transmitted infection!"  Really?  Did I really marry this piece of work?
But he did move out and, despite playing the victim now, has not been causing any trouble so far.  More importantly, I feel FREE!  I cried a lot in the first week and developed a nasty bout of stress-related eczema but now I am healing inside and out.  I feel like I am rediscovering who I am and what I like and want.  And I realise how 'lost' I had become in the relationship.
It hasn't even been a month since we separated and perhaps it is a bit odd writing all this in the past tense when it is still 'happening'.  I do feel like an idiot for allowing the Emotional Abuse to continue but also proud and grateful that I was able to remove myself from the worsening situation.  I know I have a lot to work on and the future both scares and excites me.
Nora