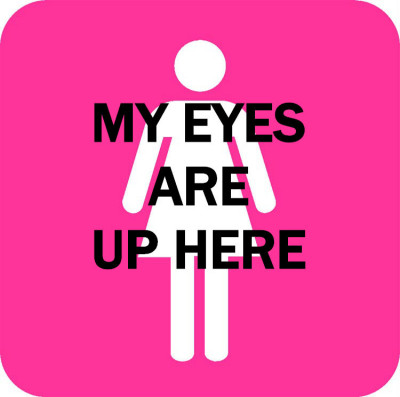 I feel embarrassed typing this, but I am a woman with large breasts and it is not easy. There, I've said it. Now, this subject-matter has made me feel awkward for some time, and I know why. It is because we are indoctrinated to believe that large boobs are the epitome of femininity; that nothing short of space-hopper tits embellished with kitten-tongue pink nipples the size of place mats are desirable; that a full curvaceous bosom and a cleavage that looks like an ass crack tightly trussed up with wires and lace so it resembles a Christmas turkey caught in a weird sex act with a doily is womanly and beautiful.
Women are either supposed to feel proud if they are boasting "more than a handful," or to dutifully check themselves in to be sliced open and stuffed full of silicon sacks if they are anything below a 'D' cup. The lingerie industry plays into our insecurities by marketing supposedly boob enhancing bras that will produce plump, shapely busts as an absolute must for any self-respecting lady. Therefore, in short, any woman who complains about having large breasts is considered irritating, like she is feigning unhappiness with her body in a bid to draw attention to her most valuable assets and to solicit admiring, envious compliments from others. Other women are more than happy to re-mortgage their houses and take out high-interest loans in order to bounce a mile in your Bravissimo, after all. Just be thankful for what you have. But the truth is, in my experience, having large breasts can unfortunately make you a target for negative attention from men and women alike.
I am not an exhibitionist. I don't walk around wearing nothing but fluorescent pink tassels, twirling them enthusiastically when trying to hail a taxi and the likes (if nothing else, I lack the co-ordination). I am very conscious of my breast-size, but when you have an ample bosom it can be difficult to dress them. A polo neck does nothing more than make me look like an old matron who is shaped not unlike a loaf of bread, whilst simultaneously amplifying their size. Pretty fitted blouses often fall to the floor of my bedroom like dead bodies as they fit everywhere but across my bust. Unfortunately, anything that is tight-fitting and shows a little bit of cleavage is likely to be interpreted as an animalistic attempt at sexual flirtation, with zombified men becoming aroused and dragging themselves into London-town from as far as High Wycombe using their own cocks like dowsing rods to hone in on the areole every time I, or any other well-endowed woman, slips into a saucy v-neck top.
And this is not because I am a particularly attractive woman. I am ordinary by anyone's standards. It is just something about the breasts that make men think it is alright to stare or grab or make lewd comments. For example, I was on the tube home recently looking nothing short of ragged after a hard week's grind when a man was blatantly starting at me (or rather, my chest). My hair looked like I had rubbed a balloon on it, my cheeks were flushed following a particularly hectic day in the office, I was wearing odd socks, and my coat was a bit tight owing to an intense three-week fling with a selection of buff, refined carbohydrates. Even the most conservative of commentators would be hard pressed to accuse me of having dressed "too provocatively."
The man fixed his eyes on my breasts for the entirety of the journey. I could see his slack-jawed reflection in the window as I went through the motions of reading my book. Once or twice I pretended to look down the carriage in the hope it would startle him into looking away, but instead our eyes met, he smiled wryly, and then continued to stare. I quickly turned my head away.
The thing is, to be stared at is intimidating. Whilst there are other people around it is difficult to share your concerns because there is no guarantee other people will understand why it is unnerving. There is no immediate danger, after all. But you feel awkward, and uncomfortable, and violated. You know you are being reduced to nothing more than the sum of your parts. You know that if it came to it you would not be able to physically defend yourself. You know if you say something you will be accused of making a fuss for no reason; of being paranoid; or of having an inflated opinion of yourself. You cannot prove what is happening. You don't know what to do with your body. I did not know whether or not I should cover my chest with my book, or if making any sort of contact with my bust would provide some sort of titillation and constitute "teasing." Would acknowledging what he was doing without loudly criticising it be interpreted as endorsement or a come on? I was not sure. I was just on my way home.
Similar things have happened to me over the years. I've been told I have "fantastic tits," asked by someone if he could "suck" them, "have-a-go" on them, told I would give an "excellent tit-wank," and fought off a number of attempts by strange men to grab and fondle the "fun bags." One spectacled office worker once cupped my left boob as he disembarked from a packed rush hour bus in Tufnell Park. Sometimes I feel like a walking fruit cart pedalling a pair of melons passers-by cannot help but test for ripeness. It is not pleasant, but I can understand why this happens.
Porn features women who look like caricatures drawn by Hugh Hefner after binging on the Best of Benny Hill. Regardless of the size of these women, their breasts are unanimously large. Massive, in fact, in a way that does not appear to be anatomically possible. Big, round, perfectly symmetrical, and solid. Men have been wired to think that they must find large breasts sexually desirable; that they are the life-saving buoys floating in the sea of sexual frustration that will offer them salvation; that is it acceptable for them to make sexually explicit comments when a pair of large boobs appear because that's what real, tearing-chunks-of-meat-off-the-sides-of-cows, red-blooded men are supposed to do. Conversely, women have been wired to think that they are not sexually desirable unless they are smuggling a pair of basket balls.
But having physical attributes that fit the porn template is not pleasant. Gigantic mammaries have become synonymous with sexual attractiveness and sexual availability. This means that any woman with large breasts grows up expecting a certain level of sexual harassment from men -and feels that she is powerless to stop it. The irrational subtext to this is as follows: how can the lads be expected to display any sort of self-control when they are told they should want big tits, and that women with big tits by default want to be sexually objectified and treated like sex toys? Men assume that because I have large breasts, like them women wot are in porn, I will likewise be begging for the money shot; that I have a desire, nay, a duty, to sexually satisfy them. I don't really get to challenge their misconceptions. I am just a pair of tits.
Women with large breasts are never described as elegant. They are curvy, and sexy, and bubbly. They are not taken seriously.  They are cheap and sexually accommodating. They are "easy." We are forced into a position of having to apologise for our breasts, making a concerted effort to conceal them so we are not considered complicit in our own sexual objectification. I have found that a number of other women make no secret of their distaste if some flesh can be seen; a bit of cleavage is on show; or if the size of the breasts can be made out under clothing. Some stare as much as men, and often they will turn their heads with pursed lips, a look of disgust on their faces, presumably because they, too, think I am overtly showing the world that I am up for it. This is difficult to deal with. I know in many cases these women think I am "flaunting" my bust and feeding into rigid notions of what constitutes female sexual attractiveness. They may think I am offending common decency. That I am single-handedly reversing the hard-earned victories of my feminist foremothers. That I have no self-respect. But the fact is I am not "showing them off." They are unfortunately just noticeable by virtue of their size. The magic circle has not yet launched a lingerie line and, until they do, it is unlikely I will find a bra that lives up to its promises to visually reduce the size of the female bust I had no control over the physical attributes nature gave to me.
I can remember as a student if anyone made a remark about my breasts some other women would become defensive and passive aggressive. "My boyfriend says he prefers small breasts anyway," one of them would say to another in front of me. And, my personal favourite, "I wouldn't want big boobs anyway. At least mine won't be down by my ankles at the age of 40."
It is difficult to defend yourself because you feel you are already strangely at an advantage because you are naturally in possession of something we are told all women should have and which many women actively acquire. You feel like you have to just take the put-down. What you actually want to say is that breast size really doesn't matter; that, yes, at some point your breasts will probably resemble bowling balls dangling in a pair of Christmas stockings but, it's ok, all natural breasts sag because of gravity, it is inevitable; that you have no more control over your breast size than they do theirs; that you do feel self-conscious about your boobs; that you would love to have the kind of chest that would enable you to get up of a morning and just slip effortlessly into a summer dress without having to worry about scaffolding, but you accept the breasts you have; and that you know that it is not personal; that as women it is really unfair that we are forced into a position of making comparisons with each other in this way through no fault of our own.
It is absurd that the size of our breasts is considered directly proportionate to our femininity and our womanliness and our sexual attractiveness, as this is such a reductive assessment of the spectrum of sexual preferences and what it means to be a woman. But it is difficult because society has a strange attitude towards female breasts. Whether we have big or small boobs, we are made to feel inadequate in some way; constantly bombarded with messages that our bodies simply don't make the grade. If we pay to have our bust surgically enhanced we are perceived as vain and superficial. No consideration is given to the overwhelming social factors and the media pressure that lead to us drastically modifying our bodies. Instead of our choice being accepted we are judged for opting for the "Barbie make-over;" for being too weak to just live in our own skin. I know of women who have suffered such debilitating back-ache due to the size of their breasts that they have had to have them surgically reduced. Their choice was questioned and trivialised by others who could not fathom the fact that a woman would take action to make her boobs smaller despite medical evidence indicating it was the best decision. What they needed was support and not cheap "what a waste" quips to get them through.
The truth is that you are not sexless or unattractive or undesirable if you have a flat chest, but nor are you and airhead or a bimbo if you have a hefty cleavage. We need to be kinder to each other. We need to try and shake ourselves out of this FHM mentality that makes us question our own bodies and our worth because we do not look a certain way.